Using your channel to support great causes can be one of the most rewarding ways to see communities come together. Lately, we've been seeing more and more streamers embrace different types of charity initiatives on their streams for special events where viewers can make contributions to charitable causes and where creators themselves match donations with their own contributions.
If you're thinking about running a charity event in your stream, you can use Streamloots as a simple and easy way to set up a hub for viewer donations and contributions, and to keep track of your charity goals, rewards, and progress. Read below on the steps you'll need to consider when planning your charity event with Streamloots! We'll be using the Light In The Fog event as an example, a fundraiser created by the Dead By Daylight Community with over 100+ streamers with proceeds supporting directly one streamer.
1. Choosing the Initiative or Charity to support
When deciding to do run a fundraiser charity event, there are two ways you can approach it: you may choose to organize donations going to an established Charity organization; or instead to fundraise or benefit on behalf of a single person, institution, or cause that are outside the scope of a charity organization. Both ways have different approaches and considerations to make sure your event is as meaningful as it can be.
In the case of established charities, it's important that you research the charity you want to support or how it relates to a cause that it's important to you. Making this sure is quite important so that you and your community are confident that you're helping a meaningful cause: remember you'll be promoting their work, and the conviction and commitment to whom and what it'll benefit will be very important for the success of your event.
If you choose to fundraise for a single person, institution or cause that are outside the scrope of a charity organization, you'll probably will have to put some effort into communicating the cause to all the audience it'll reach. Explaining who/what the fundraiser will benefit, the background behind it, what will the donations be used in, and how viewers can participate. Since it's done outside of the scope of a charity institution, you'll have to put some more focus in managing all aspects of the event.
The Light of the Fog event was an example of the second type of fundraiser, with a mission to educate and inspire the Dead by Daylight community to band together and empower one of their own in his fight against ALS. Check out the website as a great example of how to communicate clearly the event, objective of donations, and background of the initiative.
2. Setting Goals for Your Initiative
Setting goals for charity events and initiatives are very important ways to motivate the community to get behind your cause. An overall fundraising goal can show the exact impact that community contributions can have for the cause and track the progress along the time you set for the event.
Knowing what a decent fundraising goal looks like for your event might not be easy to know, especially if it's your first time managing such an initiative. However, a good idea is to start by setting a bar low, that gives a feeling that it's easy to reach for your community, and that you can always raise later as it's achieved.
For every goal, you can provide an unlockable reward for viewers as an extra motivation to reach it. Take Games Done Quick's example, a series of charity video game marathons. During the winter and summer live events, when donations reach specific thresholds viewers unlock new speedrunning challenges for the streamers.
In the Light in the Fog event, a goal for overall contributions was displayed on screen during the event and was extended once milestones were reached, making use of the Streamloots Goal Widget that any user can set up in their channel by adding a URL as a browser source.
3. Setting Up The Donations System
The format in which you allow viewers to donate to your charity event through Streamloots is quite flexible to your wishes and provides you with several options.
One of the most effective was the system used in the Light in the Fog event: since the event was centralized in a unique Twitch channel, a Streamloots account was created just for this purpose, used to funnel all donations. If multiple streamers are participating, then by sharing the same widget you can make sure all donations are centralized as well.
To make sure a big flow of donations would not impact the streamers with too many interactions at once, only special donation cards were purchasable. Viewers could donate by purchasing a pack of donation cards, priced at $1 including one special Donation card (pictured below), making it easy to calculate how much was raised by the community through the goal widget.
Alerts were only enabled for donations above $50, showing the donator name 6 seconds on-screen plus a gif, and 500$ donations triggered a special donation animation. This way the widget would not get occupied by many donations at once and recognition would be given to major donators. 
If you want to, you can also allow viewers to have access to interaction cards (that, when redeemed, request the streamer to do a specific action) but bear in mind that you might want to avoid getting too many of such cards being redeemed during a charitable event. One great solution is to tie interaction cards to some other actions that can help spread the event's awareness. During Light in the Fog, for example, interaction packs were only gifted to viewers who interacted with specific tweets.
Another Alternative: Auctions!
With Streamloots, you can also choose to fundraise for a charitable cause through Auctions where participants can auction unique items during the event. For some ideas, check out the Auctions created during Light in the Fog, including even choosing a streamer's next tattoo!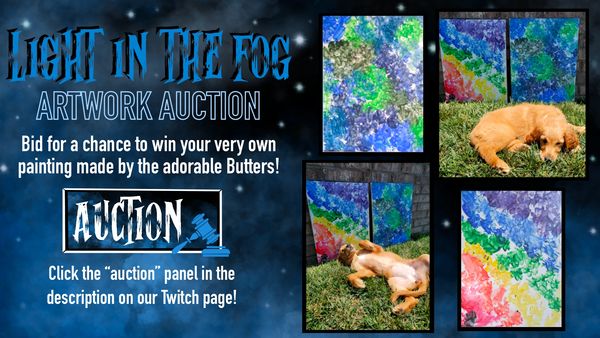 4. Managing Donations
If you're interested in running a charity event with Streamloots, we would love to support your initiative! Make sure to reach the Streamloots Team through Discord and let us know about it. For charity events and initiatives, we can waive the usual platform fee so that your viewers' contributions are as impactful as they can be (Please note that Paypal fees might still apply).
The way in which you provide proof of donation and that the funds are being correctly delivered depends on which type of fundraiser you organize. If funds go towards a registered charity institution, you can ask to request a Donation Receipt with the institution that you can share with the community as proof of delivery of the money raised. If you choose to collect funds directly you might need to be informed on how to process the receipts of your donation, especially for annual tax purposes, and depend on the tax system of your country.
Create Great Moments Around Special Causes, and Make It Special
The best charity initiatives in streaming are those that create unforgettable events with a heartfelt feeling of contributing to something special. When planning for your charity event, don't forget to make it feel special and bring in elements of fun for everyone contributing, whether those are other streamers, people helping you behind the scenes, viewers, and donors. Having other creators participate is an excellent way to improve the awareness for your event, and make sure you create communication assets to use on social media, overlays, and wherever you see fit.
We wish you a lot of success in your charity initiatives, and if you want to run it with Streamloots make sure to get in touch with us: we can help you!