Having control of your stream and your audience is essential for important reasons. First of all, when you manage your channel as it grows, you're essentially building a business around the content you create and the audience you reach. To reach the goal where this business can help you make a living, it's essential to guarantee an extra income that can help you day-to-day. Despite this, very few platforms allow you to have ownership of your business. If everything goes as intended, then there's not much to worry…but there's always a degree of uncertainty since platforms hold power to change conditions unexpectedly.
In fact, it's not uncommon to see news about streaming platforms canceling contracts of streamers surprisingly, or to hear about sudden bans of creators without full disclosure to the reasons behind that – for example, Facebook Gaming recently voided several streamer contracts before their contracts reached their end date, within a day. As a creator, this can be devastating: imagine that on Monday, you finish your stream with a steady and growing community, and the next day you find out your contract is voided and you have no way of reaching your community, viewers, or the monetization you would generation. In a few words, you have lost your business.
But you can always think that there's always another option to try, correct? Well, in many of these cases, even when the contract is voided, this means the exclusivity deals still holds, with many creators being left unable to be affiliates or partners of other platforms for one year. So much for freedom of choice.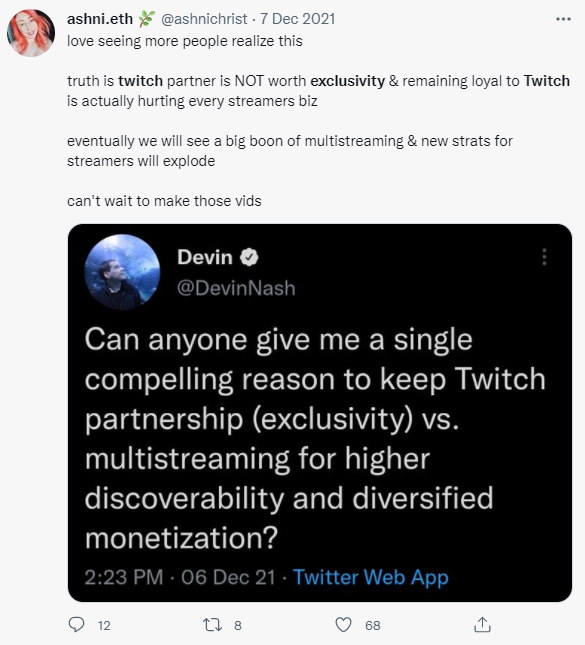 It's incredibly unfair that in a matter of days, the business that you've worked so hard to build can simply vanish, and you don't even have the power to warn your viewers directly that you're moving to another platform or that they can support you financially through another way.
Do you believe that streamers whose contracts were voided or were banned unexpectedly felt they truly owned their business? Does it make sense that some are denied the opportunity to keep monetizing their content? At Streamloots, we genuinely believe streamers need to feel they own their business, and they should get complete flexibility to monetize their content independently, however they want. That's why we always try to provide all the possible tools to protect creators from such situations.
Up until now, you'd usually depend entirely on the streaming platform to manage your monetization. Streamloots allows you to monetize your channel independently from any platform and without exclusivity, giving you the power and freedom to stream wherever you want – being Twitch, Facebook, YouTube, or other, it doesn't matter. Our goal is to provide you complete ownership of your business. And here's how we do it:
One of the things that we try to help creators with is to have a direct contact channel with the viewers that actively support you through Streamloots. Through this feature, up to 5 times per month, you can email your supporters through the Streamloots platform and even download the email information of your supporters at any time (so that you can reach them differently or have this information available in the future).
Why does this help you? Imagine you're facing a situation where your streaming contract is voided unexpectedly, and you need to move to a new streaming platform: this way, you can contact all your supporters and make sure they are aware immediately that you'd be continuing to stream elsewhere. Your community, and most importantly your channel's supporters, won't be left in the dark. This feature is, for now, available only to Streamloots Partners as we improve the service, and we plan to release it to all users soon.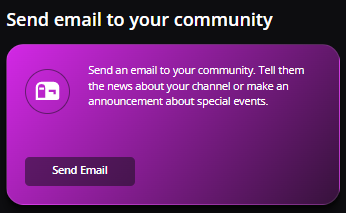 Another critical point that can help you separate your monetization from the streaming platform's domain is that the Streamloots Subs program is fully independent and offers you the best revenue share in the market, providing you with 80% from each sub ($4 from every $5). And do you know the best part? You don't need any pre-requisite to enable Subscriptions in your channel, not even an affiliate or partner status. All you need is to be registered in Streamloots.
Since the beginning, our mission at Streamloots has been to allow creators to make a living doing what they love. For this purpose, we've been creating an increasing number of features and tools centered on one objective: giving you full ownership of your business so that you don't depend exclusively on any platform. We want to keep watching the creators' businesses growing and streamers evolving as professionals with better conditions, and we want to keep achieving this with our community.
We look forward to keep growing by your side!