Are you eager to create a buzz, drive engagement, and reward your loyal viewers in an entirely new and exciting way? Streamloots Auctions are here to offer streamers a thrilling opportunity. With just one top bidder per auction securing an exclusive reward, these auctions foster a competitive and enjoyable atmosphere where viewers compete to outbid one another. In this guide, we'll see how to host live auctions. From navigating the auction dashboard to effectively promoting your event to your audience, and efficiently managing payments and rewards, we've got you covered. Get ready to unlock the potential of live stream auctions with Streamloots!
Tips for Running a Successful Auction
To host live auctions with active community participation, start by choosing a valuable prize that your audience truly desires. Before launching the auction, focus on selecting the perfect reward that will make your viewers feel special. This should be your first step.
When deciding on different auction prizes, consider the costs associated with delivering the reward to the winner, like shipping expenses or the value of the item. Take these expenses into account when setting the initial bid amount.
Keep in mind that Streamloots only retains a small platform fee, with partners retaining 96% of their earnings and other users keeping 92% during auctions. This means you'll keep a larger share of the earnings compared to other creator support platforms. Keep this in mind as you plan your auction.
Think about what would make the ideal auction winner and reward. If you need help or inspiration, check out our blog post with ideas from successful streamers who have run fantastic auctions. Explore it below!
Setting Up Your Auction
Begin by clicking on your profile image, then selecting Creator Dashboard, and finally Auctions from the left sidebar.
Step 1: Create a Streamloots Account
Begin your journey by setting up a Streamloots account. You can log in with any of these auth providers: YouTube, Twitch, Google, Facebook, or Trovo.
Step 2: Create a New Auction
On the new menu that appears, click the + New Auction button to initiate the process.
Step 3: Complete The Auction Details
You'll be prompted to fill in the requested fields to set up your Auction on this page. Here's a breakdown of what you'll need:
Auction Title: This title will be visible to your viewers. We recommend mentioning the Auction Reward to pique interest.
Starting Price: Determine the initial bid for your Auction, from which viewers can make incremental bids. The minimum starting price is either $10 or €10, depending on your account's currency settings.
Language: Choose the language in which the Auction will be displayed, with options for English and Spanish.
Description: Craft a brief description that outlines what's being auctioned and any unique aspects of the Auction. For example: "Win the Auction to receive an exclusive stream anniversary t-shirt!"
Start/End Date+Time: Set the timeframe during which your Auction will be active. This dictates when viewers can place bids. The start date must be at least 10 minutes after the setup date, and the end date should fall within 7 days of the start date.
Auction Image: You have the option to upload an image or GIF to illustrate your auction. It's recommended to showcase the Auction reward for added excitement.
Sound For The Bid: Select a sound that will play on your stream when someone places a bid. There's a default bid sound mimicking a hammer, but you can also upload a custom one.
After you fill in the details, click Save Changes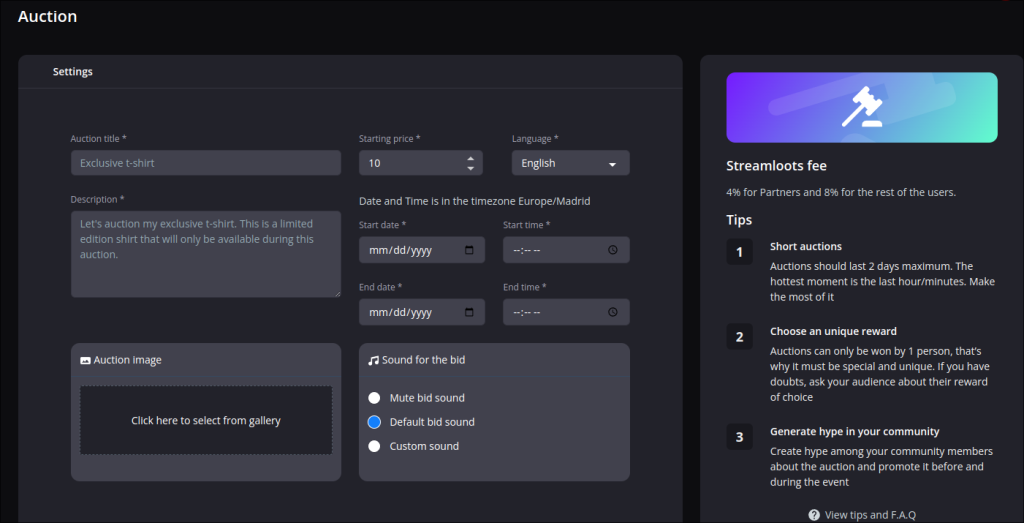 Step 4: Add The Auction Widget
The Auction Widget is a dynamic countdown that can be displayed on your stream, showing the remaining time for your auction, the current highest bidder, and their bid amount. Copy the unique widget link and integrate it into your broadcasting software, such as OBS, as a browser source.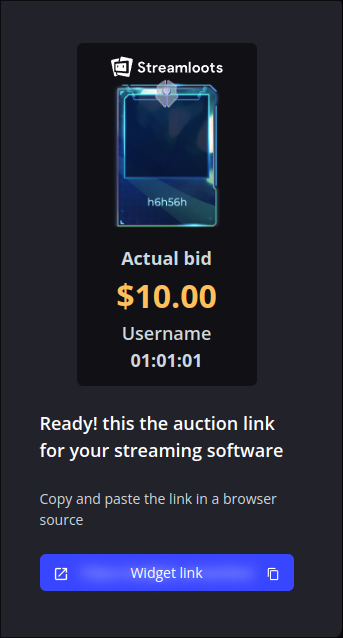 Step 5: Promote The Auction To Your Viewers
Streamloots generates an Auction Public Link, allowing your viewers to easily access your auction details and place bids. Utilize this link by sharing it on your social media channels, in your live stream, or even through chatbots with an "!auction" command to make it readily accessible to your audience. This helps boost participation and excitement surrounding your auction.
Make Your First Auction In Style With A Free Auction Design Pack!
To help you focus on managing your first Auction and make it more special, we have created a free design pack with graphical assets that you can use to host and promote the auction. These assets include overlays, banners, and social media templates. Click below to download.
After the Auction Ends
Once your auction has ended, and you have a top bidder, it's time to contact the winner, receive the bid amount, and send the reward. You will have access to the winner's personal data and email to complete the transaction, and the winner will then have 7 days to complete the payment, which is done through Streamloots.
Do you need help regarding payment from Streamloots Auctions? Check out our F.A.Q.
Ready to Take Your Stream to the Next Level? Join Streamloots Today!