Have you heard of Streamloots Auctions? The new feature from Streamloots that allows streamers to host their own Auctions in their channels through a timed sale in which their viewers can compete for the highest bid has been in its beta program for some weeks. Since then, some Streamloots Partners have been already finding incredibly creative ways to galvanize their communities.
And we have some exciting news to share: Streamloots Auctions are now opening to every streamer! This means that you're able to host your own Auctions in your stream to galvanize your community, celebrate special events, or shake your content up – and if you're a Streamloots Partner, the platform fee is only 4%!
Knowing how to run an auction and what to auction can feel different than what you're used to doing on stream! That's why to get you properly prepared to run awesome Auctions when the feature is available to all, we're giving you 5 amazing auction ideas from the community that resulted in awesome experiences for streamers and their viewers.
Timo_Redbeard's Exclusive T-Shirt
For his first auction, Timo_Redbeard created an exclusive, one-of-a-kind t-shirt designed which fitted the theme of his special hot tub inflatable unicorn stream, to be sold to the highest bidder of his Auction. His Auction ran for just an hour and a half, which helped the reward feel truly unique to viewers who were present during that stream.
With three bids in the hectic last 15 seconds of the Auction, you could feel the fierce and friendly competition between viewers as they wanted to be the ones who came out on top. And we really loved Timo's enthusiastic narration of the bids as they were coming down to the wire!
Auction Item: Exclusive Auction T-Shirt
Duration: 1 hour 30 minutes
Winning Bid: $191.00
Darizard9's Physical Holographic Card
What if you could replicate the Pokémon card craze in your own stream with your viewers? That's what Darizard9 imagined and pulled off spectacularly in his Auction. He created a special holographic card representing him and Folagor – another streamer – and ran the auction for 45 minutes.
What's even more special about this Auction is that Darizard9's stream is very focused on Pokémon card pack openings, so this type of content fits in very organically with what usually happens on his channel. In fact, he has run other Auctions where he'd sell special Pokémon cards or packs.
Auction Item: Holographic Physical Pokémon-Style Card
Duration: 45 minutes
Winning Bid: 81€
Lyrenstraz's Bead Artwork & Stream-A-Thon Combination
Auctions can be a great way to explore your creativity and as a channel to promote your skills with your viewers, expanding on your personality. Take the example from Lyrenstraz, who has been auctioning through Streamloots some of the bead craft he created from original characters that viewers recognize as his emotes.
But that's not all. He combined the Auction feature as a way for viewers to contribute to the Stream-A-Thon event he hosted, where viewers could bid for a unique and exclusive fuse bead art piece of his Shamblegasm emote and where the Auction profit would go towards his Stream-A-Thon goals.
Auction Item: One-of-a-Kind Fuse Bead Art Piece Exclusive Emote
Duration: 1 week
Winning Bid: $102
MadbieGamer's 1-Month Fitness Guide
Still on the topic of promoting your skills and craft, MadbieGamer made it physical! She is a fitness trainer, and her set reward for the Auction was a personalized training guide for someone's first fitness sessions. As Madbie emphasizes, someone's first days when starting a training routine are crucial to set the right rhythm, so by offering the first session guide, viewers could have the right conditions to start a healthy routine.
What's remarkable in this auction is that she provided the right context for viewers to understand how valuable the Auction reward was. Since Auctions continue even while you're offline, she realizes that people started to bid heavily in-between streams, to her surprise. And during the last stretch, when she was live again, the bid was won after a fierce battle for a very pleased winning viewer!
Auction Item: Personalized Training Guide
Duration: 25 hours 15 minutes
Winning Bid: 151€
Lexicat's Next Tattoo
There's a lot of special things about how Lexicat ran this Auction. First of all, and most importantly, it was inserted in the Light In The Fog event, an occasion in which 100+ Dead By Daylight streamers and creators came together to raise funds and awareness for ALS and to support one of the community's members, Puppers, in his medical care. These auctions' proceeds, like all others in the event, were directly channeled to this mission.
And Lexicat found an amazing way to get viewers racing to be her Auction winners. The highest bidder would have the chance to pick her next tattoo based on one of DBD's character perks. This is a high-stakes reward that not only would be unforgettable for any potential winner but always would celebrate permanently the noble initiative in which it's inserted. In the end, the winning bid reach one thousand dollars!
Auction Item: Choose Lexicat's Tattoo
Duration: 4 days
Winning Bid: $1000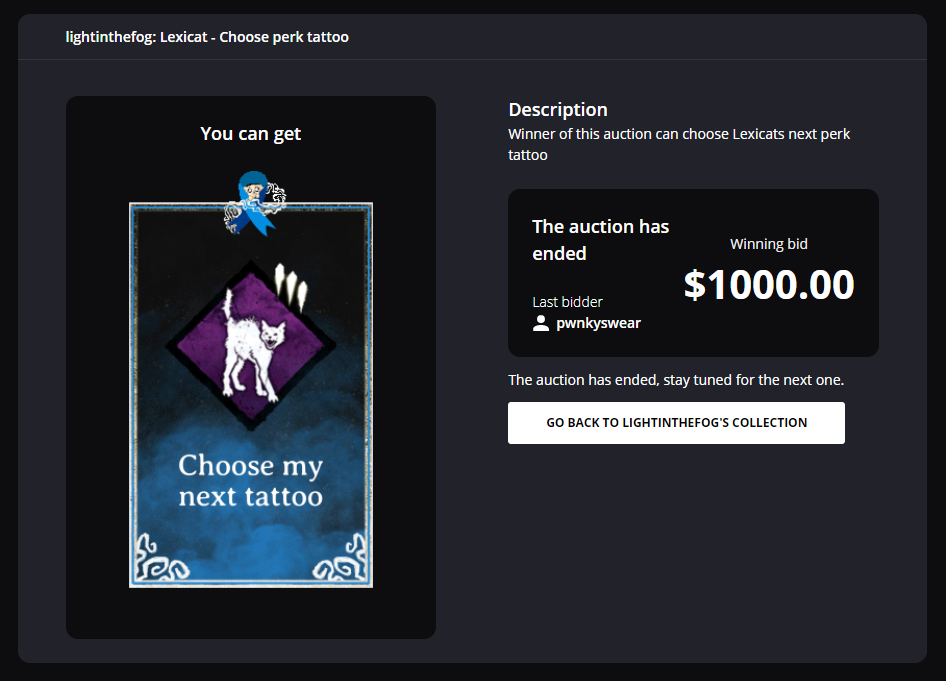 Three Tips To Keep In Mind
Every Auction will be different, and they will depend a lot on your personality and channel content. However, based on the examples shown above, three tips are commonly shared in successful Auctions:
1. The Last Hour Is Golden
The hottest moment of Auctions is the last hour or minutes. Being live while that happens can increase your viewers' excitement and participation and will allow you to create unique moments.
2. Choose Unique Rewards
Only one person can win the Auction; that's why they must be special and unique. If you're not sure of what might be valuable, ask your audience – they'll know better than anyone.
3. Generate Hype
Explaining how and what the Auction is about is key to make sure viewers are on board with it. Ensure to promote it before and during the auction, so everyone's aware of it.
Have A Different Auction Idea? Share It With Us!
These are just some of the multiple ways Streamloots Partners found that can really leverage your success using Streamloots Auctions. And we want to know from you! What plans do you have for your first auction? How do you think streamers should manage it? Please share your tips with our community on Discord! We'll feature the best ideas in future blog posts to promote your stream and how you're using Streamloots to grow.