Today we're announcing a Community Collection for one of the most acclaimed series in Gaming history. That's right: The Sims is a perfect fit for streaming due to the immense amount of ways it allows you to express your creativity, and with the new Sims Community Collection, there's a lot of ways that you can have your viewers take an active part in your Sims' lives.
In this blog post, we present you with three ways your viewers can participate in your streams through the cards included in the new collection. You can adapt these to use in your following streams or take inspiration to craft new cards and ways to boost the interaction with your audience the next time you stream, no matter which game in the series is your favorite!
3 Ways To Stream The Sims With Streamloots
Becoming a Mischievous Citizen
Let's admit it: we've all tried causing a little trouble in our Sims families. What fun is it to always follow the rules of the Simlish society? We've included some cards in this collection where viewers can ask you to be a not-so-well-behaving citizen.
And you can even take it a step further: imagine you create a collaborative event with another streamer, and someone redeems the card where you need to pick up a fight with another Sim. Can you sense the perfect opportunity? 👀 (But let's just keep it inside the game!)
The Most Romantic Stream Ever
Relationships are a huge part of the Sims series and are always a big part of the day-to-day drama in The Sims streams. So why not let viewers play the role of cupids and romantic advisors?
With these card ideas, you'll be able to create fabulous love stories within the game or even pretend you're running your own version of The Bachelorette. Give your viewers the power to decide if your Sims will accept this rose. 🌹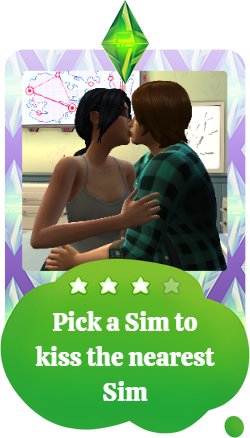 The Best Animal Friend
No, we're not talking about Animal Crossing (that has its own collection, too, by the way!). A pet changes a person's life forever, which can be up for your viewers to decide through some of the new cards. But be warned for potential heartbreak: some cards can make you Sims face the decision of letting a pet be free. Do you have the courage to let this be an option?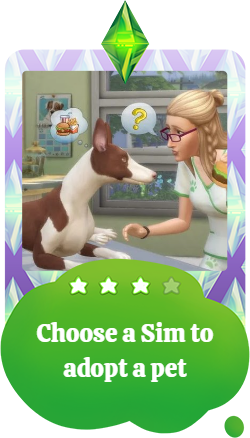 Special Thanks to the Creators of the Collection!
As always, we want to thank and appreciate our community of streamers to provide excellent ideas and insights for our collections! For The Sims Collection, we had the outstanding contribution of three fantastic streamers, and you can meet them and their collections by clicking below. Thanks a lot for the tremendous contributions!
We want to know your ideas!
Streaming The Sims with Streamloots? Did the perfect Streamloots moment happen on your stream? Join the conversation with the community! Would you mind sharing with us your collections or clips on our Discord?