Uh-oh! Screamy has risen from the crypt and taken over Streamloots just in time for Halloween! And from the eerie laughter echoing through our servers, it seems he's plotting some wicked fun. Halloween is the season for ghost stories, dazzling costumes, and creepy games. Screamy is set on causing a ruckus and making this one unforgettable.
So, brave souls, are you ready to dive deep into the madness and claim your treats? Or will you be left shaking in your boots? Prepare for Screamy's Revenge Battle Pass! This year, both streamers and viewers can participate and have a chance to win fabulous prizes. And what are the prizes, you ask? Well, keep reading!
What's Happening?
Kick-off is on October 20th at 09:00 CEST (+2 UTC)! 🎃 Streamers and viewers, it's time to band together for some community-wide effort to unlock rewards that'll turn into giveaway prizes. You can participate in these giveaways by earning candy. Just by buying or selling even one card pack, you're not only in the game, but you're also in for an exclusive and limited prize. The entire community can enter and participate, as both streamers and viewers become eligible to win the prizes simply by using Streamloots.
You'll be able to track the community progress in unlocking rewards as well as your earned candy on your Streamloots dashboard!
Unveiling the Mystery Prizes
As the anticipation builds for the Screamy's Revenge Battle Pass event, everyone is eager to discover the thrilling prizes that await. While we love to keep an air of mystery, we can't resist giving you a glimpse into the incredible rewards that are up for grabs. Here are just a few teasers to ignite your excitement:
Unlock exclusive Halloween 2023 Powers

x1 Power is earned through the battle pass, while the others are earned through unlocking achievements

x1 PS5, Xbox Series X or Switch OLED
And many more!
Halloween at Streamloots is set to be more enchanting than ever, and it wouldn't be possible without the generous support of our sponsors. They've not only provided us with an amazing array of prizes but have truly become partners in making this event unforgettable. A massive shoutout and heartfelt thanks to:


Other Exciting Activities!
In addition to the thrilling Battle Pass, there's more haunting fun waiting for you during the Screamy's Revenge season:
Halloween Collection for Streamers
Streamers can now integrate our special Halloween-themed collection, allowing their communities to embrace the chills and thrills of the season. Check out some cards: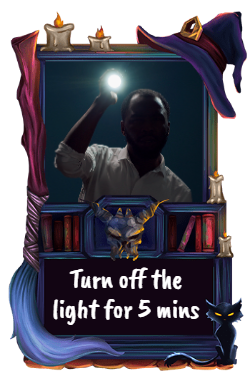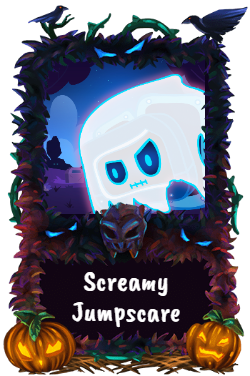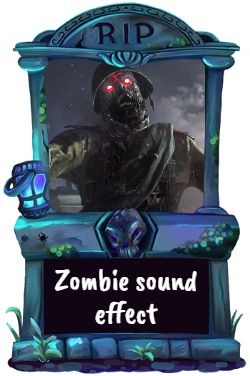 Screamy's Twitter Takeover
Hold on to your hats, because Screamy has taken control of our Twitter account! Expect mischief, surprises, and plenty of thrilling interactions.
Screamy Gifting Card Packs
Make sure to also keep an eye on your streams because the mischievous Screamy will make surprise visits and purchase packs from lucky streamers.
Free Candy and Giveaways
For those with a sweet tooth and a love for surprises, our Twitter feed will be a treat! Dive in for free candy opportunities and giveaways.
Pampling Discounts with STREAMLOOTS Code
You can enjoy special discounts on the Pampling store. Just use the code STREAMLOOTS when you check out.
Candy Boost for Loyal Supporters
Show your consistent support and get rewarded with extra candy!
Purchase chests, subs, or give away subs and get 1 extra candy.
Purchase chests, subs, or give away subs on 2 different days and get 5 extra candy.
Purchase on 3 different days and receive 15 extra candies.
Purchase on 4 different days and earn 30 extra candies.
Support on 5 different days and bag 50 extra candy.
And if you're dedicated enough supporting on 6 different days, you'll be rewarded with 100 extra candy.
Get Spooky with Our Halloween Streamer Pack!
We've crafted the Halloween 2023 Streamer Pack just for you. It's comes with cool visual assets and resources that'll easily blend into your streams, making every broadcast a hauntingly fun experience.
Don't miss out! Add some Halloween flair and get your audience in the spooky spirit.
Let's Spread the Word!
Rally your community and jump in – the more, the merrier, and better chances to snag those prizes.
Chat It Up: Mention the event during your streams. A quick shoutout or a mention can go a long way.
Tweet About It: We've got a tweet ready to go. Feel free to add your own spin!
Giveaway Rules
Participate by purchasing card packs
For every $1 you spend in card packs, you receive 1 candy and the streamer receives 1 candy to enter the unlocked giveaways.
Participate by purchasing subscriptions
For every subscription you purchase, you receive 5 candies and the streamer receives 5 candies to enter the unlocked giveaways. Subscriptions gifted to the community are worth 5 candies for you and 5 candies for the streamer.
Participate by bidding in auctions
For every $1 of the final price of a won auction, you receive 1 candy and the streamer receives 1 candy to enter the unlocked giveaways.
Participate by clicking Screamy
Keep an eye out for a random Screamy on your favorite streamers' page. Make sure to click it to get free candy.
Frequently Asked Questions
How can I participate as a viewer?
As a viewer, you can participate by purchasing card packs, subscriptions, and winning auctions.
How can I participate as a streamer?
As a streamer, you can participate by selling card packs, subscriptions, and hosting auctions.
What are the giveaway's entry and end dates?
You can earn candy from October 20th at 09:00 CEST (+2 UTC) until November 2nd at 09:00 CET (+1 UTC).
When will the winners be announced?
Winners will be randomly selected and announced via Twitter during the 1st week of November.
Is there a streamer kit available?
Yes! You can grab your Halloween streamer pack here.
How can I keep count of the candy I've earned?
Go to your Dashboard > Promotions Widget and copy the widget URL into a browser source. This will display how much candy you've earned so far.
How is the prize pool distributed?
Half of the prize pool is reserved for viewers and the other half for streamers. For prizes that consist of a single unit, both streamers and viewers have an equal opportunity to win.