Are you searching for ways to engage your community and create a memorable event on your streams? Look no further than a "thon" event! Whether you're celebrating a milestone or trying something new, a subathon or marathon are perfect ways to bring excitement to your community and attract new audiences. No matter your content, a thon can be easily adjusted to fit your needs. And if you're interested in learning How to Run a Thon With Our Free Marathon Timer Tool, keep reading!
Table of contents

What Is a Subathon or Marathon
Streamers host marathons as unique events, often taking special actions when viewers reach certain milestones. These might include extending the stream's duration when there are new followers, donations, or other interactions. On the other hand, a Subathon primarily extends the stream's duration when viewers purchase subscriptions.
Running a marathon can be challenging, but we've got your back. At Streamloots, we've developed a Free Marathon Timer Tool. Designed specifically for streamers, this tool automatically adjusts the duration of your stream in response to viewer interactions, ensuring you don't miss a beat. Whether it's new subscriptions, donations, or other interactions, our timer has you covered. And the best part? You'll be up and running in just 5 minutes.
When to Use the Free Marathon Timer
Creating a Marathon or a Subathon is the perfect way to gather your community for an essential objective of the channel – trying to reach a landmark number of packs sold, subscriptions by viewers, or total channel supporters.
You can use the free timer tool anytime you'd like for any context or type of stream! However, we suggest using it primarily during special occasions on your channel, like celebrating a channel milestone (or trying to reach a new one), presenting a brand new Streamloots Collection, or even during our own Streamloots events.
Where to Find the Streamloots Free Timer Tool
Streamloots has its free timer called Marathon Timer. This timer allows you to extend the duration of your stream when your viewers purchase Twitch Bits or Subscriptions. If you use other Streamloots products such as Cards or Subscriptions, those will add extra time too.

When you log in to Streamloots, you'll need to select one of the modules available: Cards, Auctions, Subscriptions, or Marathon timer. After that, you'll access your Creator Dashboard, and you'll have your brand-new tool available if you have selected it during the registration process. You can activate as many modules as you want!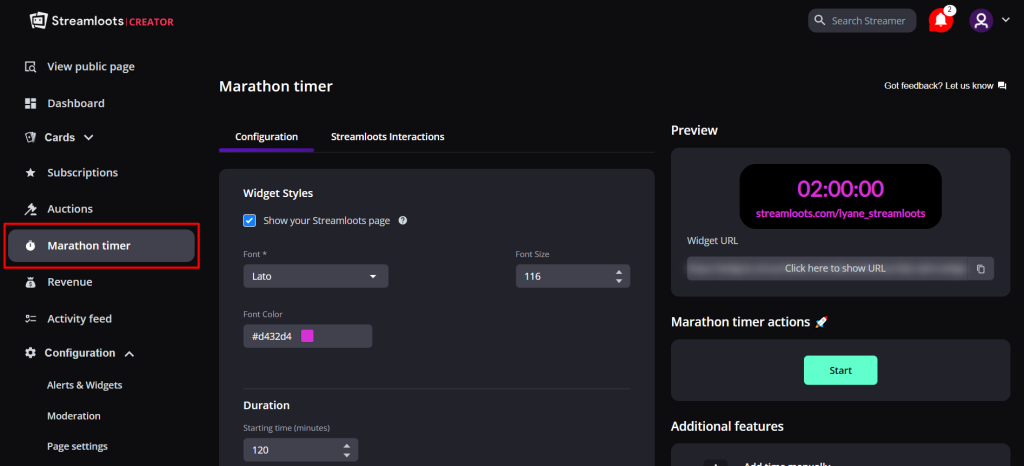 How to Set Up Your Streamloots Free Marathon Timer
By clicking on the Marathon timer widget, you'll be able to configure the tool setup. Then, you will determine the actions and time to add for the desired viewer triggers, such as:
Duration
You can set the minimum time for your marathon stream and a maximum extension. This is mandatory, to help you manage better the stream time). However, you can also create an uncapped marathon, but be careful with your mental health. Streaming for a long period may affect you in your daily life in several ways, do these events with moderation.
Actions to add extra time
These are the actions that add extra time to the Marathon Timer:
Twitch Subscriptions
Twitch Bits
Streamloots packs (if Cards module is enabled)
Streamloots subscriptions (if Subscriptions module is enabled)
The time to be added per action is fully customizable. In the case of the Bits, you decide the number of Bits needed to increase by 1 the time added to the timer. We highly recommend you take a look at your audience size and choose the time to be added accordingly.
Widget styles
Before adding the timer widget, you can configure some settings such as font, font color, and font size. This allows you to customize the widget with the colors of your choice. In addition, you can also check a box to display your Streamloots page on the widget and promote your page automatically, this is very useful if you use other Streamloots modules.
Add the widget to your streaming software
The widget URL works with any streaming software that allows you to add a browser source. This means it does not require any installation.
To use it on your stream, add the Widget URL you'll see on the right side of the page as a browser source in your broadcasting software. By doing this, the Marathon Timer will show up live on stream! Feel free to test it and prepare yourself for the stream.
Activate Streamloots Cards
If you enable the Streamloots Cards module, you will be able to let your streamers buy Streamloots packs and play cards on stream. Those cards add or subtract time from the active timer, this makes the whole experience way more interactive than a normal timer.
Set Goals or Multigoals
Combining Streamloots packs with Goals can be an excellent technique to boost your revenue. By enabling Streamloots packs as a way to add extra time to the timer + activate goals, you will encourage your community to keep adding extra time to the timer. In addition, you can create a big goal and then smaller milestones in between to keep your audience engaged.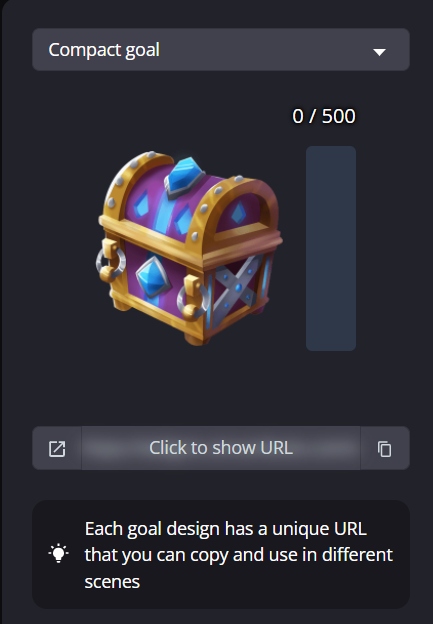 Create Your First Thon Successfully
That's all! You have now the tool needed to create a successful thon. You can read more on how to use Streamloots to run your first Subathon. Click below to read, we also include templates!