Custom emotes have steadily become one of the main tools for streamers to make their channel and content resonate with their audiences. So whatever platform you use – Twitch, YouTube, or others – you're likely to come across emotes jumping on the chat or on-screen, triggered by the viewers.
Today's article will tell you all about Emotes in streaming: what are emotes, why streamers use emotes, how to use your own emotes in any streaming platform of your choice, and even how to create and set up custom emotes through Streamloots. No matter the tone, category, or type of content you stream, custom emotes are an efficient way to leave a lasting impression on viewers and generate lots of community interactions. If you want to learn How To Use Custom Emotes in Your Stream keep reading!
What Are Emotes or Twitch Emotes?
Emotes are small images that streamers use to convey different emotions, responses, or opinions and are created so that viewers can use them while a streamer is live. They are the streaming counterpart to emojis and, as such, are less generic since streaming emotes usually refer to streaming culture terms and memes. This means they are very identifiable for streamers and viewers and are seen as a natural fit during streams.
With this in mind, the best emotes usually have a story attached for the streamer and their community.
Pictured above is a set of custom Emotes used by TheKing in his stream.
Why Are Custom Emotes Important for Streamers?
Emotes are a potent tool for streamers to strengthen their channel's brand. When you think about it, when you think about a popular channel that you know of, you'll probably immediately recall at least a couple of custom-created emotes that are very special for that streamer's community. Emotes provide you another avenue to strengthen your channel's image and set it apart as a unique content source and moments with viewers. As they are customizable, streamers also have the possibility of adopting new themed emotes for special events.
How Emotes Help Supporting Your Channel
Emotes are usually considered the easiest and fastest way to get viewers to support the channel, as they are a popular reward for subscribers: a considerable percentage of viewers tend to subscribe to channels just to unlock the ability to use emotes.
But here's the catch: traditionally, Twitch subs only allow you to unlock emotes for use inside their own platform – which means that if a viewer cannot use them elsewhere. At Streamloots, we want to contribute to a context in which the creator is genuinely able to provide their community with complete flexibility to support them – no matter the platform.
With Streamloots Subscriptions, we've implemented the ability to fully customize your emotes and reactions so that you can define your brand and allow your subscribers to redeem no matter the platform where you stream! This is another perk provided by Streamloots Subs, in addition to the highest subscription revenue share for creators (80%) and other benefits. Read more about Streamloots Subs in this article.
Using Custom Emotes In Your Stream With Streamloots
To start using custom emotes in your stream with Streamloots, you only have to follow three simple steps:
1. Enable Subscriptions on Your Streamloots Profile
Emotes and Reactions are exclusive perks to subscribers, so you need to have the Subscriptions module enabled.
2. Enable Emotes and Reactions for Subscribers
In the General Settings for the Subscriptions page, make sure you have Emotes toggled for your profile.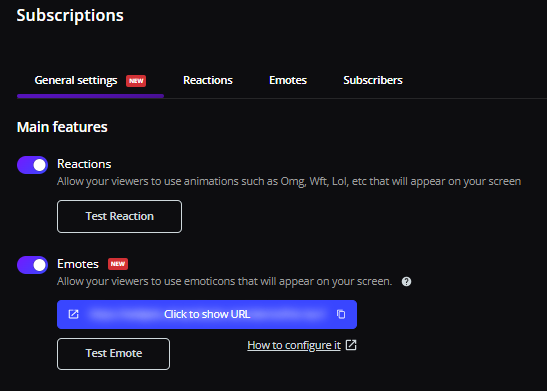 3. Upload Your Custom Emotes
Look for the "Add Emote" button under "Collections" on the Emotes tab, click it, and upload directly in the side menu.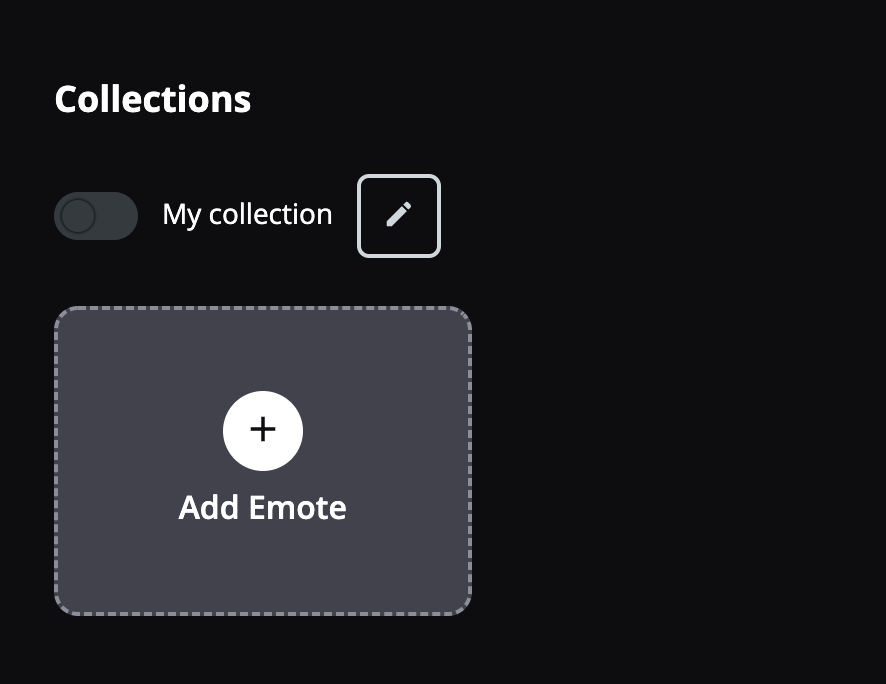 How To Create Animated Custom Emotes
If you're looking to take your emote game one step further, we have created one YouTube guide to help you! Check out our Animated Emote Tutorial video below.