So you found out about Streamloots, registered in the platform, and are ready to revolutionize the way you engage with viewers and make sustainable revenue for your channel. Congratulations: that's a huge step, and we're so happy to welcome you to the community! 🙌 But you might be wondering: what do I need to do now to start earning revenue through Streamloots?
In the New Era of Streamloots, we offer you several ways to monetize your audience's support. In this article, we'll focus on Streamloots Cards and Packs. The Cards and Packs are ways in which your fans can impact directly the actions taking place in your stream. Cards are the individual interactions that your viewers can redeem when you are live, and Packs are how they purchase them, and they include a random set of cards. This is fully customizable in the platform: prices, card actions & designs, probabilities, number of cards per pack, and much more.
We'll be focusing on helpful tips that will allow you to easily make your first Pack Sales, related to how you communicate your collection to your audience after you decide which cards and interactions you'd like to make available for your viewers to redeem. However, if you'd like to read some more tips about the card-making process, the articles listed below might be able to help you – click each banner to read more!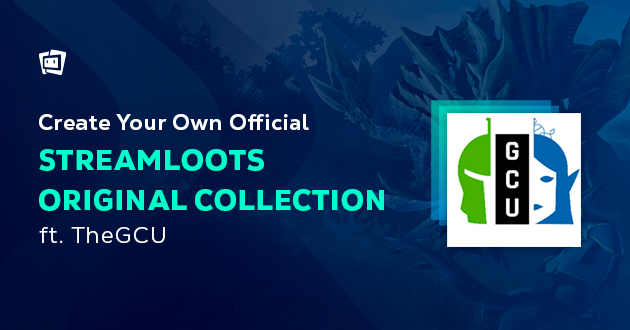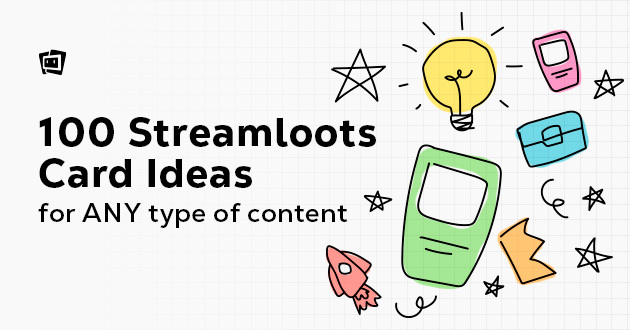 1. Pitching: Show The Cards Available On Your Collection To Your Community
So you've spent some time browsing the Streamloots Original Collections, taking inspiration from other streamers, and even creating your own sets of cards, pricing and managing the probabilities in a way that fits with what your community would like. You're pretty familiar with all the collection, and everything seems ready to go…but everyone else needs to know about it too!
That's right: an essential piece of advice from successful streamers is not to forget that your audience might not know yet which cards are available for them to purchase and redeem through Packs! As such, make sure to dedicate some time in the stream or outside of it to explain why support through Streamloots matters and what type of interactions are available in your profile to purchase.
One perfect way to do this quickly is to bring up a browser page in your stream during a break from your usual content, accessing your account's public page and showcasing some of the best cards you have available in your packs that will motivate your viewers to get started with Pack Purchases. Alternatively, you can also take advantage of your social media channels to show what cards you'll have available for the community to redeem when you are live.
Show your viewers how the process goes to purchase your packs by clicking the "Get My Packs" button and selecting quantities or even inserting special coupon codes to acquire them at a discount.
2. Sampling: Allow Viewers to Test a Purchase at No Cost with Coupon Codes
We've talked extensively about how essential coupon codes are to get your community comfortable with Streamloots, and this is even more important when going for your first Pack Sales. In fact, Partners mention it is one of the essential things to do in your first Streamloots week.
The best part of Streamloots Cards is watching its impact live on stream, so allowing viewers to test getting a pack, opening it, and redeeming cards for free for their first time trying it out has can have a massive impact on how well your community adopts it, as they'll transition after into making their own purchases.
On your Coupons page, you'll be able to create a coupon URL that enables viewers who click it to earn a free pack, limited to a specific number of viewers. This is an easy and fantastic way for you to share in your chatbot or social media to generate buzz and interest for the fastest viewers to try out interactions for the first time and peak the community's interest in getting on board with Pack Purchases!
Keep in mind that these giveaways should be limited to a few instances, just enough to appeal to viewers' curiosity but avoid them becoming so common that viewers don't feel compelled to make a purchase.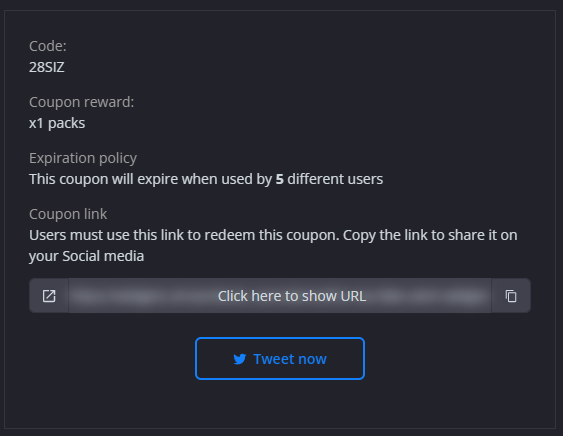 3. Setting Goals: Track and Reward Community's Support Through Pack Sales
The Pack Goals feature in Streamloots is one of the most underrated tools for new sellers in the platform for a reason: streamers usually think they need to be established with Streamloots for it to work as a powerful motivator for viewers, when in fact, the reverse happens. In truth, its effects can be massively influential for bringing your first pack sales to your community, especially when you tie an appealing reward at the end.
With this feature, you're able to set a counter of packs sold that displays on your stream through a separate browser source that automatically updates the number of packs purchased by your viewers in real-time. You can configure everything: designs, message displayed, the pack objective number, and even the visual configuration.
This visual tracking works in two ways: not only does it motivate viewers to get started in supporting the channel through pack purchases, but it also develops an objective for which your community can come together to achieve the goal and make it easier to create a habit of supporting the channel through Streamloots packs.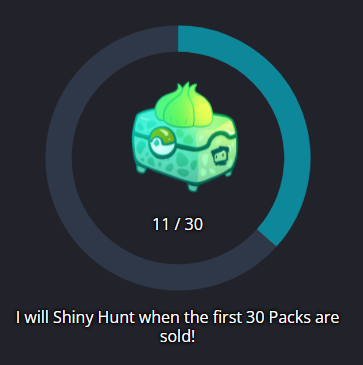 Wishing you a lot of success in your Streamloots Journey!
We'd love to know how your road to the first packs sold is going! Learn from the community and join the conversation with the help of the most successful streamers in our Discord.