If you are looking to create a special event on your streaming channel, like celebrating a milestone, an anniversary, or want to schedule a unique moment with your community by holding a different type of content than what you usually stream, doing a "thon" event can be the perfect occasion for you! No matter the tone, category, or type of content you stream. You can constantly adjust events of this nature to provide a brand new reason for viewers to join your stream and even capture brand new audiences! If you want to learn How To Run A Subathon with Free Timer Tool keep reading!
What is a Subathon or Marathon
Marathons are special events run by streamers by their initiative. They commit to doing specific actions on the stream if their viewers achieve set goals. For example, extending a stream's duration based on new viewers following, donating, or purchasing interactions from the streamer. Hence, a Subathon is focused on extending the stream's duration by purchasing subscriptions.
To make your life easier when running a subathon, we at Streamloots just developed a free timer tool that every streamer can use to automatically manage your subathon's time added to stream! This tool assists you for subathons where the actions from your viewers add time to the overall duration of your stream, and setting it up takes less than 5 minutes. Read below to find out how!
When to Use The Free Subathon Timer
Creating Streaming Marathons, Subathons or Streamloots-a-Thons is the perfect way to gather your community for an essential objective of the channel – trying to reach a landmark number of packs sold, subscriptions by viewers, or total channel supporters.
You can use the free subathon timer tool anytime you'd like for any context or type of stream! However, we suggest using it primarily during special occasions on your channel, like celebrating a channel milestone (or trying to reach a new one), presenting a brand new Streamloots Collection, or even during our own Streamloots Fiestas.
Where To Find the Streamloots Free Subathon Timer
Streamloots has its Free Subathon Timer called Marathon timer. This timer allows you to extend the duration of your stream when your viewers purchase Twitch Bits or Subscriptions. If you use other Streamloots products such as Cards or Subscriptions, those will add extra time too.

When you log in to Streamloots, you'll need to select one of the modules available: Cards, Auctions, Subscriptions or Marathon timer. After that, you'll access your Creator Dashboard, you'll have your brand new tool available if you have selected it during the registration process. You can activate as many modules as you want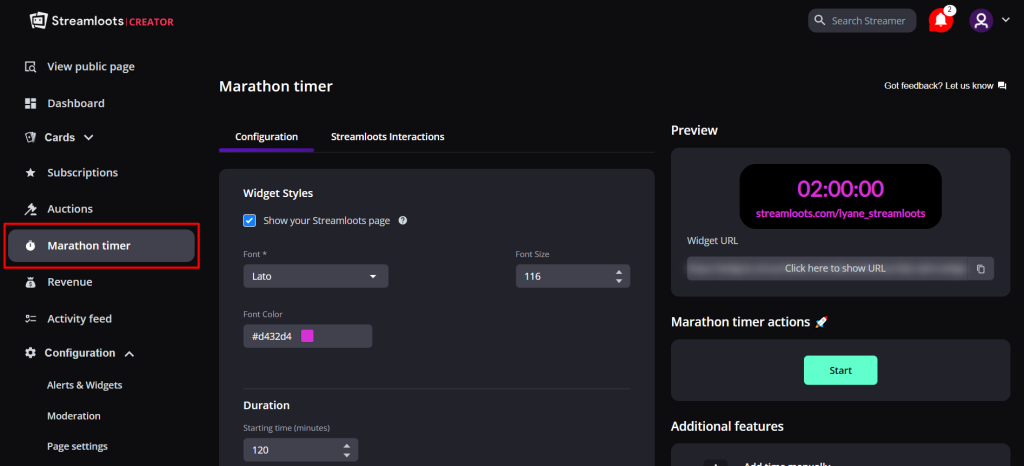 How to set up your Streamloots Free Subathon Timer
By clicking on the Marathon timer widget, you'll be able to configure the tool setup. Then, you will determine the actions and time to add for the desired viewer triggers and activations such as:
Duration
You can set the minimum time for your marathon stream and a maximum extension. This is mandatory, to help you manage better the stream time). However, you can also create an uncapped marathon but be careful with your mental health. Streaming for a long period may affect you in your daily life in several ways, do these events with moderation.
Actions to add extra time
These are the actions that add extra time to the Marathon timer:
Twitch Subscriptions
Twitch Bits
Streamloots packs (if Cards module is enabled)
Streamloots subscriptions (if Subscriptions module is enabled)
The time to be added per action is fully customizable. In the case of the Bits, you decide the number of Bits needed to increase by 1 the time added to the timer. We highly recommend you take a look at your audience size and choose the time to be added accordingly.
Widget styles
Before adding the Subathon timer widget, you can configure some settings such as font, font color, and font size. This will allow you to customize the widget with the colors of your choice. In addition, you can also check a box to display your Streamloots page on the widget and promote your page automatically, this is super useful if you use other Streamloots modules.
Add the widget to your streaming software
The widget URL works with any streaming software that allows you to add a browser source. This means it does not require any installation.
To use it on your stream, add the Widget URL you'll see on the right side of the page as a browser source in your broadcasting software. By doing this, the Subathon timer will show up live on stream! Feel free to test it and prepare yourself for the stream.
Activate Streamloots Interactions
If you enable Streamloots Interactions option, you will be able to let your streamers buy Streamloots packs and play cards on stream. Those cards add or subtract time from the active timer, this makes the whole experience way more interactive than a normal timer.
Set Goals or Multigoals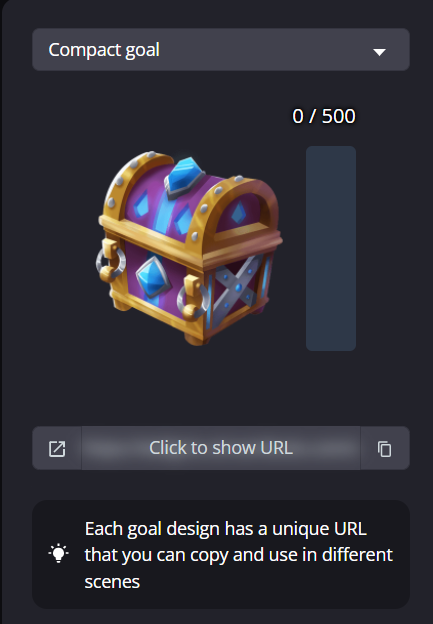 Combining Streamloots packs with Goals can be a super good technique to boost your revenue. By enabling Streamloots packs as a way to add extra time to the timer + activate goals, you will encourage your audience to keep adding extra time to the timer. In addition, you can create a big goal and then smaller milestones in between to keep your audience engaged.
Create your first Subathon successfully
That's all! You have now the tool needed to create a successful Subathon You can read more on how to use Streamloots to run your first Subathon (or, as we call it, Streamloots-a-thon!) with a lot of success. Click below to read, we also include Subathon templates!