Events are a fantastic way for streamers to switch up their content during special days. Whether they are geared towards a competitive objective, casual playthrough, or charity and fundraising initiatives, with events you'll be able to hype up your community and boost your channel's performance.
Whether you're putting together an event with several streamers or you're just participating in one, combining Streamloots with the event is a great way to turn viewers into active participants and monetize your event efficiently, rewarding everyone's effort. In this article, we'll show you methods of adding Streamloots to your events and taking them to the next level.
About The Blooper Games
The Blooper Games is a recent streaming event hosted by LDSylvr where several streamers compete to win a Sea Of Thieves tournament. By adding Streamloots as a feature to the event, LDSylvr allowed viewers to take an active part in supporting the channel by purchasing packs and interfering with the action simultaneously, making it harder (or easier) for teams to win.
After each topic below, look for the orange text to know how Streamloots was implemented into the Blooper Games.
Step 1. Gather Your Participants
After confirming participation for the event, the first step to monetize is to make sure that everyone has Streamloots enabled and ready. As everyone has Streamloots active, it provides the same opportunity for monetization and interaction for all participants.
If you know some streamers are looking to participate in the event who haven't tried Streamloots in the past, events are usually great ways to start, as they provide a great look at the possibilities and degrees of interactions through the platform! Helping new peers know more about and how to use it can greatly affect your event.
To participate in the Blooper Games, Streamloots activation by streamers was mandatory – which felt at home for most participants due to the already established usage of packs and cards within the Sea of Thieves community. However, there were still a few who had never used Streamloots before but felt it was a great opportunity to try it out for this event.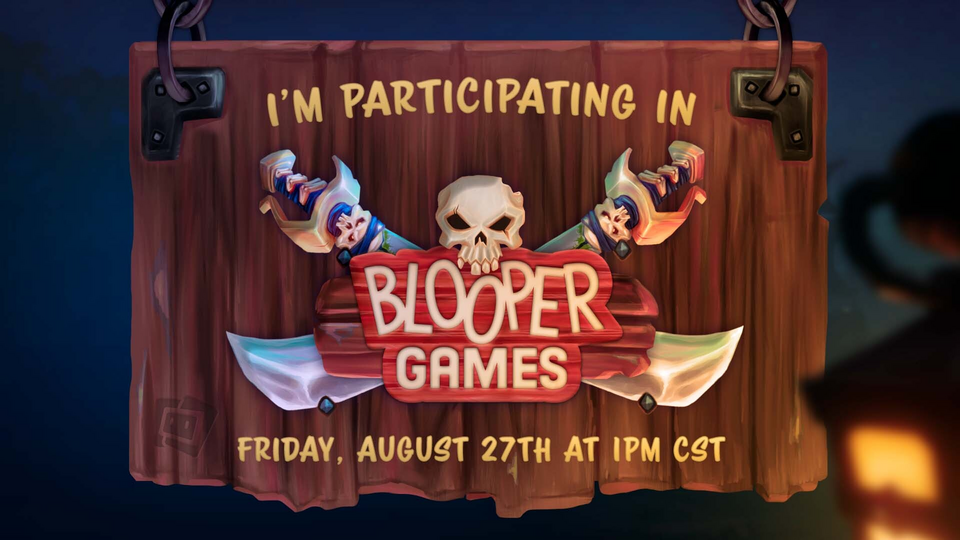 Step 2. Clarify The Context
Make sure to align your events' goals with the objectives you want to achieve on your interactions and monetization/support from viewers. For example, are you running a competitive tournament where gameplay skills will be rewarded? Is the event more about displaying a diversity of streamers, games, content, and styles? Are you looking to raise a minimum amount of money for a specific cause? There are infinite goals and settings for your events, and you must make sure it's well-aligned with how you position your collections so that all viewers and streamers set their expectations accordingly.
Make sure everyone participating is well aware of what they can and can't use the collections for and which rules are enforced. Not having these clear can lead to uneven playing fields and frustration from streamers and viewers on competitive and casual events. Finally, find the middle ground where the community is comfortable and set which conditions cards are active and should be redeemed.
The Blooper Games was the first event of a future series organized by LDSylvr. He has organized events of similar concepts from before, but this was the first time that Streamloots was added into the mix. Although the majority of participants and their communities know how streamloots works, LD implemented two important conditions for the event: Streamers should honor the cards that are played immediately so that the challenge imposed by viewers has an impact and their support is acknowledged properly; and that all other collections that are not part of the event should be put on pause.
While the event is competitive in nature, it embraces and welcomes a degree of viewer interference since it makes the community aspect prevail – and so the participants should feel flexible to this 'random' element.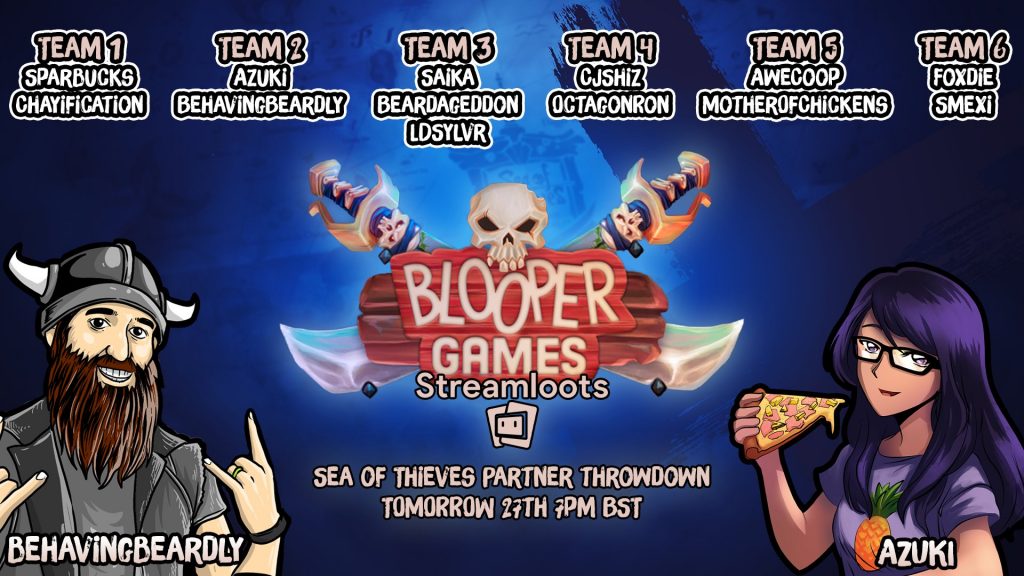 Step 3. Create a Unified Collection
Falling in line with what was mentioned in Steps 1 and 2, the best way to manage everyone's packs and interactions is to create a unified collection that everyone can access. You can do this in two ways: by having every streamer replicate the cards in their own collections or by setting just one shared collection that the event manager can activate and handle during the event.
Depending on the emphasis on the competitiveness of the event, you can also easily define any set of redeemable interactions aligned with the objective of the event. For example, you might want to consider providing mostly passive interactions like sounds and reactions if the event is more competitive, and you can throw in more gameplay interference if it's more laid-back and casual.
The way you create and manage the collection for the event is up to you and can depend on how the event will be streamed. If all the action is centralized in one channel, then having one shared collection is probably the way to go. Still, if it's an event where every participant will stream from their point of view, you can benefit a lot by each user having the collection in their individual account, as you'll be able to have interactions going on in several channels at the same time. Decide what suits your event, and don't forget to brand it with a special design.
For the Blooper Games, a shared collection was created across all profiles, enabling to multiply viewer support. One important detail is that while all collections were the same across all streamers, everyone still had the option to change the settings such as the price and amount of cards per pack.
As participants' channel sizes and viewer support might vary, this allows for flexibility to suit the event collection to each community's characteristics and to avoid either overpaying or setting the price too low.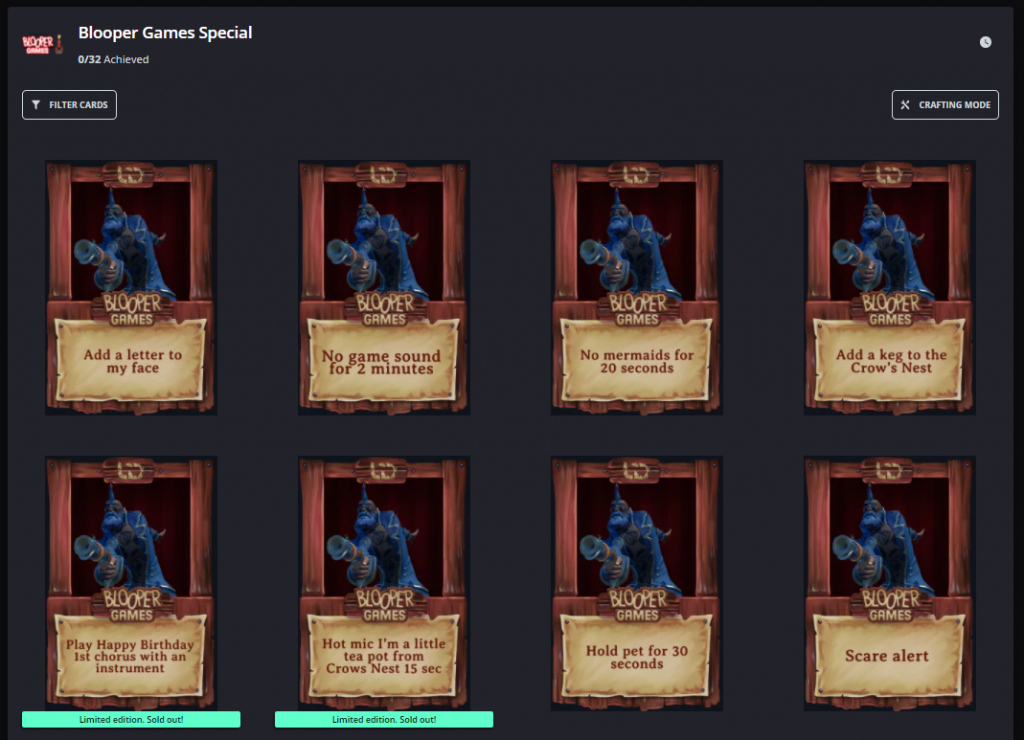 EXTRA. Different Collections Per Schedule & "Happy Hours"
If your event allows for varied types of content, a great idea we've seen is to create sub-collections according to the schedule, as well as a sort of "happy hour" where exclusive or limited interactions can join the mix. Also, consider integrating other initiatives, like packs bought/cards redeemed objectives to achieve event rewards, stretch goals that unlock new content in the event if reached, and others.
While The Blooper Games didn't feature an extrinsic objective such as pack goals, viewers could set intrinsic rewards by helping or hurting a streamer's chances of winning or upping the challenge on screen. In addition, since Streamloots allows them to interact in several channels simultaneously, one could try to purchase packs from several streamers to impact them at critical moments.
We want to know your ideas!
Are you planning an event and would like to provide viewer interaction and monetize it? Have you done it in the past and have used Streamloots? Which steps have we missed that you think are essential? How did your community respond to it? We want to learn from you! So join the conversation with the community! Please share with us your ideas on our Discord!