As you know, our main objective at Streamloots is to allow every streamer to make a living by doing what they love. As such, we spend a lot of time developing new ways to help streamers monetize their content.
As such, we're super excited to announce a new heavily requested feature by the community, which can become indispensable in generating a bonus boost for your revenue every month and a new way for viewers to support you.
Introducing Streamloots Subs!
When viewers think about how they can support their favorite creators, subscriptions are usually the first concept that comes to their mind, and that's why we wanted to develop it as a new feature for Streamloots.
We know that you might need help explaining the value of subs to viewers, so in this blog post, you'll learn the best way to communicate to your community why it can be more meaningful for viewers to subscribe to you through Streamloots rather than Twitch.
We'll also cover what you can provide to your community when they subscribe and how to use subs.
How Can I Activate Subs in Streamloots?
If you ever sold any pack in Streamloots, subs will be activated for you automatically. If, on the other hand, you just signed up for the platform, you can start them quickly in three steps:
On your Dashboard, click in

"Subscriptions"

on your left menu.
Check the box that reads

"Enable Subscriptions"

.
Choose the reactions you'd like your viewers to be able to redeem, and save the configuration.
You must have alerts activated on your stream so that when viewers redeem these reactions, they show up on the screen.
What Percentage Do I Receive From Subs?
You'll receive 80% out of the total revenue generated through subs. We are bringing you a higher revenue share than the standard by streaming platforms because we always aim to provide you and your viewers the best possible value for support and feel we can make a difference for your work.
How to Communicate to my Viewers to Subscribe Through Streamloots?
We understand it might be delicate for a streamer to ask viewers to switch their subscriptions from platforms like Twitch to Streamloots instead; however, our suggestion is to communicate it so that viewers understand it's the way that supports you and the channel in the most meaningful way.
Usually, many viewers value the most how impactful is their support for their favorite creators. If that's the case, they need to know that Streamloots Subs provide a higher revenue share for you as the streamer than subs from other platforms – make sure you let them know about this.
Subscriptions are a way for viewers to support you directly in a more meaningful way, and the best way to communicate with them is by letting them know how their support increases your benefit rather than each platform sub.
What Do Subscriptions Provide To Viewers?
In this initial phase, Subs will grant viewers reactions they can redeem at any time during a stream. In addition, we are working on building new types of content and interactions exclusive to subscribers that, over time, will expand the possibilities of actions that subscribed viewers will be able to do with their favorite streamers, with the option of customizing all sorts of available activities.
Please note that subs are in constant development, and as such, we're working to improve its features and value. We'll have more to share regarding this soon!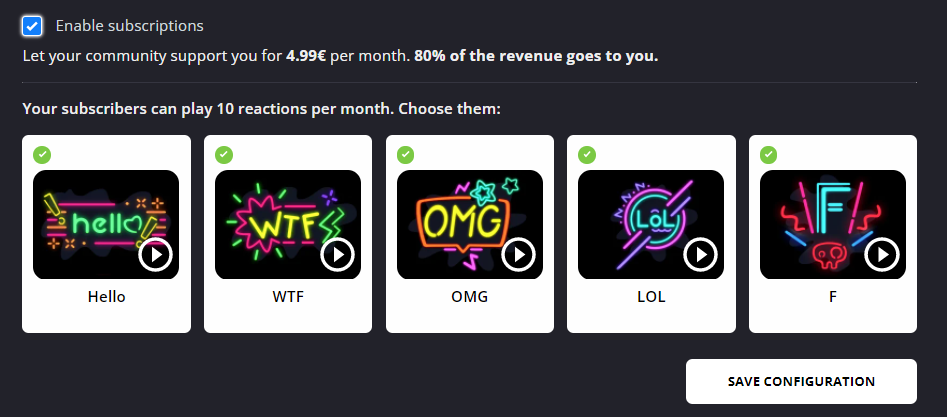 How To Make Subs Feel Extra Valuable For Viewers?
We have several ideas in which you can use Subs to provide extra value for your viewers, and they feel like they're getting a great return from their support:
1. Sub Goals
If you ever used Pack Goals in your stream, you'll know they can work quite well in getting your community excited about boosting their support, especially if you attach it to a desirable reward when the goal is reached, like "50 Packs Purchased and I'll Paint My Hair".
Since Streamloots Subs are a new concept that viewers might not be familiar with, placing a Subs Goal for Streamloots subscriptions will provide viewers with the opportunity to try them for the first time and understand this is as a new and meaningful channel through which they can support you. It can be a fantastic way to promote Subs from the start to your community and for viewers to be aware this new feature has arrived in Streamloots.
2. Packs for Sub
Many Streamloots streamers have a system in place that whenever there's a new Twitch sub, they get rewarded with a Streamloots pack, so why not try the same strategy with Streamloots Subs? Don't forget to mention that this way, their support is more meaningful and that in addition to the interactions included in the Pack, they'll also get the new reactions to redeem.
3. Streamloots Sub-a-Thon
You're probably familiar with the concept of sub-a-thons, where the time of a stream increases per new subs, or a new goal gets unlocked when a number of subs are reached. Creating a Streamloots-a-Thon where viewers can contribute to the overall goal through pack purchases and Streamloots subs is a great way to get viewers involved and introduce Subs to the community. You can even make each Sub hold a higher value in progress to unlock more stream time or new goals.
4. Monthly Giveaways For Subscribers
This is an ideal way to provide an extra incentive for viewers to become subscribers: promote giveaways on your channel exclusive for subscribers to win a special prize, which can be anything you can imagine and holds value to your community. You don't need to give away something expensive for it to feel valuable: if it's something unique, like a piece of artwork made by you, a special t-shirt, or a 1-on-1 gaming session, it will provide the incentive for viewers to participate.