Watching your follower and average viewer counts grow over time as your streaming experience progresses is one of the best feelings in the world as a streamer. However, as you keep discovering new ways to engage your community and curious new viewers, you'll also probably realize there's the need to adapt the way you manage your channel and some of your tools, such as bots, automation, or schedules, to accommodate for a larger audience.
With Streamloots, you may find yourself in a similar situation, not feeling sure what you can tweak in your cards and collections to make sure it suits all of your fans, new and returning. As your audience grows, it's important to notice how the increased viewers can benefit from your collections so that they can have a great experience and support you and your channel.
In this guide, we'll tell you 6 easy tips that you can implement if your channel is going through a steady increase of viewers and followers – and these can work if your growth is significant from any starting point. For each, we'll tell you how TheJRM was able to successfully adapt his Streamloots collections and strategy as he grew from 50 avg viewers to over 2000 in a few months.
About TheJRM
TheJRM is a Dead By Daylight streamer who has been using Streamloots for around one year and a half. When he signed up, he averaged around 50-100 viewers and found quite some success by selling many packs at a low price. However, as his channel grew to a current 2000 avg viewers, he felt that the collections he created no longer had the same impact; some cards felt dated and needed a complete overhaul to match his current state and content.
In one month, he followed the 6 tips we share below and became one of the top creators in Streamloots. For each tip, watch the orange text to know the specifics of his changes.

When you start out creating your own Streamloots collections, you'll likely experiment a lot when deciding on which interactions you'll be placing in your cards. This can lead you to build large collections, which will help you understand what works and what doesn't with your viewers, and having a wide range of interactions will provide lots of options.
However, as your viewership grows, you may find diminishing returns of having large collections as they can dilute the perceived value of each interaction to viewers. In addition, especially for new fans, it can feel overwhelming to navigate a high number of cards, not knowing which ones bring out the best moments.
Consider optimizing your collections by removing cards that provide interactions that don't mean much to your community or that feel too visually disruptive. As a larger streamer, your community will be more willing to help you steer the availability of options and interactions: they trust they know best which cards will be valuable. Have this in mind, and curate shorter with more impactful collections.
TheJRM made sure to go over all cards he previously created, approaching them with critical thinking. Which ones are just fillers and don't add much to my stream? Which ones feel too annoying when redeemed? After consideration, his collections were narrowed down to the interactions that felt more powerful for his audience to use, focusing the attention on them and ensuring viewers would get this highest return from their support through Streamloots.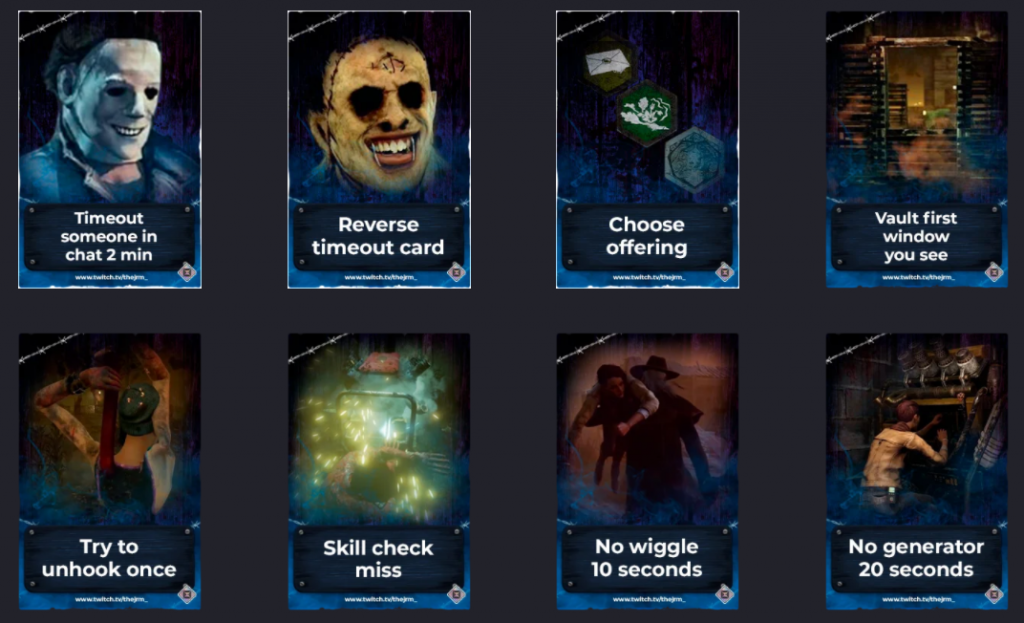 Building an increasing and dynamic community is one of the key changes that come with higher viewership. And growing communities bring new members bursting with creativity that are not only your fans and supporters: they play a huge part in making new moments happen, on your stream or outside of it.
As your community becomes more active, make sure to incorporate their contributions into your collections. For example, is a clip from your stream gaining a lot of traction on Twitter? Is there a new meme going around your Discord due to something that happened on your channel? These internal memes and moments will feel extra special for members deeply involved with your community, acting as sorts of inside jokes that can gain a life of their own as new viewers become fans.
And, as important as that, don't forget to always consider your community's feedback regarding new changes: they'll provide you quick As they trust your judgment, you should also always remember that your community's support is a quick gauge on how to adapt your settings.
On his new collections, TheJRM created cards that are very tied to his community's discourse. While these might not be immediately relatable by new viewers, they feel immensely familiar for seasoned supporters. One great example is his Legendary Shiny JRM card, displaying a famous meme within the community about JRM being bald (which he isn't). This card is limited and rewards redeemers with exclusive merch items. It feels important by showing community traits and having a limited edition status, leading more viewers to become active community members.

As your channel grows larger, you'll probably notice that you might be able to categorize your supporters into three general categories: your biggest supporters, that purchase many packs per month and are glad to contribute to help your streaming careers; small supporters, who usually are in larger numbers and purchase packs sporadically; and supporters in-between, that at intervals can be on each category.
By creating different collections that suit best each category of supporter, you'll be able to choose the right interactions according to each fan's wished contribution in the stream – as you can price each collection differently according to it – and also to provide them with different levels of ways to impact the channel while making sure that everyone's input is meaningful and important.
This doesn't mean that you'll be excluding any viewers from accessing collections: anyone can still purchase and redeem packs & cards as they wish. But by suggesting and pricing them accordingly, you'll be helping viewers' decisions and facilitating the choice for new ones, allowing them to get into the groove of becoming supporters through Streamloots.
TheJRM created three different collections based on this mindset. The first, with the most accessible price of $1, was a brand new Text to Speech Collection where viewers can have Dead By Daylight characters speak what they wish, and it serves as a great way to get familiar with interactions and make repeated purchases. The second collection, priced higher at $3.99, includes cards that can impact the gameplay. Finally, his Supporter Pack acts as his Premium set of interactions, priced at $14.99, grants high-level interactions like giveaway tickets or loadout options for the supporters who are willing to pay a higher price.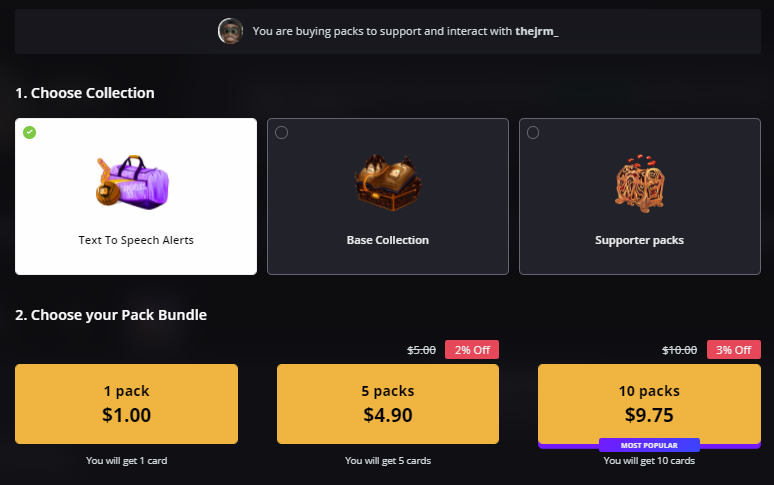 We've talked a bit about how important it is to make sure your collections and packs feel valuable to your viewers, and this last tip is all about that. By limiting the packs you sell to include just one card, you'll be valuing your collections more, and you'll be able to avoid card spam in your channel, which will be quite relevant if there's a big audience that might be opening packs and redeeming cards often in your channel.
It's important to communicate this to your viewers, especially if you're implementing this across all collections and you previously sold packs with a higher number of cards: viewers can feel frustrated if they purchase a pack and they feel like the cards they can redeem weren't worth it. To ensure this doesn't happen in your community, make sure that all chosen interactions feel valuable to your viewers. Adjust your probabilities between rarity tiers if necessary to give every card a chance to shine, based on your community feedback.
TheJRM implemented this tip on all of his collections and packs. By combining this with the three different levels of interactions that he created, at each different pack he was able to set a representative price for the types of interactions that the viewer would get. So, for example, his entry-level collection only has Text-To-Speech cards, so even if a viewer doesn't get the one he's hoping for, he still can redeem one with a similar effect. And if viewers choose to purchase packs of higher value, they know the cards hold higher-level interactions as well.

As briefly mentioned above, having an entry-level collection can make the difference when it comes to smaller and repeatable interactions. Many streamers use bits as a way to redeem such interactions, and activating Text To Speech (with commands like !TTS) is one of the most popular choices.
Having a Text To Speech collection can be a great complement to this, acting as an alternative for viewers to support streamers in the same way without needing to resort to purchasing bits or watching ads.
TheJRM has set 100 bits as a minimum for Text To Speech interactions, so he priced his Text To Speech Collection at $1 to be aligned. Keep in mind that when viewers purchase the Text To Speech pack, they'll know for sure they will get a TTS card they can redeem, with a variety of different voices.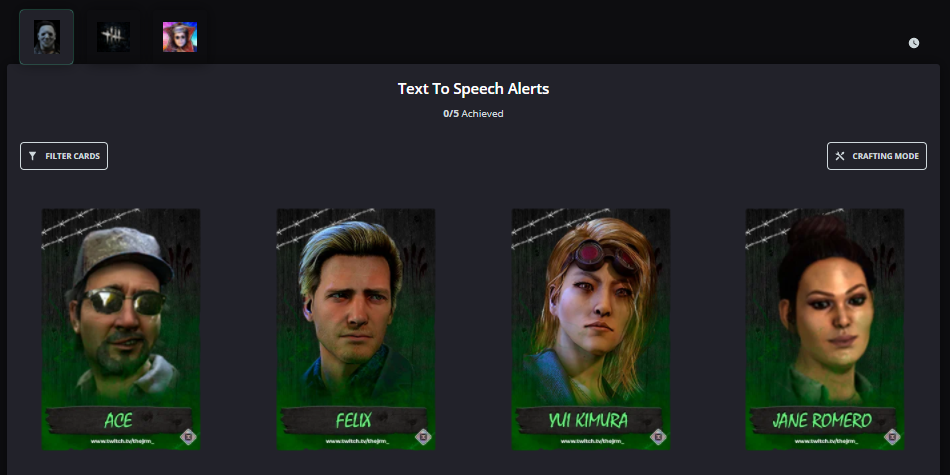 As your streaming experience and channel grow, you'll likely consolidate your streaming personality and themes along the way. Therefore, making sure your Streamloots collections reflect the brand image of your channel is essential to make sure cards and packs are aligned with the content of your streams.
As your community grows, make sure to incorporate aspects of what makes your channel unique into the designs of your cards and collections.
Adapting his cards for the newer audiences, TheJRM added brand new DBD-themed designs, sharing common traits across collections (like card structure and backgrounds) with variations in colors to be easily identifiable at first glance by viewers. Additionally, JRM claims his house is the Killer Shack, a building found in Dead by Daylight. Since this is something recognized by his community immediately, the new designs were inspired by this.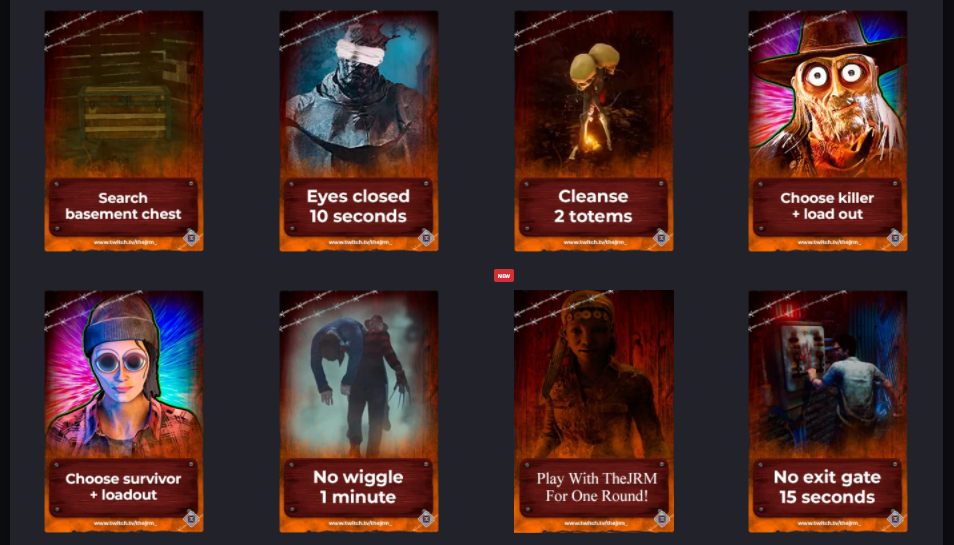 We want to know your ideas!
Are you/have you been in a situation where you had to adjust your collection due to your viewer community growing? How did you do it? Are you in the process of revamping your setup? We want to learn from you! So join the conversation with the community! Please share with us your ideas on our Discord!