It's a great time to be an MMORPG fan and streamer! The pool of players has never been more extensive, and between new games being released and previous ones receiving fresh updates, you're never running out of things to do, and, surely, you'll find something that feels just perfect for you to sink countless hours streaming and your audience to watch in your channels!
Whether it is Final Fantasy XIV, World of Warcraft, Guild Wars 2, New World, or many others, the MMORPG community at Streamloots is one of the strongest on the entire platform! Because of this, we want to bring you 4 tips that can make a difference when creating a collection that will resonate with your fans and viewers on stream! So read to know all about them.
And tying into the MMORPG topic, Lost Ark has finally been released in Europe and the Americas! In its first weeks, it's proving to be one of the most popular streaming titles, and we want to celebrate this with our community. That's why we're excited to announce the launch of the Lost Ark Original Collection in Streamloots: a set of 30 brand new cards designed for you to explore, hunt, craft, level up your character, or simply enjoy some PvP action! Click below to add the new collection!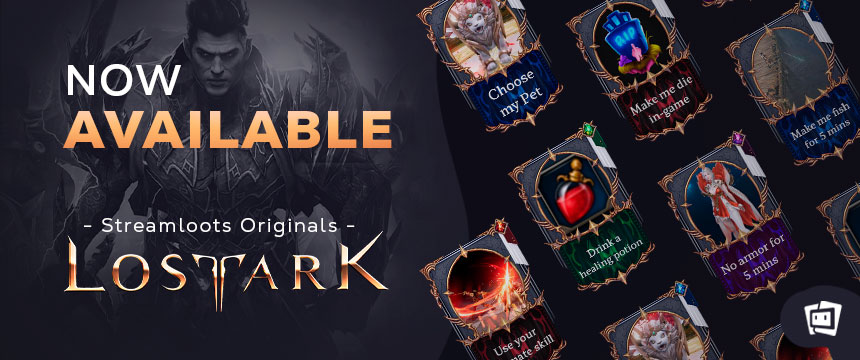 1. Incorporate the Social Aspect of the Game in your Interactions
One aspect sets MMORPGs immediately from the rest of the games, and it's actually in the category's name. As massive-multiplayer experiences, this means that such games benefit hugely from having a living environment full of players from all over the globe, coming together to create a truly social experience.
When creating your collections, make sure to keep this in mind, and don't forget to tailor specific cards to account for the different types of interactions you can do with other players. These can come in all shapes and tones, from random acts of kindness to strangers to make them question your actions or even launch surprise attacks!
2. Keep the Challenge and Punishment Balanced
We know it: viewers will love to throw challenges and punishment your way, and MMORPGs are the perfect environment for it. Gameplay elements in these games tend to be quite varied, so there's a lot of interactions that you can have for your viewers in which they are able to throw some challenges (or even trolling requests 👹) your way.
In this regard, there's one major lesson to be learned from the most successful streamers in MMORPGs: make sure that you keep in control of what's going on. You can achieve this by keeping in mind the importance of balance in your cards, so that whatever punishment or hurdles your viewers throw your way do not punish your gameplay excessively or take too long to complete. Don't neglect adding these type of cards – like playing without a mount for some minutes or not allowing you to use a specific spell – but make sure you keep them limited in time.
3. Legendary Cards for Legendary Moments
MMORPG's most epic quests and moments usually come from the top tier raids or dungeons where the most valuable loot and drop are held. So, when going for legendary quests, why not tie them to legendary cards?
It's always a good idea to have a couple of legendary or epic cards that move your content into a specific area of this type: allow viewers to decide you to play some arenas, run a particular dungeon, or trying to earn a specific drop. You'll be making viewers part of your quest-building and adding a lot of value to those harder-to-earn cards in your collection.
4. Get Your Community Involved!
We've already touched on the social aspect of MMORPGs, but Streamloots cards will allow you to go an extra mile: involving your community directly in the actions they can redeem. This is a strategy that works incredibly well not only on the content perspective, but also in building a stronger bond with your viewers and making it extra valuable for them to follow and support the channel.
We've seen incredible ideas on how to get your viewers involved directly in the action on screen, and we've adopted many of these into the official Original Collections we've made available for MMORPGs like WoW or FFXIV. Figure out how viewers can help you complete a specific goal that ends feeling meaningful to everyone.
5. Character Building
And finally, as the last tip, there are few better types on games in which you can build your character's traits than in an MMO – so make some cards available to let your viewers impact on these choices! At some point in your adventures, publish cards that can dictate your characters' skills, looks, weapons or attires.
And these ideas can range from all types of impact and rarities for your viewers! Changing a haircut or other visual-only changes are a perfect fit for low-rarity cards, while others that actively can change the way you'll play might be tied to legendary cards.
Here's to great quests with Streamloots!
We'd love to know how you're using Streamloots with your MMORPG of choice! Learn from the community and join the conversation with the help of the most successful streamers in our Discord.