It's a great time to be a Final Fantasy XIV player and streamer! The game keeps breaking its concurrent player records, feeling more alive than ever, and bringing regular and exciting new content to the community. Despite Realm Reborn being released eight years ago, the momentum keeps growing in the world of Hydaelyn.
To give the community more tools to create awesome FFXIV moments in your channels, we're super excited to announce the release of the newest Streamloots Community Original Collection! These are over 30 brand new cards created by Streamloots community members Jimventures and DragonsFae that expand the ways you'll be able to play the game in new ways while getting support from your viewers.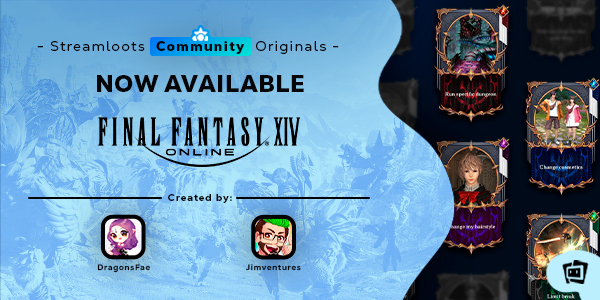 Below you can find 3 unique suggestions on using the new Original Collection to make your quest truly like no one else's. Whether you adventure and battle as an elegant Elezen, a jovial Lalafell, a fierce Roegadyn, or as any other race throughout Hydaelyn, these ideas can help your story become truly unparalleled where your viewers will join as valuable party members!
#1. The Ultimate Role-Playing Experience
The FFXIV Community Original Collection is the perfect way to emphasize the RPG in "MMORPG"! Roleplaying in games has been more popular than ever, and Final Fantasy XIV's attention to world-building, lore, and storytelling provide you the perfect background to expand upon this in your own character with the help of your fans.
The new cards allow you and your viewers to turn every session into more than a checklist of clearing quests and raids. With it, you'll define your hero's traits, motivations, and personality by letting viewers impact physical attributes and create a narrative that builds upon the world and makes it feel like you and your character are truly living within the world of Hydaelyn. And don't limit these interactions to the preset quests: have viewers decide how you interact with other players around you.
Incentivize your viewers to go beyond redeeming the cards: ask them to participate in the storytelling, justifying the actions on-screen with your characters' personality and building upon your arc. Live out your adventure in exciting new ways through new narratives.
#2. The Heroic Challenge
Do you know the feeling when you take on a foe that is a much higher level than would be recommended in an MMORPG, yet you're still able to prevail? There's no piece of equipment or legendary loot that can come close to that feeling (although they're still very welcome!)
With the new FFXIV Community Original Collections, you will be able to stray off the designed path with the help of your viewers to take on self-imposed harder challenges that can make you feel that you are the hero meant to lead the events in the Seventh Umbral and Astral Eras. Have your viewers pick the next raids or dungeons to tackle, run trials and sidequests chosen by fans and embrace tougher restrictions to your movement and battles.
Bravely face challenges issued and try to even go beyond their restrictions. Set goals for harder challenges if several packs is bought or specific cards are redeemed.
#3. Chilling With The Community
While Final Fantasy XIV has many things to do, it's also a game that feels great to have more relaxed streaming and playing sessions in. As a result, many FFXIV streamers choose to do some sessions that, while exploring and making progress with their character, act more as an opportunity to bond with the community and as a break from the fast-paced moments of raids, dungeons, and other sections of the game.
The FFXIV Community Collection includes several interactions that allow you and your viewers to make the most of such moments, all perfectly themed within the game. For example, viewers can play sounds of chocobos, ask you to compliment another player, choose who to give your commendation to, and many other actions that don't require you to be as focused as when you're deeply involved in specific quests.
These simpler interactions are a great way to welcome new viewers to your streams and to be supporters through Streamloots, especially if they prefer not to impact the gameplay as much at first. In addition, you can create a special collection, at a lower price, including only these types of cards, that you can encourage new viewers to try out as an introduction to Streamloots!
Meet The Creators
DragonsFae
DragonsFae has an FFXIV collection with 88 cards, including challenges, mini-games in Gold Saucer, cards to craft different objects and a lot of fun GIFs! She is a true Final Fantasy lover, so if you want to add some extra cards to your FFXIV collection we recommend you to take a look at her collections.
Jimventures
Jimventures is a variety streamer, and in his Streamloots page, you will find inspiration for several games such as Dead By Daylight, Overwatch, Sea of Thieves, and within the Horror genre. While he doesn't currently have an active FFXIV collection, his vast knowledge and experience with the game helped design many of the newest cards in the FFXIV Community Original Collection.
We want to know your ideas!
Do you have ideas on how to create more outstanding FFXIV-themed collections? Did the perfect Streamloots moment happen on your stream? Join the conversation with the community! Please share with us your collections or clips on our Discord.