If you've been streaming for a while, it's likely you've come across instances of payment fraud being reported by creators in news outlets, support articles, or reddit threads. While some of the most high-profile cases reported came on the side of creators, many more happen through viewers with harmful intentions that purchase a service from the streamers – like Subs or others – with an invalid or stolen method of payment.
A fraudulent payment one flagged by payment platforms (PayPal, credit cards, etc.) as not valid. This usually happens because the payment is made from a stolen credit card or PayPal account. Fraudulent payments impact negatively the streamers in two ways: first, they at first provide the viewer with a benefit for no compensation, since the fraudulent amount will not enter the creator's funds; and secondly, because payment disputes are usually tiresome and take energy and time to resolve.
This is why preventive measures from streamers and platforms to avoid fraudulent payments, apart from corrective, are very important for creators and streamers. At Streamloots we've taken steps to make sure that your impact from fraudulent payments is minimized from the side of compensation, by preventing them, and regarding disputes, to streamline and make them fast and efficient.
Streamloots Practices To Assure Fraud Prevention in Favour of Streamers
Detecting Fraudulent Purchases
If a user you don't know with a new account makes a lot of purchases and isn't active in your chat or community, there's a chance that their purchases might be fraudulent. If this happens, try to know more about that viewer: are they in your Discord? Is this a new username by a previous user?
As a general recommendation, if your cards contain prizes that involve a monetary cost to you, we always suggest you to wait about 15-30 days before giving those prizes if you do not know the users who have been awarded.
Solving Payment Disputes
Streamloots fully protects you from fraudulent purchases and will bear any costs arising from disputes. If someone starts a dispute over a specific payment and the streamer loses the dispute, this means that they have to pay a fee. With Streamloots, we cover the fees from payment disputes on your behalf.
Did you know that through Streamloots you are able to be paid twice a month? Check the blog post below to know how to do it.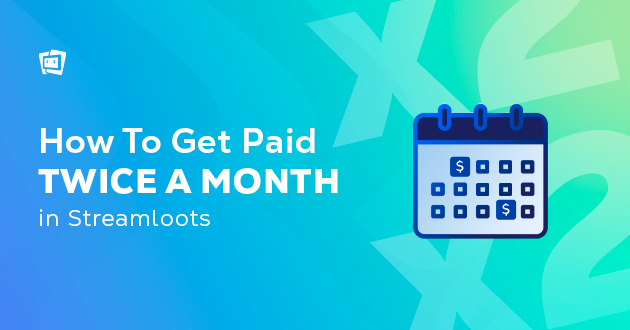 When a payment is done and suspected to be fraudulent.
When a payment is suspected to be fraudulent, the user who made the payment is blocked, and all purchases by that user are frozen. Our team then attempts to contact the user to prove authorship of the payments. If the user proves that the payment is legitimate, his account will be unlocked and the money will pass to your balance.