In this article, you'll learn why to run your Subathon using Streamloots to achieve incredible results, get inspired by some of the most creative streamers on Twitch doing it, and how to start planning your own Thon, with some free tools that will make your life a lot easier!
Why Should I Run A Thon or Subathon?
Thons are great ways to galvanize your community in working towards a defined set of objectives and goals. By focusing events like this on a specific action that you want your viewers to achieve, you'll be able to do a memorable event that can quickly boost your channel's performance. For example, Ludwig's subathon in April 2021 drew him headlines due to how successful it was, allowing him to even go past Ninja's all-time sub record.
Thons are also excellent initiatives to make a type of content that's different from what you usually do and that viewers look forward to, and to remember the stream by after the Thon has passed. From a viewer's perspective, Thons are ways to influence the stream's outcome more than ever.
Types of Subathon
Some of the most common types of Thons include:
Sub-a-thon: Actions based on the number of new subs during the event
Follow-a-thon: Actions based on the number of new followers
Loots-a-thon: Actions based on cards played or packs purchased (using Streamloots)
Some streamers even do "Goal-a-thons" where the streamer sets several milestones. When those milestones are reached, some events are unlocked.
Using Streamloots To Run Your First Subathon!
Streamloots is the best way for streamers to interact with their viewers while getting direct support to do what they love for a living. You probably have seen streamers using Streamloots packs and cards in channels doing their usual content, but did you know that Streamloots can make your Thons much easier to run and much more impactful for your channel?
Even if you already use subs & bits to run Thons, Streamloots provides partners with a 90% share of the revenue earned selling packs – the highest in the industry! Adding Streamloots to your Thons doesn't only bring you higher interaction from viewers; it helps them support you in a much more impactful manner.
We will show you how two streamers used Streamloots to run their first-ever Stream-A-Thons with incredible results for their channel. And the best part? There's not a hidden secret: anyone can learn and run events like this!
Learn From The Best: BehavingBeardly's Fiesta Beard-A-Thon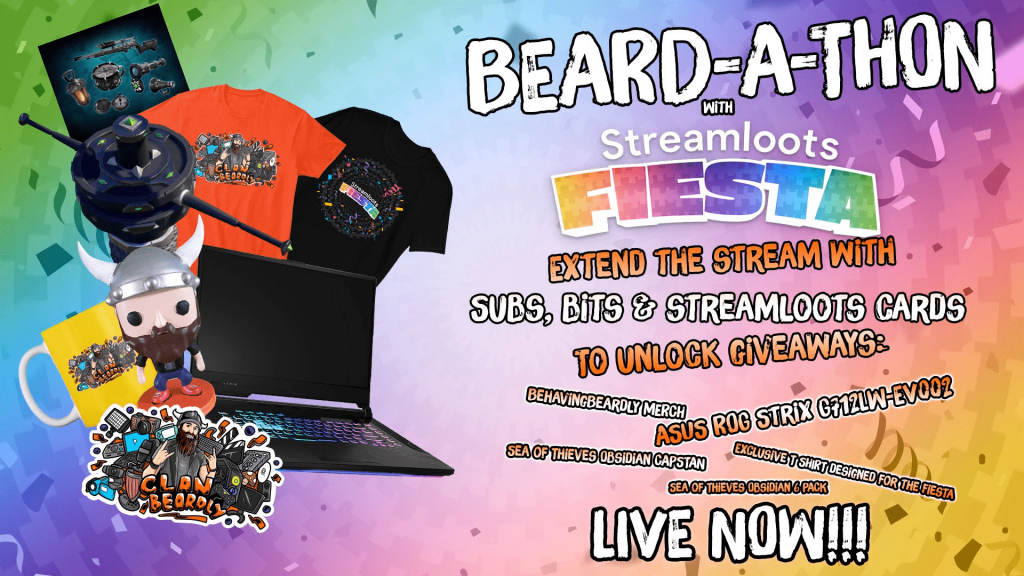 BehavingBeardly, a partnered Sea Of Thieves and Twitch streamer, had never run a Thon before because he didn't find the concept rewarding or interactive enough for his community.
However, with Streamloots, he had an idea: what if he used the cards and packs to add time to his stream and promoted giveaways for the additional hours he would be live? That would give viewers a solid reason to contribute to the Thon and great rewards for those actively participating.
So that's what he did. BehavingBeardly created a unique collection for the event and made those cards the only active ones during that stream. These cards had a particular function: when viewers played them, they would add minutes to the stream. And for each extra two hours of streaming, he would add a new giveaway.

As a result, BehavingBeardly ended up streaming for more than 20 hours due to viewers adding time from these cards. In just one day, his activity earned him as much as his monthly Streamloots income and created a stream that his viewers are still talking about.
Learn From The Best: Paulie Esther's Streamloots Stream-A-Thon
Paulie Esther, Dead By Daylight streamer and part of the Fog Whisperers Program, decided to incorporate Streamloots cards into a traditional capped Sub-A-Thon model for his first Stream-A-Thon.
He set a fixed time for his stream – 20 hours – but with goals clearly defined and shared with his community ahead of the event. Then, for every set number of Streamloots packs purchased by his viewers, he would perform the corresponding action.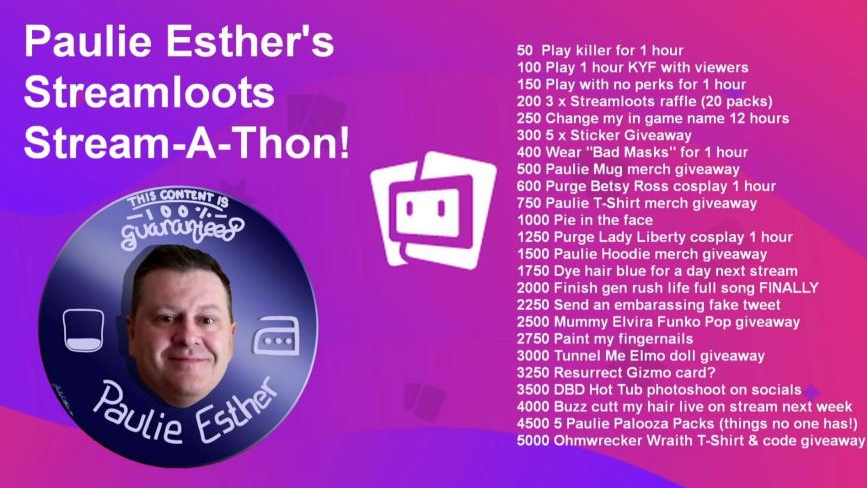 In a different manner from Beardly's Thon, he didn't create a specific collection just for the event. Still, by making exciting and fun goals for his community, he provided a huge incentive for his users to get new packs. As a result he managed to beat his final goal of 5000 packs sold, and his viewers achieved all rewards listed.
Running Your Own Subathon with Streamloots
As you've seen from both examples, any streamer can replicate these events using Streamloots. There are three simple steps to organize your first Loots-a-Thon, and we have some surprises to help you get started.
Decide Your Subathon Goal Ideas
What objective would make a difference for your channel right now? Is it followers, viewer support, or new subs? Decide the focus of your Thon, and from then on, you can expand the concept with the objectives your community can achieve. If you need Subathon Goal ideas for your marathon visit this article to know 30 Subathon Goal Ideas for your next Stream Marathon
Choose the Thon format
Do you want to make your stream last a fixed amount of time to achieve set goals like Paulie Esther? Or maybe you want the community to dictate the length of the stream like BehavingBeardly. Or why not try a mix of both? Decide on it and set the format clearly so viewers can know what to expect.

Decide the collection you'll use
The final step is simple: decide what type of interactions will be playable from your viewers for you to recreate on stream. Maybe you'll want to display only some of the usual favorites, or you'll want to create something remarkable and make new cards just for this event, keeping it super fresh!
Get Started With Some Free Subathon/Stream-A-Thon Templates
We want to help your Loots-a-Thons to be something you and your viewers will never forget. And we created two tools to help you.
We wrote a tutorial explaining how to automatically connect your Streamloots Cards to a timer on your overlay! You can read it here.
And that's not all! Organizing your Thons is no small feat, so to help you with the promotion and concept of your Loots-a-Thon, we made design assets that will cover all your needs to put a special feeling in your event and describe the goals to your viewers. Click below to download the Streamloots-A-Thon Design Pack for free!
Share It With The Community
We want to know your ideas and the ways you've run your Loots-a-Thon! So please share it on Twitter using the hashtag #streamlootsathon or write us at hi@streamloots.com! We'll feature the best ideas in future blog posts to promote your stream and how you're using Streamloots to grow.