At Streamloots we're always trying to find new ways for creators to provide valuable content to their communities, no matter the platform where they stream. And as a streamer grows and matures their content and channel, usually they come to realize that providing 'offline' content – meaning content that is always readily accessible and not just during a live stream – can be incredibly valuable to viewers as well.
It's for this purpose that we've developed and just released the Streamloots Feed. With it, all creators will be able to provide constant and diverse offline content to supporters, keep your community updated on current or upcoming channels events, offer exclusive content for Subscribers only, and much more. In today's post, we'll guide you through everything you need to know about the Streamloots Feed.
What is the Streamloots Feed?
The Streamloots Feed is a feature that allows creators to make and manage public posts for viewers to easily access. Creators can post images and text as free content or exclusive to Streamloots Subscribers only.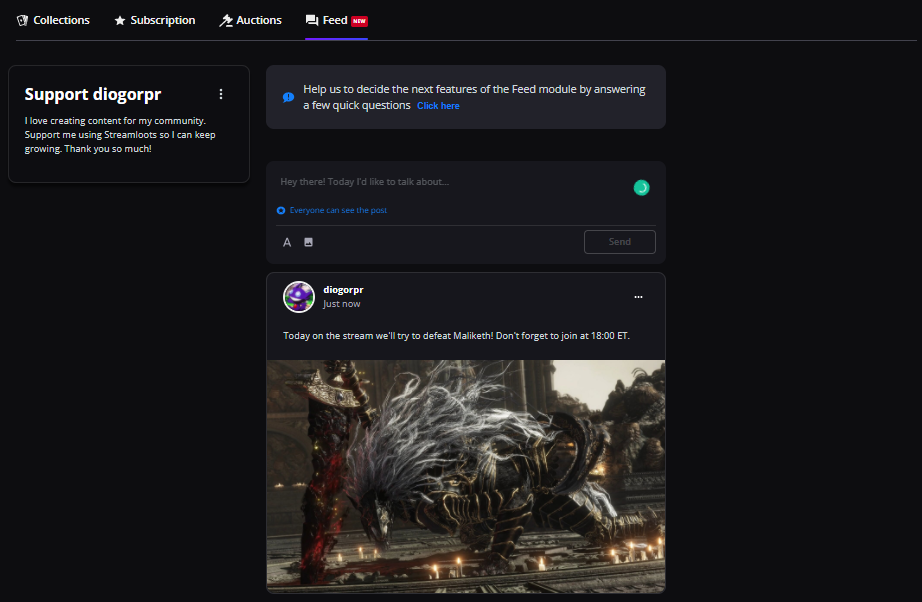 How can I and my community use/access my Streamloots Feed?
As the creator, you can access the Streamloots Feed by going to your public page and then accessing the new Feed tab displayed below your profile picture. This is also how viewers can access your Feed, so make sure to share with them your Public Streamloots Page through social media, your chatbot, and other methods to keep them updated.

You can make your posts public or exclusive to Subscribers. If you want to choose the second option, make sure to click the option below the text field and select "Only Subscribers can see the post" before posting.
How can viewers donate through the Streamloots Feed?
One of the most exciting aspects of the Streamloots Feed is the ability for viewers to directly donate to their favorite streamers. This seamless donation process allows viewers to express their appreciation and support for the hard work and creativity of their beloved content creators. Streamers receive an incredible 80% of each donation, ensuring that their dedication is recognized and rewarded.
What are the best ways to use the Streamloots Feed?
The Streamloots Feed provides a lot of new ways for creators to engage viewers in new and refreshing ways. Here's some suggestions based on how streamers have been using it:
Promote Channel News
The Streamloots Feed is a great way to centralize everything that your community needs to know about your channel, such as new games being streamed, changes to your schedule, announcing special events and much more.
Share Exclusive Content
By turning a post to be visible to Subscribers Only, you'll be able to add immense value to anyone who subscribes to your channel through Streamloots. The options are limitless: share exclusive pictures, videos, discount codes or let viewers know about a special Discord event, among many other options.
Provide Updates About Collections, Auctions and Sub Perks
The Feed can be the perfect place to centralize every new update regarding your Streamloots activity. Some great examples we've seen from streamers since it launched it are announcements of new cards entering collections, changes of pricing to packs, communicating that a collection will be unpublished soon, announcing commemorative Auctions in the future, or a brand new Subscriber reward for Subs.
Share Discount Codes and Free Packs to First Viewers
Sharing discount codes that provide lower prices or even free packs can be a great way to give an extra incentive for your viewers to create the habit of checking out the feed. You can even insert a link that provides the first 5 viewers to click it with a free pack, using the pack gifting feature together with the Feed.
Express Yourself
Last but not least, you can use the Feed as a further channel to express yourself as a creator and expand your channel's branding! Share some community art, memorable clips from the last streams, share thoughts with your community, and much more!
Ready to Take Your Stream to the Next Level? Join Streamloots Today!
Embrace the magic of Streamloots and open the door to a world where your community becomes active participants in your content. By offering interactions that are as diverse and creative as your streams, you'll forge an unbreakable bond with your community while reaping the rewards of a boosted income. Your content, your rules—Streamloots empowers you to shape the interactions that align with your brand and vision.
Don't miss out on this exclusive limited-time opportunity to secure an incredible 100% revenue share for the next 3 days! Time's ticking, and if you haven't hopped on the Streamloots train, you're leaving amazing interactions and growth behind. Engage your viewers, grow your fan base, and create unforgettable moments.