Behind every streamer story in Streamloots, there's a community of amazing viewers. And after getting everything ready for the first stream with your cards and packs, there's an essential step: helping your viewers understand the concept of Streamloots and guiding them along the steps to earn their packs and redeem cards.
In today's blog post, we're going to explore three essential tips that will make it much easier for you to explain and show how Streamloots works to your viewers so that they can use the platform from the earliest moment. Streamers often cite this topic as one of the major learnings to be had in their Streamloots experience. By applying a combination of these ideas, you'll be able to have your community hyped and ready to redeem your cards in no time!
This guide was created with the help of our community, with the assistance of partners Tratox, TheGCU, and TotalXclipse. Follow the links below to meet their collections, channels and get inspiration for your following Streamloots initiatives!
1. Trying Streamloots Is The Best Way To Understand It
The first and foremost tip to help viewers get onboard the Streamloots Hype is simple: there's no way to describe better what Streamloots is and what it does than watching it in action. The vast majority of successful streamers in the platform cite this as the number one reason for their community to adopt Streamloots massively.
Viewers who redeem a first card that they consider valuable tend to come back and make repeated purchases. One of the most brilliant strategies you can have to facilitate the adoption of Streamloots from your viewers is to let them have a hands-on experience right away: the lower the barrier of entry is for viewers to experiment with redeeming a Streamloots card, the more likely it is that they'll give it the first try. There are a lot of tools in the platform that allow you to provide cards at a discount for first-time buyers, such as coupons and gift packs – make sure to combine this with channel initiatives so that viewers who perform a specific action are rewarded with a trial pack.
TotalXclipse has a fantastic example of this strategy in action: he created a collection comprised of a single card that, when redeemed, displays a gif on stream. When viewers follow his channel, they can get a free pack containing one of these cards by typing the command !free in the chat. By providing free access to a simple interaction, viewers can understand the logic behind packs and cards, see their action impact the stream in a meaningful way, and become much more likely to make a follow-up purchase with the paid collections.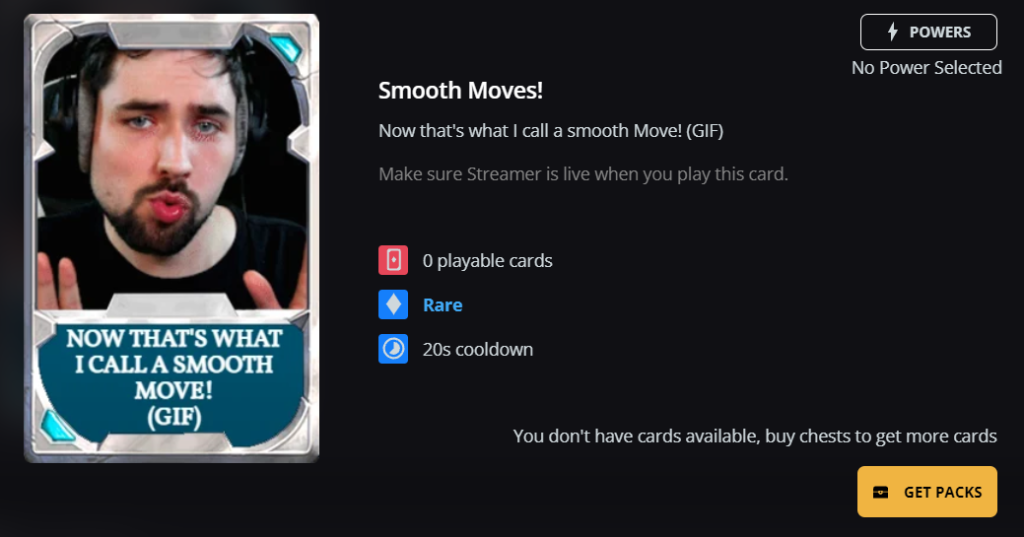 2. Promoting The Value For Viewers
This is a Streamloots Discord exclusive tip! Click below to join and read it in Discord.
3. Creating and Sharing The Perfect Moments
Bringing both previous tips together, being able to showcase examples of Streamloots contributing to unique moments to your stream is the final essential method to make your viewers fall in love with your cards and packs! And here are the two best suggestions to do it:
Plan a day in your streaming schedule where you'll

guide viewers in the process of understanding how to use Streamloots in your channel

, where they'll exclusively be able to use free trial cards to understand its impact. For example, pick a game and a Streamloots collection that can provide plenty of chaotic and funny moments created by specific cards. Remember that one card redemption is visible to all your chat, so if you can incentivize multiple of them,

you'll be able to drive your community's enthusiasm even further.
Clip and share Streamloots moments on your social channels.

This way, you'll recognize your audience's role in your stream and show everyone what they're missing if they aren't getting your packs. Short video formats like TikTok and Instagram Stories have worked incredibly well for streamers, as well as clip compilations on YouTube. This way,

you'll be using Streamloots to create even more valuable content for multiple platforms – with your viewers as an active part.
We want to know your ideas!
How did you explain Streamloots to your viewers? What ideas do you have to get them purchasing their first packs? We want to learn from you! So join the conversation with the community and share your experience on our Discord.