Getting a living out of creating content is becoming harder and harder these days. That's why it's important to create new ways to encourage your community to support you. Choosing the perfect goals can be a game-changer to boost the support from your community members. Today we are introducing Streamloots Multigoals, a free goal widget to use for your stream.
What Is Streamloots Multigoals
Streamloots Multigoals is a free goals widget where you can add as many different milestones as you want up to 10. The goal works with Streamloots Subscriptions and Packs. The widget is 100% customizable, with images, colors, texts, and so on.
Why Streamloots Multigoals Is the Best Goal Widget
Streamloots is a platform that allows creators to use different solutions to get a sustainable income while creating content. Multigoals can be used with the modules Cards and Subscriptions. Unlike other platforms, we give creators 80% of the price your viewers pay (90% if Partnered).
How does Streamloots Multigoals work
The first thing you've got to do is to create your Streamloots account if you don't have one yet. Secondly, you should select a module to get started. Multigoals work with the module Cards and Subscriptions, you can enable several modules at the same time later on. 
Once you have completed your registration you should go to Configuration > Alerts and Widgets > Goals. Each module has an independent goal that is fully customizable.
To create a Multigoal the only thing you need to do is to click con "Add Goal". You can add up to 10 different goals that your viewers can complete by buying Streamloots packs or subscriptions.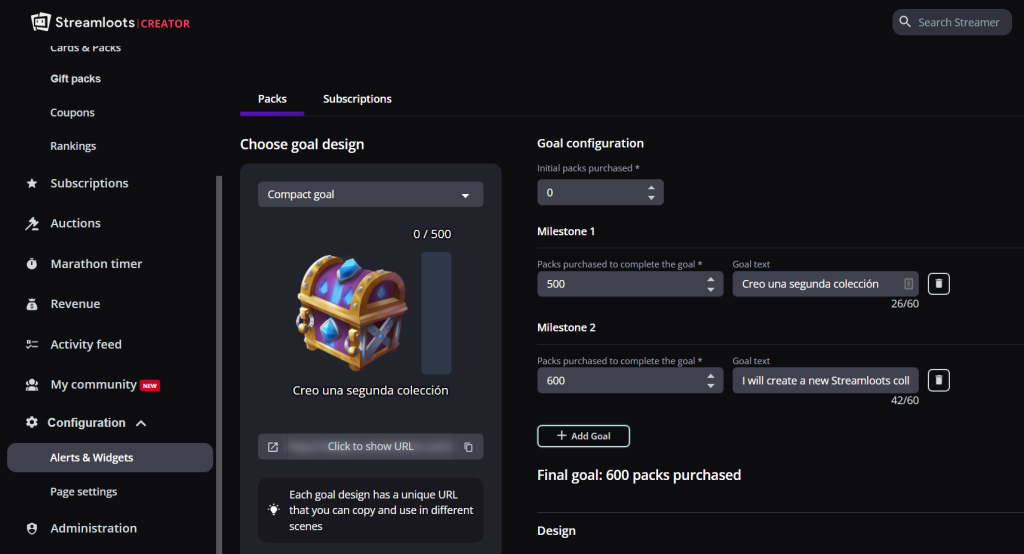 That's all! if you want to know more about goals feel free to check our article: 30 Subathon Goal Ideas for your next Stream Marathon