If you've been streaming on Twitch to your community, you've probably used Twitch Channel Points to allow viewers to interact with you live on stream. When streamers reach Twitch Affiliate status, they can set customizable interactions for viewers to redeem on stream once they accumulate enough channel points to pay for the redemption.
Streamers can set unlockable interactions for viewers to trigger through channel points. While these are a baseline to get your community involved with your stream, they can be limited in the scope of tools and control they provide streamers. Keep reading to know about how to improve your Twitch channel points and rewards through Streamloots for free and how you'll be able to complement the limitations of channel points in Twitch.
Table of contents
Unlocking Viewer Rewards
One major limitation that streamers often point to Twitch Channel Points is a rigid system for viewers on how to earn twitch channel points for a Twitch stream. Twitch's conversion rates of earning Channel Points are fixed, so streamers have no way to change what actions provide viewers with more points.
This system is in place for all streamers, no matter their size or type of content, which provides little flexibility for creators.
Using Streamloots, streamers can set a similar system for viewers to redeem interactions during the stream, with the advantage of selecting the frequency, cost, and availability of all rewards for their community.
Furthermore, Streamloots allows viewers to also earn rewards at no cost through the options of Packs Gifting or Free Packs Coupons, made available by the streamer, providing a free trial for those not yet acquainted with the platform.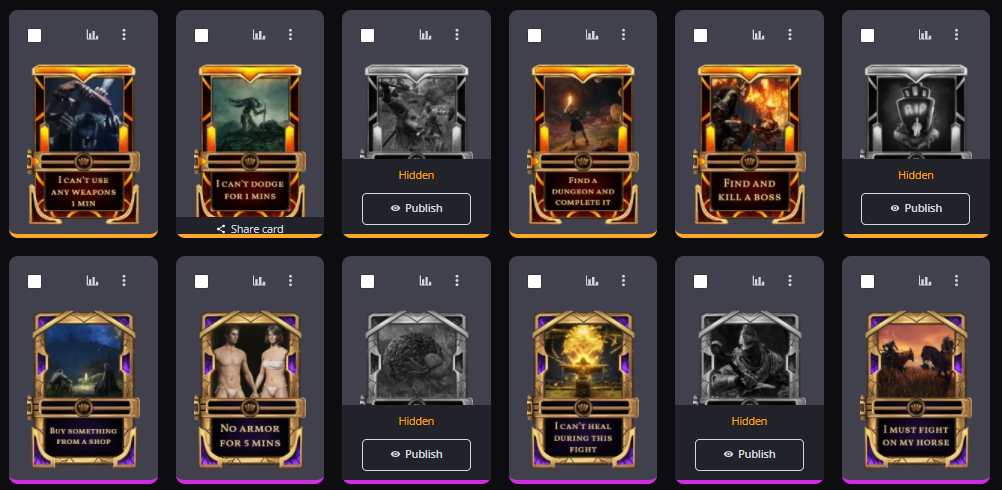 Options to Disable Redemptions
Twitch provides creators the option to enable or disable channel point rewards at will but in an all-or-nothing model. In other words, with Twitch channel points, you aren't able to disable specific channel point rewards without pausing the entire system.
This means that using Twitch channel points, a streamer cannot disable only interactions that interfere with gameplay, for example, while keeping sound alerts available for viewers to redeem.
Streamloots allow your complete control of the availability of viewer interactions, allowing streamers the option to pause, disable, edit or reactivate any viewer reward with just two clicks.
Monetization
Twitch Channel Points aren't designed to help streamers earn income in their channel, as their focus is related to providing a simple way for viewers to interact with the streamer. Twitch has other tools related to monetization which are not directly connected with channel points rewards.
With Streamloots, creators can combine viewer interactions with stream income and revenue since viewers can purchase these rewards directly from the streamer, supporting the channel and generating revenue for the creator. Monetization is directly tied to chat and viewer engagement and interactions.
Setting Community Goals
Twitch provides the possibility for streamers to create custom Community Challenges based on Channel Point redemptions, providing the option for viewers to contribute to overall goals. The downside of this feature is that it offers limited options on how creators can customize community challenges and goals. Additionally, the feature doesn't allow the creator to easily display the progress on the screen.
Streamloots Pack Goals provide the options for streamers to customize everything about community goals, including goal design, starting point, or visual configuration and gives the possibility to display it on the stream just by adding a simple browser source in OBS.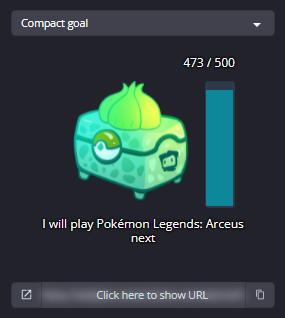 General Channel Points vs Category Specific
With Twitch Channel Points, streamers can set general redeemable viewer interactions – this means that there's only the option to create a set of rewards without making a distinction for the actual type of content taking place.
This can be incredibly frustrating for variety streamers or creators who incorporate several segments within their streams. For example, imagine that you're a creator planning to stream Minecraft and League of Legends afterward: it's hard to think of a set of channel point rewards that suit both games, and you aren't able to cycle quickly between two different groups according to the content you're streaming.
Streamloots solves this issue by allowing streamers to create several different sets of interactions called Collections. Each can contain the viewer interactions that suit a specific game, category, or event. Furthermore, creators can pause such redemptions at will, so they are sure that when they switch the category being streamed, all viewer interactions suit the action that's happening live.
Expiration Dates
According to Twitch's policy, "Points will expire if not used by a date specified by Twitch", which is currently set at 12 months. Any earned Twitch channel points will expire after a period set by Twitch that can be changed in the future.
Streamloots Interactions, Cards & Packs have no preset expiration date. This means that when viewers acquire one interaction card, they can hold on to it as long as they like, considering the streamers' preference.
Required Streamer Status for Channel Points
Streamers can only enable Twitch channel points for their viewers once they hit Affiliate Status on Twitch, which can be frustrating for someone who is building their community and relies on chat interactions to accelerate this growth, or to a creator who faced the need to change streaming platform and was able to transfer their community but still can't make use of viewer interactions.
Streamloots viewer interactions are 100% free to use for all types of streamers, no matter their size, dimension of community, content category, or user status in the Streamloots platform, allowing them to start creating valuable viewer interactions their community as soon as they'd like.