Communities are an essential part of streaming and content creation. And this happens not only between streamers and their viewers and fans but also between creators: communities are where streamers exchange ideas, brainstorm about content and find out the newest trends.
The Streamloots Community has the mission of helping streamers succeed every step of the way! Because there's a lot more to a community than to be a place for streamers to come together, we're always thinking about making it feel more valuable and helpful for every streamer who uses Streamloots to grow their channels turn their hobbies into their careers.
The Streamloots Discord Server is the central hub for the community, and in this blog post, we'll tell you seven reasons why you can't miss out on the Streamloots Discord. Whether you're a partner or a beginner, there's so much that you can do and learn with the community – make sure you're not missing out!
Click the button below to join the community, and make sure to introduce yourself and your stream! We can't wait to see you around.
1. The Marketing Workshops & Partner Roundtable
There are many learnings in streaming that come with experience, and that's also the case with your activity in Streamloots. In our Discord, there are a couple of ways for streamers to learn faster about the platform, increase their sales directly from the Streamloots Team, or find new ways to get creative with collections, features, and any unique experience.
Every Thursday, the Streamloots Team hosts the Marketing Workshop and the Partner Roundtable in Discord at 9 PM CEST / 3 PM EST / 12 PM PST. The Marketing Workshops are open to every streamer, hosted by the Streamloots Marketing Team with exclusive tips, tricks, hacks, and insights about ramping up your activity and sales from zero, with a central theme (like "How to Make Your First Sale"). To join, enter the Workshops-every-Thursday voice channel at the mentioned time: you can also ask any questions to the Team!
The Partner Roundtable is where Streamloots Partners discuss upcoming new features, ideas for the platform, and best practices to boost the activity in Streamloots, being an excellent chance for open and direct feedback with the Team. This session is exclusive to Streamloots Partners, so if you're one and want to join, enter the Partner Roundtable voice channel in the Partner Area at the mentioned time.
The Marketing Workshop and the Partner Roundtable are precious ways to hear directly from streamers about their achievements, ideas, concerns, and things they want to do next.
2. The Ultimate Resource Center For New Members
If you just started using Streamloots, there's a chance you'll still be finding out about everything you can do with the platform, as well as the features you can start using in the first few weeks. We post many guides, tutorials, and resources to help all types of streamers in their journey in our channels, but Discord is where everything comes together.
When you first join the Discord server as a fresh user, you'll enter the Starting Space, a section meant to ease your arrival with the community. Inside, there's a channel called Starting Streamloots, which gathers all the essential information for new streamers to start with plenty of resources – blog posts, articles, YouTube videos, and more – with everything you'll need to guide you in the first steps within the platform.
3. The Best Way To Learn, Collaborate and Get Inspiration
Even if we tried hard, we could never come up with the thousands of incredible ideas that we've seen streamers put in place when using Streamloots. And in fact, learning from watching others use the platform is often named the number one way for users to get inspiration and new ideas to implement on their channels.
That's why it's so important to make sure we have plenty of spaces where everyone can share their experiences with the platform and ask for opinions from other streamers. You'll find that every day across several channels (we recommend checking out the Feedback Ideas, Card Ideas, and Cards and Clips channels to start), users ask for recommendations and share new things they have been trying. Make sure to pay attention to these regularly, as you'll find out that no matter the content, there's always an inspiration to be found from others.
We also want to highlight the Card Commissions channel, where you'll find plenty of artists who are creating new designs for users according to their commission. So if you have an idea you want to see come to life as a card design, this is where to be!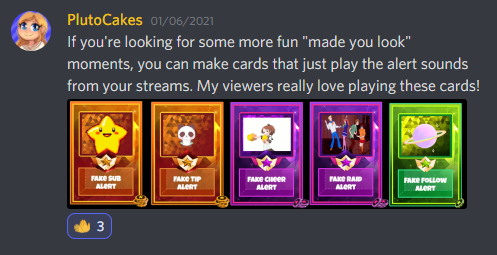 🍂 7% Discount Code: 🍂
SMELLSLIKEPUMPKIN
4. Direct Contact with Streamloots Team Members
The Discord is also where you'll be able to find members from the Streamloots Team across several departments, participating in the discussions, sharing some new initiatives and projects from the company, or even talking about their favorite games! Spot them in the members list with the red roles.
Discord is the place to get direct and actionable feedback if you have a pressing matter knowing that for sure there will be a team member to help you. Feel also free to DM us directly if there's something you feel like we can assist you with – we'll be looking forward to getting in touch!
5. Seek Help With Support and Streaming Channels
If you need deeper support regarding a situation you're facing, the Discord offers you a complement to the Streamloots Support Center & ticket requests.
In the general area, you'll find three channels for this purpose: Help Center gathers some of the most requested categories in the Support Page and a form in case you can't find what you're looking for; and Streamloots Support and Need Help? are open chat channels where users can submit questions if they're having trouble with service features or to check out about status updates. In these channels, Streamloots Team and experienced community members can help you.
There's also a channel where everyone can discuss aspects of streaming as a whole. Head over to Streaming Help, and you can discuss everything related to creating content, not necessarily regarding Streamloots: we want to see streamers and their channel succeed and grow in every aspect!
6. Keep Updated On The Latest Announcements
This one is straightforward: you'll find in the Discord everything you'll need to know about the launch of new features, new original collections added, discount codes and promotions, and much more. Keep a close eye on the announcements channel as there news are shared as soon as they're available. And the best part? There's always plenty of new things every week!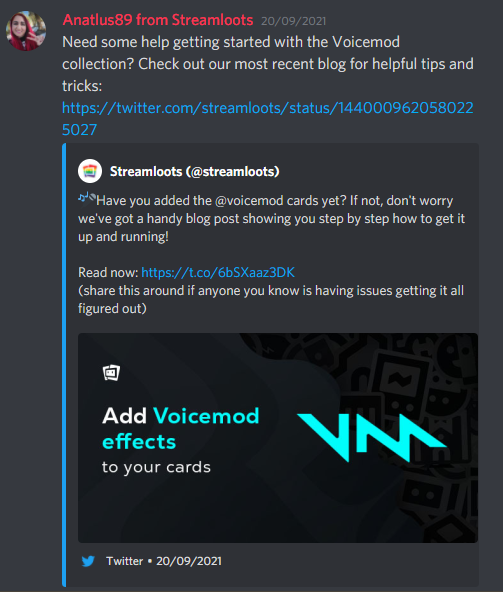 7. Reach The Next Level With Automation Ideas
If you're already experienced with Streamloots and want to take it a step further, we have the perfect channel for you. In the Automations channel, you'll find out how the community is sharing how to automate several platform features and create new experiences for viewers.
Recent examples of shared Automations include automatic updates on timers through Streamloots cards & packs, Twitch clip automation, or gifting chests based on viewing time. We're constantly amazed at the contributions we see when expanding your Streamloots toolset, and this is the channel to go if you're feeling crafty!