It's time to catch 'em all with the new Streamloots Community Original Collection!
Trainers, get ready for a legendary adventure! The Pokémon Original Collection is officially released, and you're now able to use over 40 new cards in your Pokémon streams to get your viewers participating as you explore Kanto, Sinnoh, or any other region that you desire.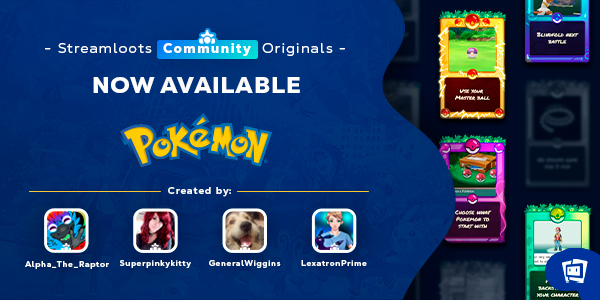 And for the first time, this Original Collection was 100% created by the Streamloots Community, making it the first of many Streamloots Community Originals! We got help from Alpha_The_Raptor, Superpinkykitty, GeneralWiggins, and LexatronPrime, who created the deck with their ideas and knowledge about Pokemon, and streamers who already had a Pokemon collection were able to also help by sharing the cards they've been using and worked well for them in their streams.
How can I help create a community collection for the videogames I play?
This is the first of many Community collections that we would love to create with the help of our community. If you're looking forward to being part of this project, make sure to join our Discord Server. You will be able to vote on which the next community collection should be and be part of the making!
Creative Ways To Use The Original Collection With Pokémon Games
Pokémon is the biggest media franchise of all time, celebrating its 25th anniversary in 2021. So if you've been gaming any time since then, the chances are that you've created stories with the world's most famous pocket monsters, no matter what the generation.
Below you can find 5 tips on using the brand new Community Original Collection with the mainline Pokémon RPG games, based on the ideas that the Streamloots Community has been using. So ready your poké balls, stock up on berries, and your very own Pokémon legend are about to unfold!
Want to add your own twist to these ideas? You can use this collection and their designs as a starting point to create your own cards with any adaptations that you'd like!
1. Upgrade The Challenge / Hard Mode
If you've been playing Pokémon games for a while, you've probably come across community-made optional rules and challenges such as the Nuzlocke Challenge to make the games feel harder and more challenging. In fact, as the games themselves don't have difficulty settings, streamers enjoy enforcing special conditions on their playthroughs that will make their streams more engaging.
You can find plenty of cards in the Pokémon Community Original Collection that will enforce a tougher challenge for your playthrough! By letting your viewers impose some of these challenges, like Catching Legendary Pokémon in a regular Pokéball, no switching allowing at the start of the next battle, or not allowing you to use a specific move for a battle, your viewers will be able to craft more difficult gameplay scenarios that will turn your playthrough unique, and on the level of a true Pokémon master!
⚡ Tip ⚡: Create a "Hard Mode" sub-collection for when you're feeling brave, including only cards that will restrict your battling and catching options to enhance the game's challenge.
2. Immersing Yourself & Viewers In The Pokémon Universe
Pokémon games fall within the Role-Playing genre after all, and on your stream, you can make the role-playing element even more impactful using the Community Collection. We've all at some point thought about what we would do if Pokémon were real in our world, and your stream is the perfect opportunity to let your imagination run free together with your viewers.
In the Pokémon Universe, you can play the roles of an intrepid explorer, fierce strategist, or a curious researcher – or even all at once. On the Community Original Collection, you'll find cards that will help immerse yourself and viewers deeper into your character and tell a great story. Let viewers nickname your Pokémon as if it was real life. If someone plays the Run Away From The Battle card, come up with a real reason why that needs to happen. If viewers redeem the Make Up The Backstory For Your Character card, imagine where you're at in your adventure to make more details come to life!
⚡ Tip ⚡: Truly embrace your character. Create a backstory that expands on your avatar's quest and role-play that personality.
3. Team-Effort With Viewers
Remember how popular Twitch Plays Pokémon was a few years ago? With the new Community Original Collection, you can do a similar format without such levels of chaos. Instead, cards dictate the key actions on your Pokémon adventure as chosen by viewers, and this way, they'll not only interacting but playing and becoming a key part of your path to the Hall of Fame!
Cards like Forcing A New Encounter, Putting A Pokémon On The Box, or Adding an Everstone to a Pokémon can lead to new strategies that force you and viewers to adapt on the go!
⚡ Tip ⚡: You can make a special day event where all key actions in battles are decided through your viewers. For this, you can create a sub-collection for "Chat Plays Pokémon" consisting of the actions that you want to assign to your viewers.
4. Speedrunning Challenges
If you aren't familiar with the term, speedrunning is a way to play and complete games as fast as possible, and Pokémon games are a big part of it. Even if you're new to the concept, setting yourself to complete a Pokémon game or a section in the shortest time limit can prove itself quite challenging and very entertaining to viewers.
With the Community Original Collection, you can do speedrunning challenges where you compete directly against your viewers who redeem cards that will try to slow your progress down. Cards like No Cycling For 5 Minutes, No Escape Rope For 5 Minutes, or Run All The Way Home can impose conditions on your movement and actions that will deviate you from the optimal course of play.
⚡ Tip ⚡: Create a special event out of these challenges. Challenge your viewers to try to make you beat the game below a set time, and reward them if they can win. Combine this with the Timer feature on Streamloots to provide different card possibilities for this mode.
5. BONUS: Playing Other Pokémon Games
The Pokémon franchise is much more than its RPG mainline series, and many streamers choose to play other games on your stream. So whether you're teaming up with other players in Pokémon Unite, photographing the environment and habitats in New Pokémon Snap, or even unboxing Pokémon Card Packs, there's a lot you can do using Streamloots to produce streams that viewers won't forget.
We've added reaction cards in the Community Original Collection that can be redeemed in any Pokémon game, such as the sound reaction cards with Pokémon cries. Others apply to several spin-off titles – Choosing What Pokémon To Start With that can be redeemable in Pokémon games from Pokkén Tournament to UNITE.
⚡ Tip ⚡: No matter the Pokémon game you want to stream, think of the most meaningful interactions you want your viewers to make. From there, use cards in the Original Collection that are applicable, or use them as baselines to create your own. Don't forget you can even use the Collection's design as templates for your own!
Meet The Creators
These are the streamers who have contributed to the new Collection! Make sure to check out their collections if you need extra inspiration, and you can also visit their stream next time you catch them going live!
Alpha_The_Raptor
Alpha has her own pokemon collection with 58 cards, and her collection includes many cute Pokemon GIFs, so if you're looking for inspiration to create your own common cards, we recommend that you check it out! Some of Alpha's original cards that are also in the Pokemon community collection are: Catch a Legendary or a Mythical in a Poké Ball, Must Faint The Pokémon You're Battling, Add an Everstone To A Pokémon and Make A Pokémon Voice of Your Choice.
"I got my ideas from my friends and people around me, I also added things I thought people would love to see involving the games themselves. adding things that would make me rage a bit to things that can help me."
Superpinkykitty
Pinky's collections are in Danish, but that doesn't mean you can't get inspiration from her designs (or use google translate). Right now, her Pokémon collection is not public. Still, some of the ideas she gave us for our Pokemon community collection are: Buy the most expensive item in the store, Nickname my pokemon, No bicycle for 2 min, and Run away from the battle.
"I got my inspiration from my viewers and from Pokémon games themselves. My community always has such great ideas to make the stream more fun."
GeneralWiggins
GeneralWiggins is a Pokemon streamer primarily focused on challenges (such as Nuzlocke or its variations). Although he doesn't use cards while playing Pokemon, he created the following for the Pokemon community collection: No items for the next fight, Upside down controller, Remove a pokemon's held item and Put a pokemon in the box.
"For someone who's starting to use Streamloots, the very first thing that I would recommend doing is to take a few hours and learn how to use the platform, learn how to make a card, edit sound volume, customize the images on your cards, just learn how to have fun with it before you accidentally stress yourself"
LexatronPrime
Lex has exciting legendary cards in his own collection with 33 cards, so if you want some extra challenge, we suggest that you have a look. His collection is also a good example of using the Pokemon frame in our card creator and making your own cards with little effort! Some of the cards he added to the Pokemon community collection: Release any pokemon, Run all the way home, Switch your active pokemon, and Blindfold next battle.
"The creating process was awesome. My community loves involving themselves, especially when it makes my game harder, so I wanted to give chat power. So I drew inspiration from, well, making games difficult with a splash of help. There's so much potential in these interactions!"
We want to know your ideas and how you're using Streamloots when playing Pokémon!
Do you have ideas on how to create more outstanding Pokémon-themed collections? Did the perfect Streamloots moment happen on your stream? Join the conversation with the community! Please share with us your collections or clips on Twitter using the hashtag #StreamlootsPokémons or write it on our Discord. We'll feature the best ideas in future blog posts to promote your stream and how you're using Streamloots to grow.