It's finally time to revisit Liberty City, Vice City, and San Andreas in glorious HD! The Grand Theft Auto Trilogy Definitive Edition has just been released with three of the most iconic games in history! And if GTA V's numbers and the audience's demand for new experiences from Rockstar is something to go by, it's not a big gamble to guess we'll be watching a lot of streamers dive into this remaster during the next few weeks.
If you'll be streaming the games in the GTA Trilogy in the upcoming weeks, there's a lot you can do in your stream with your viewers through Streamloots. The sandbox-style gameplay in the GTA games has always allowed players to get creative with self-imposed challenges, exploration, and customization to make the adventures feel your own. Now, you can finally do it with your fans.
Read below to find out five ways to stream the GTA Trilogy with Streamloots, along with some card ideas that you can create, include in your packs, and have viewers redeem. And remember that when creating these cards, you can use the GTA V Original Collection designs as a blank canvas template to make your ideas come to life – some of these suggestions are even already there, just waiting for you to add!
Character Customization
As the series progressed, the games enhanced how much customization you could do in several aspects. While GTA III lacked any options to customize your character, Vice City allowed you to pick several outfits, and San Andreas provides multiple choices for clothing, hairstyles, tattoos, and body types.
If you're streaming Vice City or San Andreas, make sure to give your viewers the power to dictate how you'll be looking – this means that you might have to stop what you're doing to head for the local barber to get a fresh trim.
Breaking The Law In Style
Raise your hand if, during a couple of hours playing GTA, all you were doing was trying to cause as much mayhem and chaos as possible. 🙋
Create cards that allow viewers to dictate precisely how you'll keep your streak your madness going in the streets of Liberty City, Vice City, and San Andreas. If you were around when the original games launched, you'd likely recall sessions with friends passing the controller trying to great epic police chases. You can now recreate the same feeling with your viewers, anytime you and they want!
Sidequests & Completionist Support
Going for 100% in all three games included in the Trilogy is no small feat with the massive amount of collectibles, stunt jumps, secrets, and side-missions to find and complete. But all is easier with a bit of help from your friends.
Whenever you feel there are too many icons on your minimap or things yet to do, that's where your viewers can step in and help you prioritize. Enlist their support as they dictate what you should tackle next and ensure there's no stone left unturned during your adventure.
World's Best Stuntman
The movement has always felt great in Grand Theft Auto and, with hundreds of vehicles across the three GTA games included, it's pretty much guaranteed that you'll try some creative shortcuts, jumps, and crashes as you explore the map.
Craft cards where viewers can get pretty creative on what stunt they want you to pull off. Combine all classes of available vehicles like bikes, caddies, trucks, planes, or helicopters into specific points of the map to put your skills to the test.
Sandbox-Style Fun
Feel like being the game's most law-abiding citizen outside of story missions? What about taking flight and exploring the highest points of each map? The GTA games provide you with enormous freedom to do everything you want, and now you can have viewers involved in it.
Add a dose of realism to your gameplay, or let it run as wild as you'd like. The choices and creativity are up to you – make sure you discuss with viewers which interactions they'd like to see turned into cards next.
And of course…
Don't forget to add sound alerts for viewers to trigger during your streams. And when you do, don't forget this essential one…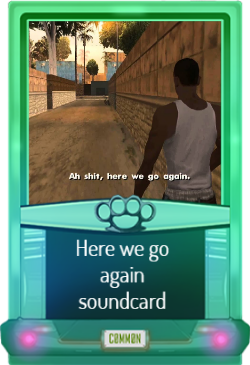 We want to know your ideas!
Are you returning to GTA with the new Trilogy? How will you make viewers an active part of your adventures as Claude, CJ, or Tommy? Did the perfect Streamloots moment happen on your stream? Join the conversation with the community! Would you mind sharing with us your collections or clips on our Discord?