Very often, when you're creating your collection of Streamloots cards, it is usual to have doubts regarding the rarity of the ideas that you want to include in them. "Is this card so exclusive that it should be legendary?" "How should this action be rated?" "If common cards are those which appear the most often, should I include a long interaction in one of them?"
In this post we'll resolve all the doubts you may have when deciding the rarity of your cards. As you know, there are four rarities of cards: common, rare, epic and legendary. And, of course, each of them has a different probability of appearance in the chests.
That said, let's see what types of cards we recommend for each rarity.
Common cards 🟢
These are the cards that your viewers are most likely going to obtain. Therefore, we strongly recommend that they're not too intrusive in your live stream, or in other words, that they don't require a direct interaction with you. That way, your viewers will be able to have fun between themselves while your streaming won't be interrupted.
Types of cards that belong to this rarity:
Gifs: Some cards may contain gifs or animations that can appear on your live stream. If they contain a repetitive sound, access the card's configuration to set up a cooldown time that lasts for some minutes.
Sound effects: Some cards don't necessarily reproduce an image or an animation during a livestream. Instead, they can activate a specific sound. You can find a huge library of sound effects that can be used as cards for your collection at: https://www.myinstants.com/index/es/.
Memes and emojis: If you always use a specific emoji in your channel or a special type of joke that can be expressed as a meme or an emoji, it would be adequate to set them up as common cards.
Here you have some examples of common cards: "This card doesn't do anything", "Summon this animation during the live stream" or "Everyone writes F in the chat".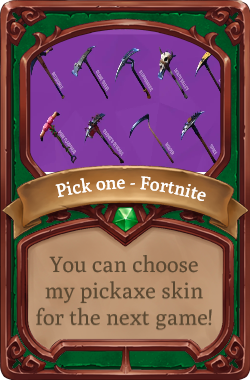 https://www.streamloots.com/asikaa
For this rarity, it is advised to avoid cards such as: "I'll play with my eyes closed for X minutes" or "I'll lose/die in my current game".
Rare cards 🔵
When creating cards of this rarity, you can start adding some simple interactions to your collection. For example: "Choose the next song I'll play", "Skip the song that's currently playing", or "Play with one hand only for 1 minute".
Just remember not to make rare cards too demanding for yourself. Setting up time limits is a good tool for this rarity. For example, you can create cards that are like "I'll do X for 1 minute" or "I'll do Y for 2 minutes". Rare cards appear quite frequently, and you don't want them to take complete control over your live stream or game. Even if you limit the interactions, they will still result very entertaining. You can also set up a specific cooldown for these cards. For example, if someone uses the "Play with one hand only for 1 minute" card, you can set up a 10-minute cooldown for it so they can't play that card again within 10 minutes.
These are some examples of rare cards that you might want to create: "I'll play with one hand only for 1 minute", "Your message will appear in the live stream", "I'll greet you" or "Only use emojis in the chat".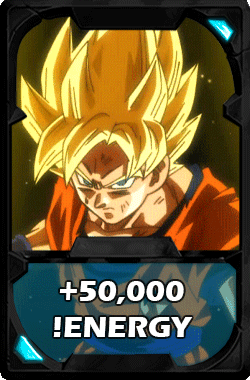 https://www.streamloots.com/kylix
For this rarity, it is advised to avoid cards such as: Rewards or long interactions such as "I'll play a game with you".
Epic cards 🟣
With epic cards, you can start rewarding your viewers with more demanding interactions, since they have less chances of appearing in the chests.
Always remember that you can still set up a time limit for these cards. You don't want to end up playing with socks on your hands during the whole live stream, for example, if your viewers decide to buy many chests.
These are some examples of epic cards that generate more demanding interactions: "Play a game with socks on your hands for some minutes", "A user bans another user for 10 minutes", "Protect yourself from the previous ban", "Make me throw objects to the floor", "I will mention you in a tweet", "I will follow you in social media or a game".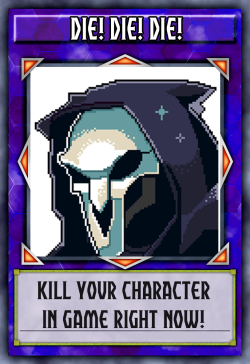 https://www.streamloots.com/kalorelai
For this rarity, it is advised to avoid cards such as: Expensive prizes.
Legendary cards 🟡
Finally, the time has come to decide the content of the cards that your viewers are the most excited to get!
Make sure to access their configuration and set them a limit for them if they offer an economic prize. Also, add very specific descriptions of the cards' content. For example, "I will livestream for 1 more hour, to a maximum duration of 3 hours". If you add the last bit to the description, you won't have to live-stream for longer than you're able to. Another example could be "I a 12-hour special the next time I live-stream". That way you make it very clear that the interaction won't happen during your current live stream and you'll be able to prepare your super long and crazy streaming marathon accordingly. Furthermore, if you want to give away merch, you must be really careful with the quantity that the cards imply. That's why setting limits for them is a great idea. For example, giving away 10 hoodies can increase too much the shipment costs, so remember to access the card's configuration and set a limit to 1 or 2 units. However, this totally depends on the budget that the streamer wants to spend for their legendary cards.
These are some examples of legendary cards that you can add to your collection: "I'll do a themed live stream", "I'll do a special live stream that lasts 12 hours", "You'll receive merch signed by me", "You'll be with me on Discord during my following live stream", as well as key codes for games, memberships, etc.
https://www.streamloots.com/robertmcatalano
For this rarity, it is advised to avoid cards such as: Gifs or animations that don't include a demanding interaction with the viewer. Remember that your audience has been supporting you economically by buying chests, and that they have received an exclusive card that is very difficult to get. Therefore, it's very likely that they've bought many chests to obtain it.
Please make sure to check the following video, where you'll find a more visual explanation of how to put into practice all the advice that we've just given you in this post.
⚡ EXTRA ADVICE ⚡
As an extra piece of advice, we recommend that you have more common cards in your collection than cards of the other rarities. We even advise you to set the rarities in a progressive decrease. That way, there will be more common cards than rare cards, more rare cards than epic cards, and more epic cards than legendary cards (common > rare > epic > legendary). Additionally, we also recommend sorting your cards from top to bottom from the least rare to the most rare (legendary, epic, rare and common). If you do this, the first thing that a user will see when they have a look at your collection will be the most exclusive cards.
We would like to thank all the viewers for supporting our streamers and our platform every day; as well as the streamers for creating fantastic and amazing content for their followers to enjoy and for choosing us.
If you're a streamer and you also want to have an amazing collection of cards to be able to interact in the most hilarious and simple way with your viewers, remember to register on our platform at: https://www.streamloots.com/.
And please visit our social media in order to know everything about our new features and updates at:
– Twitter: https://twitter.com/streamloots
–YouTube:https://www.youtube.com/channel/UC8X3SgLoqAnBdiosWu8jUEA
– Instagram: https://www.instagram.com/streamloots