It's finally here: The Streamloots Partner community has been asking for a merch store for a while, and we're proud to announce that we're opening one.
But… wait a minute, let us tell you that this is not a normal merch store. Streamloots Partners are going to be able to get the store items for free! And just through what they're currently doing by earning channel support through Streamloots.
Yep, you've read it well: every item in the store is exchanged for the special Partner currency, Partner Points. You can see the list of items you can get through the Partner Store in the image below!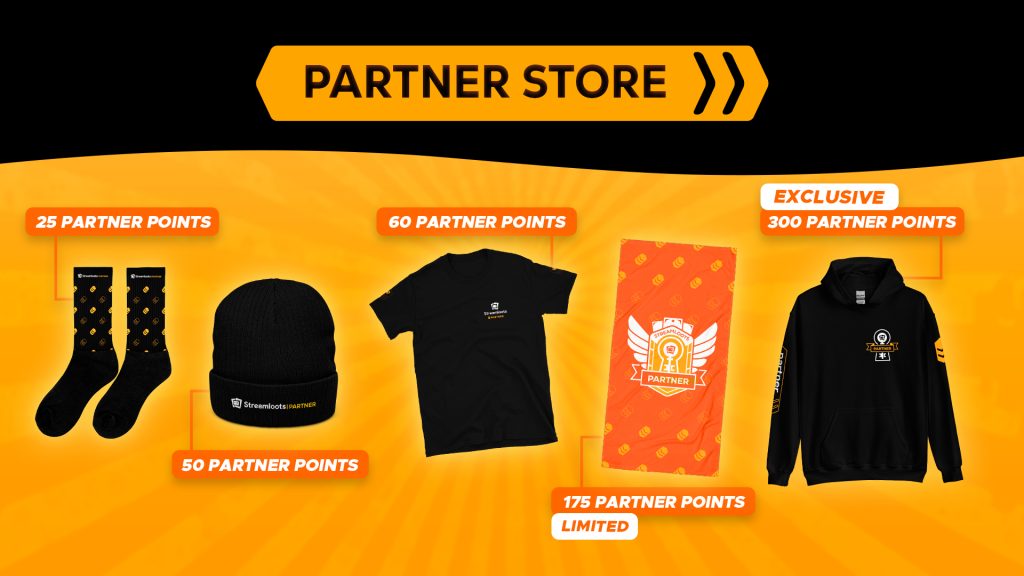 And in case you're not sure: Yes, that's a Partner beach towel! 🏖️
How can you earn Partner Points?
First, you need to be a Streamloots Partner and second, you just need to make revenue through the platform, that's it!
At the end of each month you'll earn a certain amount of Partner Points based on your monthly performance in your wallet with the following conversion rates:
| | |
| --- | --- |
| Revenue in Streamloots | Partner Points |
| $50 | 5 Partner Points |
| $250 | 30 Partner Points |
| $500 | 75 Partner Points |
| $1000 | 175 Partner Points |
Partner Points are cumulative so you can save them in your wallet until you got enough for the item you want to get.
Please note that we're still testing the math so these numbers and item prices may vary on time.
How do you redeem your points and get the items?
Easy! Just jump into the Notion store link below and follow the instructions.
How can I check how many Partner Points I currently have?
In order to check your Partner Points balance, you just need to paste this URL in any browser:
https://hook.integromat.com/t2oz32d48uuiq2d1t1yage3faexgpztk?username=YourUsername&key=YourKey
and replace YourUsername for your actual Streamloots username and YourKey for your complete alerts widget URL (the exact same you use in OBS).
F.A.Q.
Is there a limited number of units I can get? Yes. 1 unit per store item and Partner.
Will points expire on a monthly basis? No, they're cumulative and only leave your wallet when you acquire any items in the store.
Do previous months count towards Partner Points earnings? No, April is the first month you can start earning Partner Points.
Will there be any customizable (e.g. with nickname) merch? We intend to improve the store with more items and cool extras such as customization but at the moment we're just testing the waters. It all depends on how is the store received!
Will there be other perks aside from merchandise that Partners can use points for? Our plans are to include more items to the store that aren't merchandise. Keep posted in the future!
Is this the end of Partner collab incentives? No. This is meant to incorporate Partner Collaborations v2.0, so after this testing phase we're intending to add collab events as incentives to earn extra points for the store.
I want to give some feedback, who should I tell? Slide into Nachin#7063's DMs on Discord