We are excited to announce that a NEW Variety collection is now available.
This collection is perfect for streamers who feel they don't entirely fit in a game category (such as Minecraft, Dead by Daylight or Sea of Thieves) because most of the time they are focused on chatting with viewers and maybe playing a game – but not often and not always the same game.
If you don't know how to add any collection just click here 😃
The cards in this collection are especially designed to increase engagement with your community, by offering a variety of interactions that include viewer reactions, special requests for the streamer, fun games and messages while chatting, and also a few challenges when playing videogames.
What kind of cards can I find in this collection?
This collection has more than 30 cards. Here you can read a bit of information about some of them.
Make me record a video just for you (Legendary)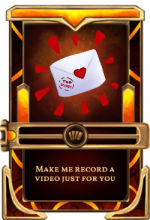 We believe this card has great value for the viewer. When this card is played, the streamer will have to record a video of 5 minutes max, and send it to the viewer. The video can be about anything, even the simplest video will be special since it will be exclusive content for that one viewer.
To be played, the viewer has to leave an email address so that the streamer can send the video to them. The email address won't be shown on screen, the streamer will have to go to "Redemptions" section on their page and then look at the information of the card to find it, this way we keep viewers' details private.
Draw something (Legendary)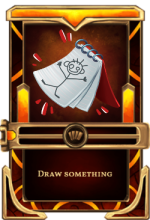 Not just to draw something, but to draw a picture based purely on the viewer's username. If you get creative this card will be a lot of fun. You can use Paint, a piece of paper, or anything you can draw on.
Let's play (Legendary)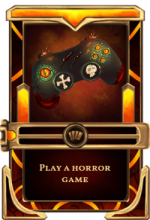 For those who enjoy playing, even if most of the time their content isn't about games. We wanted to make this interaction easy, that's why we make clear in the description of the card that even though a suggestion is needed to redeem it, the streamer may not be able to find that game and play another one (as long as it's a horror game).
The suggestion will appear in the alert message (e.g. "[[usermame]] wants you to play [[Resident Evil]] or any other horror game")
Pick a video for me to watch (Epic)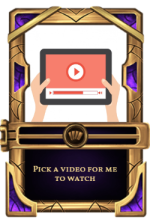 This card allows viewers to send videos for the streamer to watch live and see how they react. The description states that it has to be a Youtube link, since we believe that way the content of the video is more likely to be "appropriate" according to streaming platforms' rules.
The link to the video won't be shown in the alert message, the streamer has to go to "Redemptions" in their page to be able to copy paste it and watch it.
ASMR time (Epic)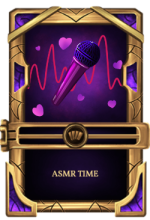 One of the most popular relaxation techniques. Streamers are supposed to do some ASMR for everyone when a viewer plays this card. Whispering, tapping, scratching, mouth sounds, use your favorite trigger (you don't need to stop what you're doing, you can simply start whispering). The default settings state 2 minutes but streamers can easily change that by going to Manage cards > Edit card.
Play with one hand (Rare)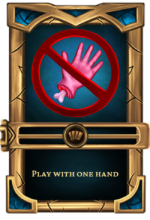 There are 6 gaming cards in this collectio. We included the ones we think could work regardless of the type of game the streamer is playing, such as this one.
If you realize you are dedicating more time to one specific game, you can check out Streamloots' original collections and see if you can find one for that game (e.g. Minecraft, DBD, Sea of Thieves…)
Knock knock (Rare)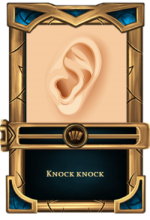 When a viewer plays this card, the streamer will hear a knock knock sound but no alert will appear on screen. A really fun interaction which will make the streamer wonder if someone is knocking on the door or what.
Secret voice (Rare)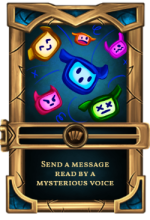 You will see that there are two cards like this, and that's because TTS is active with two different voices, so keep both of them! Streamers can select their favorite TTS accent and also change them once in a while, so that viewers won't get used to hearing the same voice.
Hidden GIF (Common)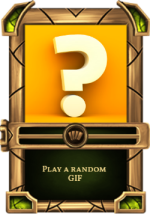 There are several GIF cards in this collection, but they are hidden to the viewers so they won't see the GIF until they play the card. We thought this was a fun way to show GIFs in the stream, and streamers can easily change them by going to Manage cards > Edit card.
We hope you will find this post useful, if you have any question or inquiries please reach us at support@streamloots.com