Now the streamer page is called Streamloots Creator and you can access as usual from the dropdown on the top right or in the new button in the botton of the left navigation bar:

You know you are in the Creator Mode when you see the logo with your actual streamer rank in the header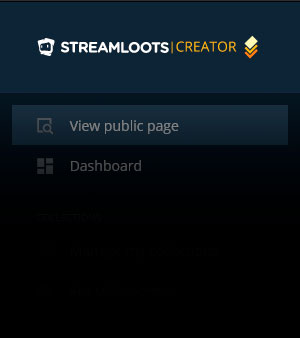 This is your new Streamer Area where you are now able to set up each collection and its cards. We have done some adjustments to simplify your interactions when moving around the different options:
Now all cards related actions are into the "Manage my Collection" section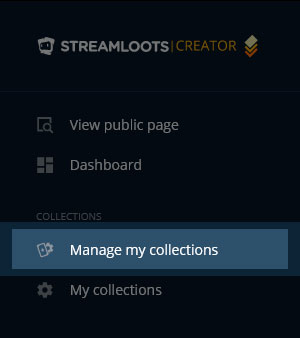 There you can find on the top menu all options affecting the current selected collection:
manage Cards
Packs and prices
Probabilities
Crafting Mode

Any action affecting the Colección de wakkostv collection's cards is there. If you want to work over another collection you can use the "change collection" button under the collection name.
This way we get more hierarchy in the collections management and its cards and options.
We have also added a toolbar with common actions in the Manage Collection section so you can add, edit, pusblish cards and see a resume of the selected cards: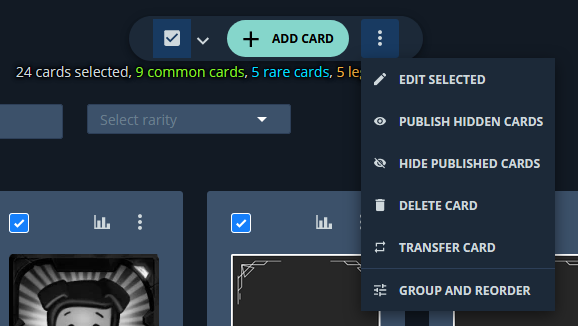 And last but not least , you can always get back to the Viewer area by clicking on the button on the bottom of the left navigation bar.

Important Release Note:
Partners now can create up to 10 collections and have up to 5 collections published.
Affiliates now can create up to 6 collections and have up to 3 collections published.
You can now find the Global Cooldown options on the Configure Page section.
You will find also some minor UI and design changes, but we let yourselves to do that.
Do you like this new approach? Do you have ideas to improve it? Leaver your opinions on the comments!