If you've been using Streamloots for a while, either as a streamer or a viewer, probably, you came across at some point with Streamloots Partners. The Partner status is reserved for the utmost creator champions in Streamloots, and for this reason, they become eligible for a unique set of perks in the platform that can prove to be quite valuable for streamers and their audiences, such as an unparalleled 90% revenue cut for the streamer in pack sales, increased number of collections, access to Partner Exclusive Events, and more.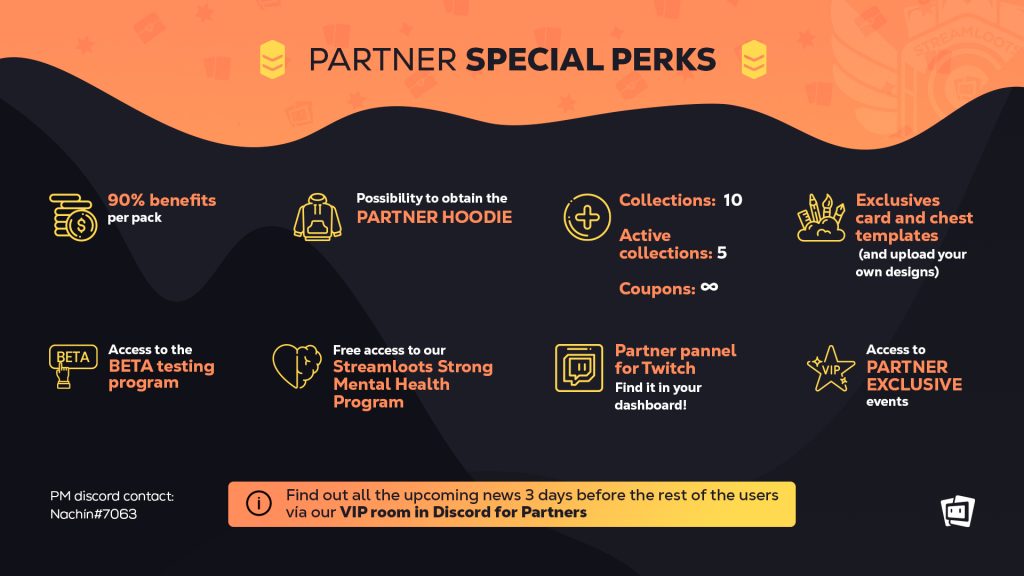 But here's an essential tip: reaching the Streamloots Partner status should not be seen as the main objective, but instead as a means of getting an even higher threshold – ensuring that your channel is on the right path to grow sustainably over time, both in terms of community and audience support, but also when it comes to viewers – returning and new. In other words, to become a Streamloots Partner, a streamer will have learned and mastered the tools to ensure continued channel support, viewer engagement, and content variety.
And how does this happen? First, we created the Streamloots Partner Criteria to ensure that creators are not required to follow an arbitrary set of tasks in a to-do list. Instead, we've included landmarks for your path not only in Streamloots but also that target your success as a streamer and creator, helping you and your audience create habits that will benefit your channel in the long run.
Read below to find out the Four Ways in which becoming a Streamloots Partner can help your Twitch channel and audience grow!
1. Diversifying Channel Support By Reaching Affiliate and Partner
Partner Criteria: Packs sold, cards played, number of viewers supporting the channel through Streamloots.
These are the goals that are more closely related to platform activity in Streamloots, and they are the ones you can find in your Creator Dashboard with a progress bar to track your status. Such goals are closely tied to three variables: numbers of cards played by your community, number of packs purchased by viewers, and the overall number of viewers purchasing and redeeming cards.
These are essential metrics for partnership because they bring underlying diversification to channel support and can lead to forming a habit in the audience of supporting the streamer's channel through Streamloots, in addition to traditional forms of support, like Twitch Subs. Streamloots' default revenue share is 80% of all pack sales going to the creators, and Partner status increases this number to 90%. Compared to traditional channel support methods, most of which fall flat at around the 50% revenue share threshold, setting this as a progress metric ensures that the streamer's work becomes much more valuable in the process and that viewers' contributions are worth more.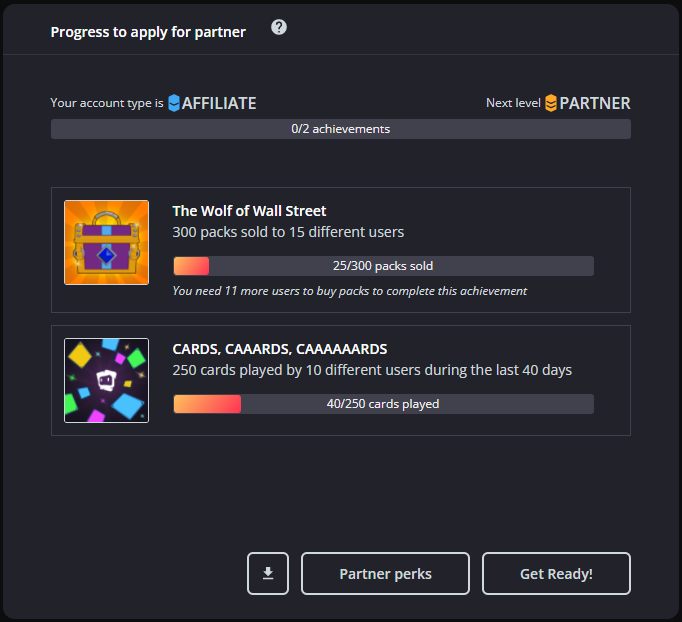 2. Finding The Audience Support Tool That Fits Your Community Better
Partner Criteria: Packs and Subs Redeemed.
Besides the topic mentioned above, one aspect that helps streamers reach Partner status in Streamloots while expanding their suite of options as creators and artists is tied to their choices through which viewers can support the channel. Right now, Streamloots supports both Pack Sales and Streamloots subscriptions, and a factor is taken into account when managing partner applications regards how such options are used.
This doesn't mean that to become a Partner, a streamer needs to use both simultaneously, but that they can use the options available in an efficient way to suit their audience's desires. So, for example, if your audience is used to having movie nights on Discord available for top supporters, you can turn this into a Streamloots Subscription perk in which every sub will be eligible for, and in that case, the number of Subs can benefit your Partner application immensely. On the other hand, if you're more used to live interactions, card-based actions and pack sales will be the most appropriate way to engage your fans.
3. Networking, Networking, Networking
Partner Criteria: Participation in the Discord server.
If there's one step shared by most streamers who reach the top 1% of creators – no matter the platform: Twitch, YouTube, Streamloots, or any other – this is what they'll have in common: networking is an essential aspect to build as you climb your way to the top as a reference in streaming. By meeting other creators and establishing synergies with them, both sides can benefit immensely and create something unforgettable for their audiences in the process. When done well, networking with other channels can be the single most crucial action to grow your channel and audience.
That's why one essential criterion for achieving Partner status in Streamloots is related to networking so that you have all the tools to be able to build this habit. This is done through the Streamloots Discord Server, the central hub for the community with the mission of helping streamers succeed every step of the way. There, streamers and creators come together to network, share tips and experiences, and even create their own independent events and co-streams. You'll also find workshops, roundtables, resources, inspiration and be able to keep up with the latest announcements and support. Being participative in Discord will help your streaming path immensely and is key to becoming a Partner.
4. Generating New and Creative Ways To Stream
Partner Criteria: Using Streamloots Platform features.
As you gain experience as a streamer, you'll find that one of the main challenges for a creator is always coming up with fresh ideas for streams. Whether you stream a variety of games or are focused on one category, trying something new that keeps your audience hyped for what's about to come next is essential to build and retain your viewership.
That's why this final Streamloots Partner is related to using the array of tools available that help you create new and diverse types of content. In other words, streamers that use the complete set of platform features in Streamloots find it easier to boost their viewership, channel follows, and engagement and, by consequence, reach partner status. And again, here, we don't mean that you need to always use all of the features available. Still, when experimenting with them, you'll find that for sure some will benefit you and your audience more, and iterating on them will lead to increasing returns.
Whether it is creating brand new collections, adding new cards regularly, running Auctions through Streamloots, incentivizing your viewers to make use of the crafting feature, or using many other features, these features will bring a tremendous amount of variety and diversity that will keep providing current viewers with a reason to come back and attract new fans!