If you've started to use Streamloots, you'll know that there are two ways to add interaction cards to your collections – Streamloots Originals and custom-created cards. Streamloots Originals are premade cards for specific games or genres that work as a wonderful introduction to Streamloots for you and your audience, but did you know that custom-created cards are essential to expanding your Streamloots activity?
Streamloots users who create their own cards earn in average 5x more revenue than those who don't! And the best thing is that you don't need to create them from scratch as there's a super-easy way to do it.
In two steps, we'll teach you how to create your first Custom Collection using a Streamloots Original Collection as a base, saving your time and effort to increase your sales. This hack will allow you to skip working on the designs, frames, and settings you'd need to take into account when creating a card from scratch.
Look for the text in orange under each step to find out how Khaheri, a streamer focused on Pokémon Unite, adapted a Streamloots Original Collection into her first custom-made collection that became a big hit with her community!
Starting Step: How To Plan Your Collection (Discord Exclusive!)
The starting tip about how to plan your collection is exclusive to our community in Discord! If you haven't joined yet, click the button below to join in and you'll be directed straight into it – and don't forget to check back for the rest of the guide.
Step 2: Choose the base Original Collection to work with.
After you've chosen what your collection will be about and the set of interactions included in your brand new cards, it's time to choose which Original Collection to use as a baseline template.
Create a new collection (on the Creator Dashboard, pick My Collections in the side menu, then + Create Collection) then Choose Streamloots Originals. Here, pick which collection you want to use as the baseline template for your own new cards based on the design or look of the cards.
For the next step, we suggest that you add one card of the chosen Originals from each rarity: Legendary, Epic, Rare and Common. This way you'll have a design template for each of the rarity, and you can simply use the Clone and Edit Card features to change the redeemable interaction of each card.
To create her own Pokémon Unite collection, Khaheri used the Pokémon Original Collection as a baseline for the new cards. This way she was able to use the Pokémon-themed frames without needing to create new designs.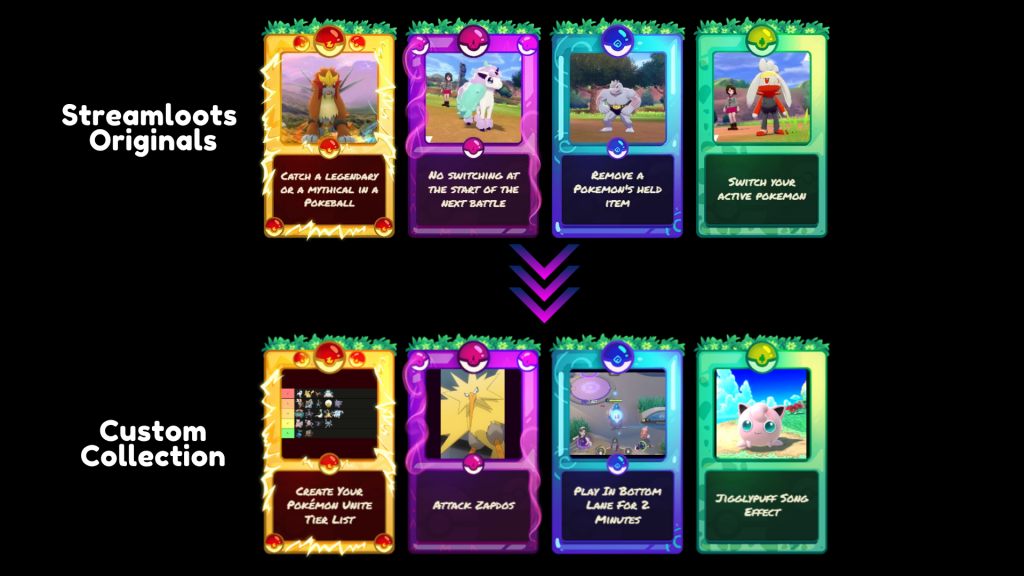 Step 3: Adapt the cards & settings.
With the interaction ideas you created in Step 1, now all you need to do is adapt them into the card templates you have prepared in Step 2. Here are the things to keep in mind:
Card content image:

Choose one that illustrates the redeemable interaction in that card. You can create your own design, find a publicly available image that suits it and then adjust size and dimensions.

Set up the cooldown, timer and other settings:

Don't forget to adjust how often viewers will be able to redeem the card, if it activates a countdown timer on screen, or if it has any limited uses.

Provide instructions for your users:

You're also able to set the messages that show up when viewers choose to redeem the card. Depending on the action, let them know if there's any conditions for it to be activated.

Set the alerts:

You're also able to choose what image, sounds and message are displayed and activated when a viewer plays the card.

Requested information for the viewer:

If the chosen card provides an open-ended choice, you can ask your viewer to provide the exact direction for the interaction when redeeming the card.

Adding custom integrations:

This is where you can add custom Chatbot, Voicemod or other integration to specific cards! Check out on the articles ideas on how to do it.
Here are some examples of the settings Khaheri picked for her Pokémon Unite collection:
Card content: showing what Pokémon she could pick from when a card was redeemed.

Cooldown times of 10 minutes for every card that could request her to pick a character for the next match.

Informing buyers to make sure she would be live on stream before redeeming the card.

Writing the alert messages in Portuguese, due to her big Portuguese-speaking audience.

For the "Pick My Next Pokémon Card", she would ask viewers to write the choice when redeeming the card so the alerts would also display that information.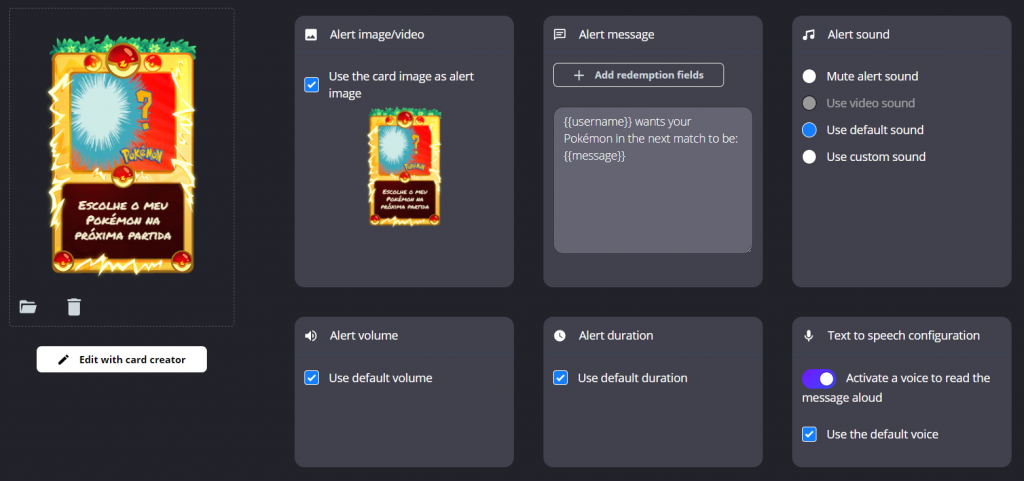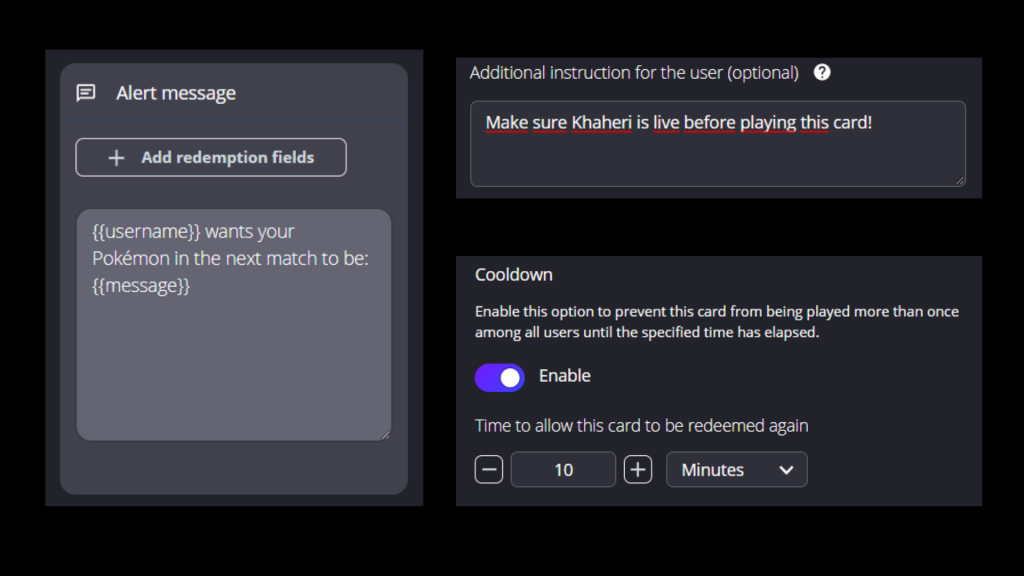 We want to know your ideas!
Do you have ideas on how create your custom collections using Originals as templates? What settings do you consider the most important to adjust in the first place? Join the conversation with the community! Please share with us your collections or clips on our Discord.