It's time to blow the candles! Dead By Daylight recently turned 5 years old a few weeks ago, and it'll be hosting a series of community initiatives during a limited-time event spanning from July 1st to July 15th. From tips and tricks to community contributions, stories, and in-game events, there will be plenty of reasons to join the party and be a part of the celebrations.
The Dead By Daylight streaming community has always deserved all of the love from the Streamloots team, and we want to help make this celebration even better! So today, we'll be bringing you 7 ways in which Dead By Daylight streamers have been using Streamloots Collections in new ways to make their channel stand out. So get inspired, and let's get this party started! 🎉
Are you new to streaming Dead By Daylight, or you're curious about trying it out? We have something for you too! Get started on the right foot with our DBD Original Collection or our own community guides to Dead By Daylight. Click here to find out more.
7 Ways Dead By Daylight Streamers Are Using Streamloots
Dreede's Card Customization
If you've ever seen Dreede's channel, you're no stranger to Molly the Beagle! In many of the cards from his Dead By Daylight Collection, Molly has been incorporated into the cards in amazing ways related to DBD gameplay situations that his viewers love to watch and redeem.
Streamloots Tip: Customizing your cards with your channel's identity and knowing gameplay situations that make interesting moments is one of the best ways to make great use of Streamloots in Dead By Daylight.
PaulieEsther's Sound & Jumpscare Cards
Not only PaulieEsther's card design is some of the best we've ever seen, but his collection of sound interactions and jumpscares has also given his viewers tools to create some unforgettable (and very scare) moments on stream. By configuring his own sound alerts, he made the Streamloots experience almost indistinguishable from the tense action on the game.
Streamloots Tip: Using the right sound reactions and configuring your own alerts can add an extra dimension of atmosphere to your stream that will keep viewers engaged and surprised by the action on-screen.
SirenVee's D.I.Y. Collection Efficiency Tips
SirenVee took an extremely efficient approach to do her own DBD collection, saving a lot of time. She used the predefined frames from the Streamloots Original Day By Daylight Collection to cut down on design needs and adapted 28 cards into the interactions she wants her viewers to play.
Streamloots Tip: Any streamer on Streamloots can do this! If you're looking to make your own Custom Collection quickly, you can use the Dead By Daylight frame available on the Streamloots platform as the design for your decks. Just upload a background image, type the description of the card and click Generate.
Lexicat, Valarrys, Miss_fairy, and MiniSphinxy's Killer & Survivor Collections

These four streamers – Lexicat, Valarrys, Miss_fairy and MiniSphinxy – have one thing in common: they've created two separate collections, one for when they play as a Killer and another for Survivor. This is a great idea to keep cards organized and because your viewers can purchase packs specific to each situation, ensuring the cards will always fit the context.
Streamloots Tip: Creating separate collections for different gameplay situations adds a lot of variety and value to Streamloots and greatly benefits your viewers. And this works not only for custom-made cards but also for the Streamloots Original Dead By DayLight collection! To do it, select only the cards that work for Survivor mode, create one deck with those, and then do the same for Killer mode.
Rat_emoji's Viewer Quest for Oni
This is an incredibly creative way to put another level of viewer interaction on top of your stream. If viewers want rat_emoji to play as Oni in a match, they have to gather the 5 parts of Oni's body split into 5 cards (head, arms, and legs), so viewers have to co-operate for it to happen on-screen.
Streamloots Tip: Creating "fragmented cards" is a great way to provide viewers' achievements while watching your stream. To create them, think first on a meaningful interaction that your viewers can consider quite valuable and give it a great context, so they know what to do. Think of them as if they were summons!
ShyteHawk's Craftable-Only Collection

ShyteHawk took the concept of having different collections per role a step forward. Apart from his Killer and Survivor collections, he created a small selection of 20 cards that viewers cannot obtain in packs but only through crafting.
Streamloots Tip: Creating craftable-only cards and collections provides a great incentive for viewers and streamers to use the crafting feature. For example, you can create a special set of Legendary Cards that are only obtainable through crafting. In addition, you can tell viewers to use less valuable cards as resources to give them some more value for their purchases.
Blackwidowx18's Bloody Designs
Last but not least, Blackwidowx18 is another streamer with an amazing card design and unique combinations of sounds and gifs for viewers to redeem when she goes live on Dead By Daylight. The one we enjoy the most is the "Finished Generator Sound" card which can be extremely baffling at critical times in matches!
Streamloots Tip: Creating a very striking visual identity with cards & pack design goes a long way in making your fans connect more to your collections and new viewers to the stream becoming fans. Test new designs on collections, ask your viewers for feedback, and have a lot of fun with it.
Celebrate In Style With A Free DBD Design Pack!

To make your celebration of the Dead By Daylight Anniversary feel even more special, we have created a free design pack with graphical assets that you can use next time you go live, including overlays, banners, and social media templates. Click below to download.
Are You A New DBD Player and Streamer?
Dead By Daylight has seen a big increase in new players in the last few months. If you're a new player or are curious about starting to play it or streaming, we at Streamloots have just what you need to start on your journey.
Our Dead By Daylight Original Collection is the perfect way to start streaming the game with your viewers, with a set of interactions that will allow you to have fun with your fans while learning the ropes and objectives. From picking your character in the next time to telling you to hide in a locker or to escape through the hatch in a round, the Collection has over 100 interactions for any gameplay situation that will get you used to the matches' mindset as a Killer or a Survivor.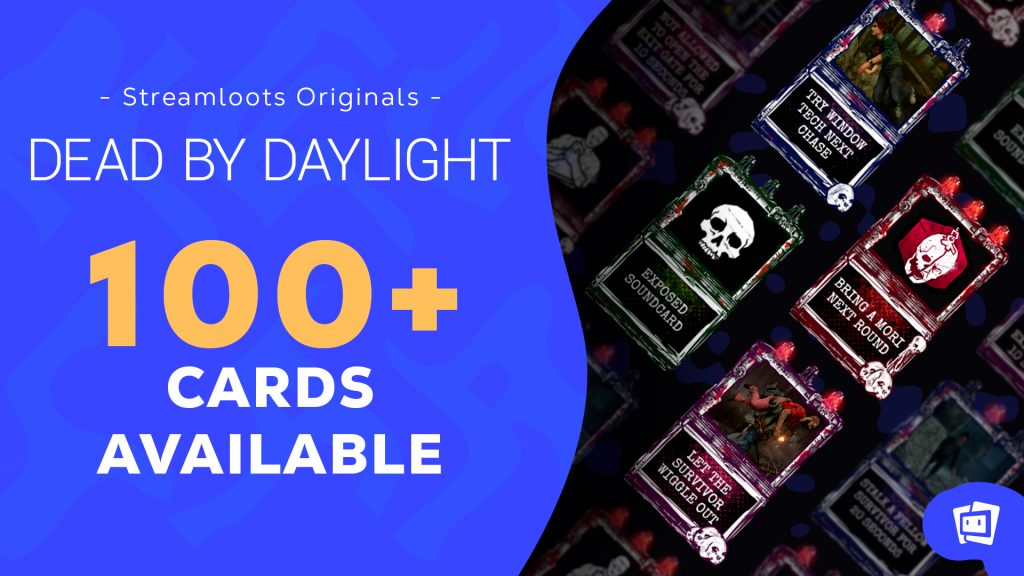 Do you need some help understanding the gameplay mechanics? Check this video from The King, Streamloots & Dead By Daylight Partner, with some tips.
Share Your Streamloots & DBD Moments!
We want to know your ideas and how you're using Streamloots when playing Dead By Daylight, or how you will be celebrating the anniversary! Please share with us your collections or clips on Twitter using the hashtag #StreamlootsDBD or write us at hi@streamloots.com! We'll feature the best ideas in future blog posts to promote your stream and how you're using Streamloots to grow.