Animal Crossing has been around for quite a while, starting in Japan in 2001, then localized and released in North America in 2002. This series has had great success in early years and has built up a loving following with all the games on the Nintendo platforms. Though some of the spin off games like Happy Home Designer & City Folk were not as well received, they still added a unique twist to the original games. Animal Crossing New Horizons just released and has been a long time coming to fans of the series. New Leaf was released 7 years ago and had the charm that most people desperately crave from an Animal Crossing game. New Horizons goes back to its roots and adds so much that makes the game experience great for new and veteran players alike. From crafting to character customization, to auto save and group exploring, it's already becoming loved as the best game in the series.

So at Streamloots we're so excited about this series that we've decided to create a custom unique collection filled with 30+ predefined cards that you can use to compliment your Animal Crossing streams today! Use these cards to create more engaging interactions with your viewers while playing a game series you love.
Card Examples: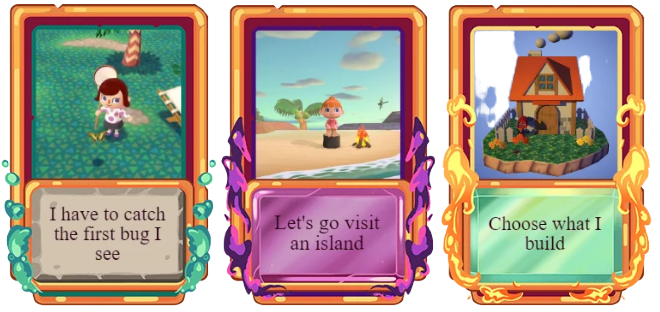 If you want to use these, and are NEW to Streamloots all you have to do is sign-up at streamloots.com, create your account, and choose Animal Crossing as your game of choice. Once you've got that setup you can change any card, add cool alerts as necessary or just use the default sounds we have.

If you already have a Streamloots account or collection created, you'll want to go to "Manage Cards" then click the "+ Add Card" and then click on "Predefined Cards". From there you can select the "Animal Crossing" collection under "Card Design". Here you can select which ones you like and want to add.

And that's it! We hope you enjoy Animal Crossing New Horizons & our new collection as much as we do!
Enjoy your getaway!