We're finally ready to unveil our biggest Halloween surprise this year: every streamer will keep 100% of earned revenue through Streamloots during the Halloween weekend!
This means that if you're streaming during the weekend, any amount made from packs sold is going directly to your account without a platform fee being charged. This Halloween, we've got you covered!
To claim the 100% Revenue during the weekend you just need to go to your Creator Dashboard and click the Claim Bonus button. You can do it at any time and be sure it'll be in action!
All Halloween Prizes Have Been Revealed!
Screamy's Halloween Madness is coming to the end and almost all 50 prizes have been unlocked, like a PS5, TVs, or Neon Signs!
Earning them is really simple: whenever you sell or purchase a pack, you become eligible to win. And the more packs you purchase (as a viewer) or sell (as a buyer), the more chances you have to win. With 50 prizes up for grabs, your chances are quite high…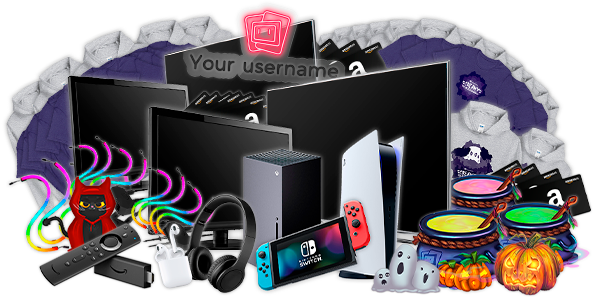 For Halloween this year, we're giving away:
1 Gaming Console of YOUR CHOICE
2 TVs or Monitors of your choice
1 Firestick TV
15 50$ Gift Cards
1 Neon Sign
1 Set of Airpods or Headphones
3 Ambilights
15 T-shirts
15 Hoodies
Screamy Has Been Spotted Around Streamloots!
Screamy is still around, but this time he has something good for us. If you spot Screamy on the Streamloots website make sure to click it to reveal an exclusive discount code for your viewers to use when purchasing packs!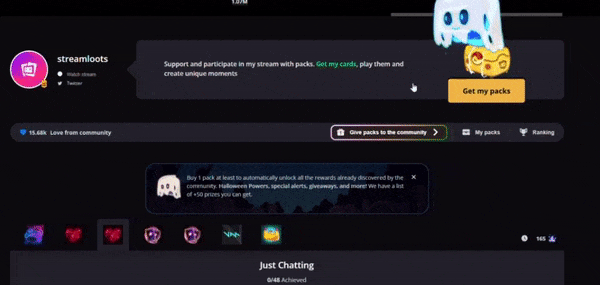 Needing Halloween Ideas? We've Got You Covered!
Check out Streamloots Partner d2Nv06's awesome ideas for what to stream during Halloween, and make sure to visit his collections if you need some extra inspiration!
We also created a bunch of Halloween-related tips and tricks on our YouTube channel! Check the video below with advice from TheKing.