It's no exaggeration: getting started in Streamloots can truly revolutionize how you stream and interact with your community while ensuring your work is rewarded significantly, and your channel is supported.
Whether you are starting to use Streamloots or have already some experience with the platform, there's always something new around the corner to discover. In this article, we enlisted the help of our own Streamloots Ambassadors to provide 8 essential tips on taking your Streamloots journey to another level.
Table of contents
Meet the Ambassadors
Preast: Explore Available Features
Preast from TheGCU: My advice is to take some time to look carefully at all the features available to you. Only recently, I realized that you can customize the font and color of alerts displayed on screen! The platform provides many features and ways to help with what you need, some of which are incredibly useful that you might not even be aware they exist! And, if you need, make sure to watch some other streamers to figure out how they integrate Streamloots – you might spot a feature you didn't know existed.
At first, it might feel a bit overwhelming to pay attention to everything available, but getting to progressively learn about all tools available – whether it's widgets like the Subathon Timer or the Promotions Widget or changing the alerts designs – will help make you feel the experience is genuinely tailored to your channel and audience.
SyerNide: Using Collections To Your Advantage
SyerNide: Here's my "Get into Streamloots quick" fix: do yourself a favor and grab a Streamloots Original Collection, put it in your own collection, then go through each card and personalize them according to your channel, community, and content/tone. Working with Originals as a base saves you lots of time, and by customizing them, you're making sure they're meaningful and valuable to your community.
Let's say you are doing a Just Chatting stream and add the Just Chatting Original Collection, and there's one card that says you have to draw something in your stream or another that requests you to do a video with someone else – but if you're not used to doing these actions on your channel, it might feel dissonant to viewers and to you. So you can quickly adapt those templates into something more meaningful and connected to your community.
BehavingBeardly: Make Streamloots Cards & Features Feel Special with Events
BehavingBeardly: I think one thing that many streamers do at first is oversaturating Streamloots to viewers. As the enthusiasm builds up at first, a feeling of "Wow, I can get paid with this system? I'll want people to use this all the time!" can lead up to overexposure quickly. Within two weeks, the streamer can be frustrated, and viewers no longer feel it as unique, so it fizzles out.
Regarding this, I recommend that you create special days or events where Streamloots is enabled more prominently so that viewers are always looking forward to it. In my case, I only allow Streamloots cards to purchase and redeem on specific days of the week. My advice is to make the availability of Streamloots cards more of an event to make it feel more special for the community, increasing its longevity and creativity. Keeping things fresh is essential.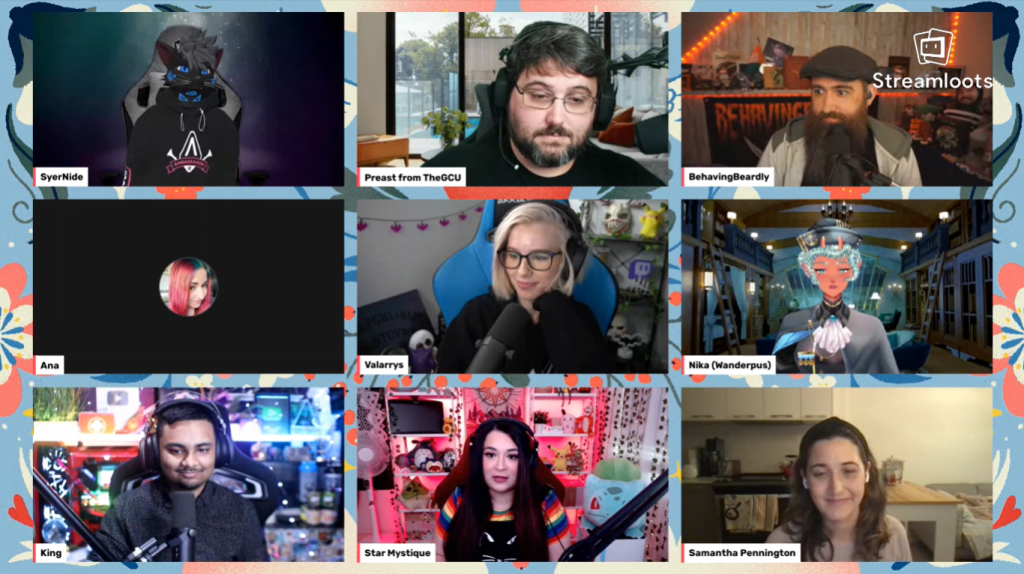 This and other topics were covered in our first Ambassador session on the Streamloots Twitch channel! Click to watch it in full.
Wanderpus: Keep Cards In Small Quantities At First, Increase Gradually
Wanderpus: As streamers start using the platform, I feel sometimes it's easy to keep adding cards indefinitely because they feel potentially appealing and engaging for viewers. My advice would be to not go crazy with a massive number of cards right off the bat. Instead, do minor incremental releases with time – add a few new cards every couple of weeks, for example. In my channel, we have Streamloots enabled for every stream, so adding new cards is how we have to keep the usage exciting and dynamic. And if at some points it feels there are too many available, remember you can always adjust the timers so that certain cards can only be played once per stream or not too frequently.
Another personal advice: get weird with your cards. Make weird stuff – your community will love it. Use your community's inside jokes and memes in your cards.
TheKing: Intertwine Actions and Dynamics in your Stream
TheKing: When I started to get really creative with cards, I started seeing things differently, realizing "Hey, I can do this better if I use Streamloots cards." For example, I have a roulette wheel that I spin for viewers in my setup. Once I realized I could tie that action to a specific Streamloots card, where there would be a wheel spin when a viewer redeemed that card, it made the process much more engaging and fun.
Based on this, my advice is for streamers to look at what they usually do with their community and think about how to integrate Streamloots into those actions. Nowadays, I always think that way, even if it's about something as simple as eating a spicy jellybean every time someone plays a card. It's crazy the number of things you can do with Streamloots.
Valarrys: Combinations of Interactions Create Unforgettable Moments
Valarrys: Something that stuck with me was a moment where my community ended up combining Streamloots cards most unexpectedly to create a massive challenge in a Dead By Daylight stream with a mix of conditions and requests: playing a game with no audio, controlling the worst Killer, in a map I hated – and this made for a memorable moment for the community. Combining different types of cards allows viewers to create unique challenges that always feel special.
My advice is to not be afraid to try out combining different interactions when they get redeemed, and with time you can even create sets of cards that have synergies. Make sure to let your community know that they have the power to combine cards among themselves with great timing to create something special!
StarMystique: The Streamloots Discord Can Help You
StarMystique: My advice is to get into the Streamloots Discord community as soon as possible and take advantage of all the resources available and the knowledge and ideas shared by other streams. Also, if you are facing any issue or a roadblock, other creators probably ran into it at some point and found a solution: feel free to reach out and ask for solutions, tips, or ways to be helped.
I tend to look for other streamers in Discord for inspiration, and the community is pleased to contribute. If you have an idea and are not too sure how to implement it, reach out! If you're feeling stuck or need someone to soundboard ideas off from, the Streamloots Discord is where you'll want to be.
BONUS: Don't Feel Rushed, and Get Creative!
One piece of advice shared by all ambassadors: There's no rush. Take your time to explore the tools, collections, and features and unlock your full potential in the platform, and don't feel compelled to make everything work at once. Don't feel frustrated if you can't get it right from the first moment; try out what you think works best and iterate.
Your community will help as you get more experienced in finding your footing with Streamloots. Listen to their ideas, suggestions, and feedback. Create fun initiatives for them to share their inputs: polls about the following collections on social media, test Streamloots widgets with them include top viewers as moderators to help you