Creating collaboration events with other streamers can be one of the best strategies to boost revenue and viewership in your channel, and making it through Streamloots allows you to multiply their benefits quickly! By creating special collabs with other streamers, you'll be creating unique content on your channel by crossing over with the style, personality, and qualities of a streaming partner, offering your viewers something new.
In today's blog post, we'll tell you everything you need to know about how to create collaboration events with streamers with Streamloots, which can be the perfect idea to plan and execute during special days or events like Halloween.
Why Should I Do A Streaming Collab? (It's Easier Than You Think!)
Like we mentioned in the intro, collaborating with other streamers has two quick upsides. The first one is that by creating a partnership with another streamer(s), and if both of you promote it well, you'll be exposed to a whole new community of viewers that will discover your channel and content and can become long-term fans. We'll talk about it later in the post, but when you find the right partner for a collab, all the channels participating can grow their communities by making them come together.
Additionally, you'll create brand new themes and content for your channel that you might not be able to on your own, and using Streamloots is the perfect way to turn the community's enthusiasm and love into support for you and partnering streamers. In September, we saw that streamers who created collab Streamloots events were able to earn around 50% to 70% of their usual monthly revenue in just one day.
Finally, you might think that creating such events is challenging, requires a significant time investment, and don't know where to start. However, it's simple to do, and you don't need to spend much of your time planning and to organize it. All you have to follow are the 5 Golden Rules.
The 5 Golden Rules of Collabs Using Streamloots
1. Where There's a Will, There's a Way.
One thing we see that always happens in every streamer collab: the community knows when a lot of care and love has been put into an initiative, and it responds appropriately. The more effort you put into making an event something outstanding that is truly unique to your viewers, the more Hype and support you'll find from your viewers.
This doesn't mean you'll have to create a complex collab event or that you need to have a lot of streamers involved. You can keep it as simple as you'd like but always focus on providing something different, fun, and engaging to those who'll be watching. We have some great collab examples at the end of this blog post to get you inspired.
2. Picking the Right Partner is Essential
We can't stress how important picking the right streaming partner(s) to do a collaboration event is. If you're running your first collab, it's essential to partner with a streamer you already know, trust, and fit your streaming vibe. This doesn't mean that you need to have the same personalities or even play the same games, but make sure that you partner with someone aligned with your motivation and drive.
When it comes to creating collab events in Streamloots, we highly recommend you network with streamers looking for partners in our Discord channel. You'll find there dedicated channels to making these sorts of events and getting inspired from previous ones! Click below to join it!
3. Creating A Unique Collection Is A Game-Changer
Here's the main secret to creating collab events in Streamloots: creating a custom collection specifically for the event makes all the difference in the world when it comes to community and viewer engagement and participation. All collab events we've seen that allow viewers to get brand new interactions for the duration of the event have performed much better than those who didn't.
And you don't have to create dozens of new cards for this strategy to be effective. Limiting the total amount to a few new cards gives your viewers something new to look forward to and a new reason to follow the event. Brainstorm with your partner(s) about what interactions could only happen during your collaboration, turn them into cards, and release them to the community.
4. Anticipation, Communication, and Promotion = Major Hype!
Time to do some marketing! Dress up this event as something the viewers will not want to miss. Write down the significant aspects of the collab event (what's going to happen, what viewers can expect, how they can participate, and when it will happen) to make sure you won't miss anything about it. Then, communicate it to viewers with time, so they can get prepared and build anticipation.
One great strategy is to create a catchy name for the event or tie it to a specific theme. Then, make some simple graphic assets about the event (www.canva.com is an excellent website to do it for free) and communicate it through your social media or email. Awareness before the event can be as important as the event itself – don't disregard it!
5. Get Creative With Possibilities
Creativity is the key when it comes to collaboration events with other streamers. Don't worry if you feel like it's based on a simple concept when, in fact, the best collab events we've seen are pretty simple. One enjoyable hook to make it stand out is all it takes to be hugely successful and create a lot of noise.
Take the chance to combine a collab with different initiatives, like a joint Streamloots-a-Thon or another event that can expand what you'll be able to achieve.
6 Awesome Collab Examples From Partners
Nobsyde, treylord24, and Deaxz
"We created a Dead By Daylight Streamloots Battle. Streamloots battle is a concept in which chat plays against the streamer by playing cards, adding time to the timer, winning prizes… It's an entire Streamloots based event."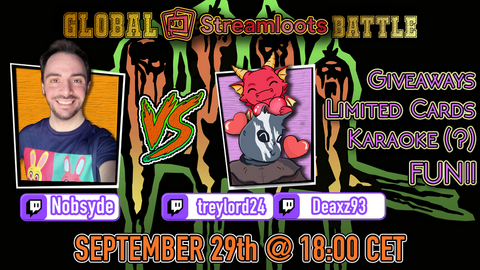 TheKing and PaulieEsther
"We created an entire collection in King's account to play together and shared the URL."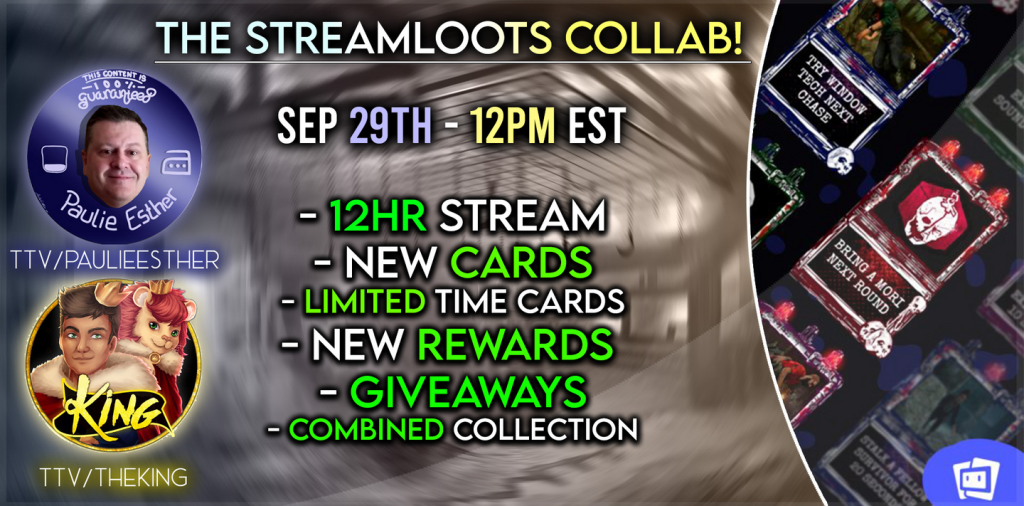 AcruxianGaming and MissCannon
"We created a Phasmophobia night together with new cards!"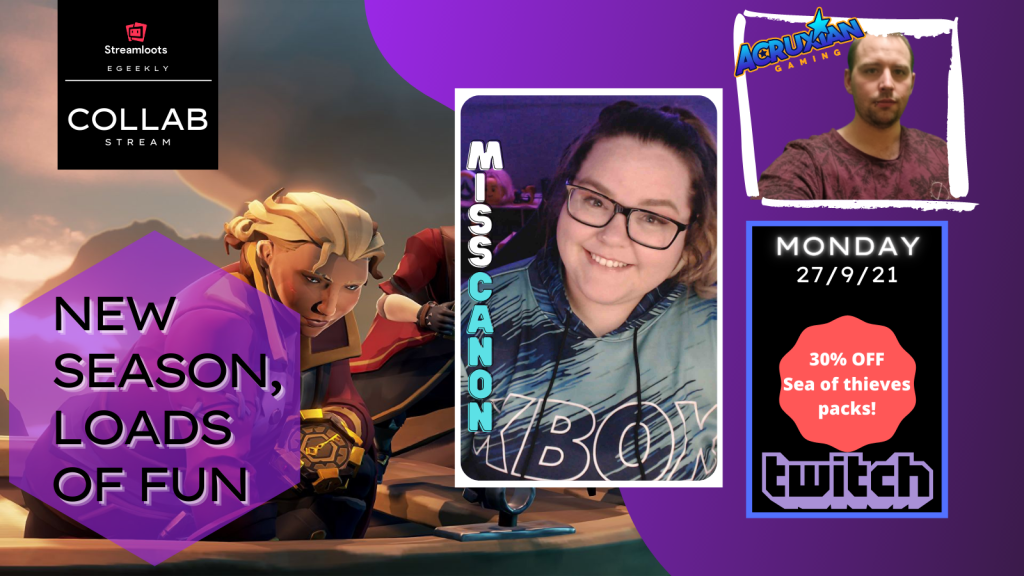 Fr0geye and PlutoCakes
"12 hours of Dead By Daylight & Streamloots. Essentially we will have JUST the custom-made pack for this on, and viewers will interact with BOTH streamers at once. The idea is around Chat vs. Streamers!"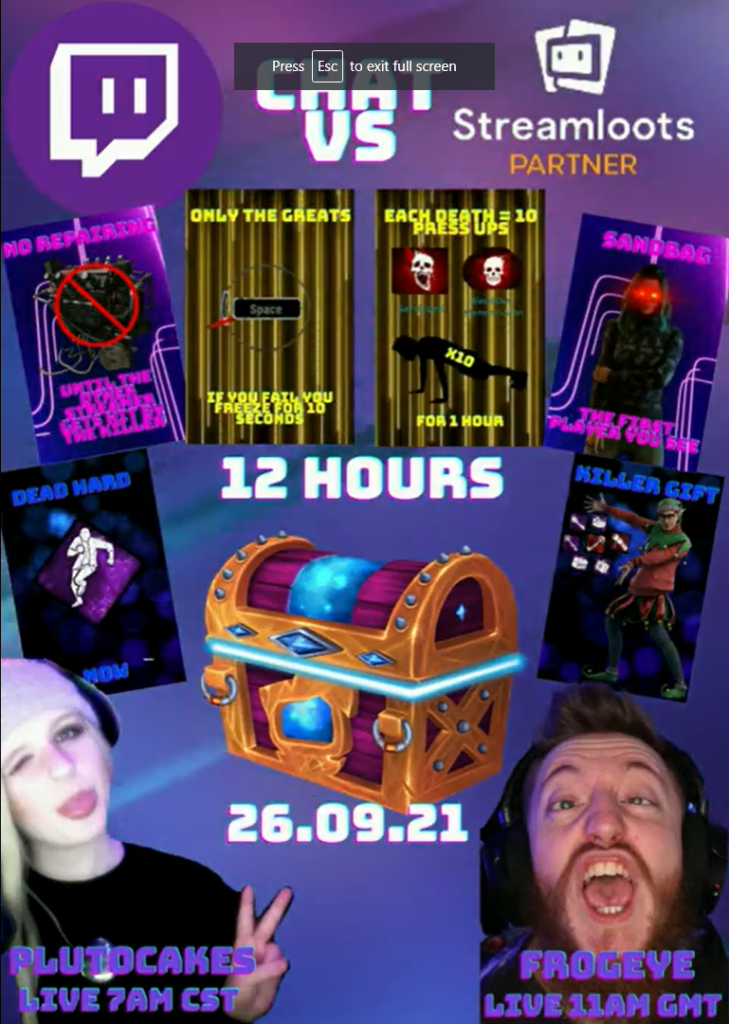 Pheoris and Taklyfe
"Oh, we planned to stream World of Warcraft and did some M+ dungeons for about 4 hours, while our communities have the chance to purchase from an "event" collection of World of Warcraft cards so that they can troll us during the event time."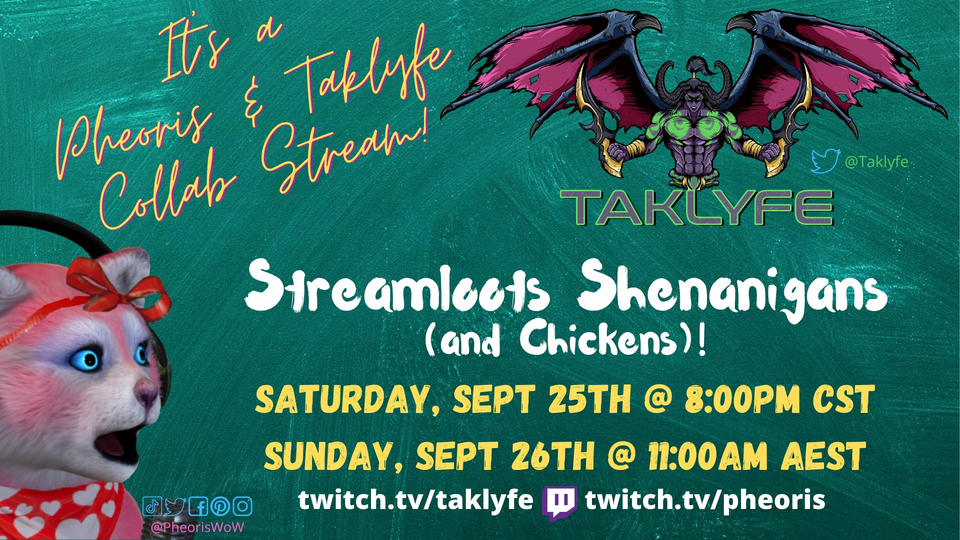 BadKarma and TweetyExpert
"We played Dead by Daylight and added new cards with pack sales goals and giveaways."
We want to know your Collab ideas!
Have you ever run a Collab event with other streamers through Streamloots? What special events or dates are you thinking of creating unique streams for? Join the conversation with the community! Would you please share with us your ideas on our Discord?