Prepare your advent calendars, light up your Christmas trees, hang your stocking by the fireplace: Christmas is less than 20 days away! Christmas is usually one of the year's main events for streamers, where creators bring new ideas and concepts to channels, decorate backgrounds in the festive spirit, and get new ways for their audience to enjoy the content. And this does not regard Christmas only: no matter your beliefs, celebrating with your viewers during your preferred Holiday season can be some of the best times when you go live.
During December, we at Streamloots are creating many initiatives to reward all creators and their audiences with prizes, giveaways, and exciting new features! We want to make sure everyone will be able to celebrate the Holidays in the best way they truly can together with their community! If you haven't seen it yet, click below to check everything that will happen during December in Streamloots.
As part of the celebrations, we've just released our revamped Christmas Collection, with over 20 cards that will allow streamers and their community to boost the festive feeling! In today's blog post, we're showing the 10 most popular Christmas cards as chosen by our community: add them right away to incorporate your own collection, or take inspiration to create your own set of Holiday cards from scratch. No matter what you choose, we hope you have a lot of fun this Holiday season.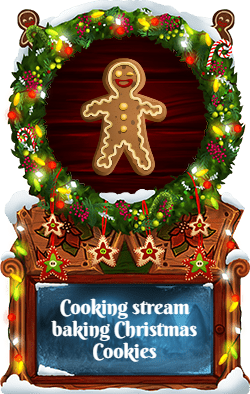 Cooking stream baking Christmas Cookies
Is there a better Christmas feeling than your house smelling like cookie dough? We can tell you for sure that when this card gets played, it'll be unlike any type of content you usually do. Bring a camera over to the kitchen and let viewers participate in the cookie baking process for extra points!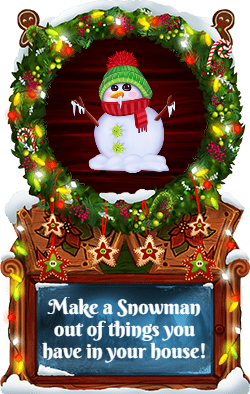 Make a Snowman out of things in your house
Are you ready to bring out your best balancing skills? Let your ideas run wild when this card gets played, and make sure you take in your viewers' ideas in what to add to your special snowman. Another great variation of this card could be to ask each viewer who redeems it to suggest an item to add to the Snowman.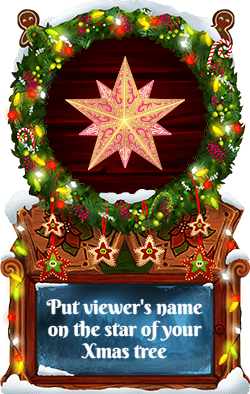 Put Viewer's name on the star of your Christmas tree
During the holidays, Christmas trees usually become standout pieces in streamers' backgrounds, so a really valuable card to include in your collection could bring your audience's presence to it! Make this card to be available in a limited quantity if you want to make sure that spot is highly contested and meaningful!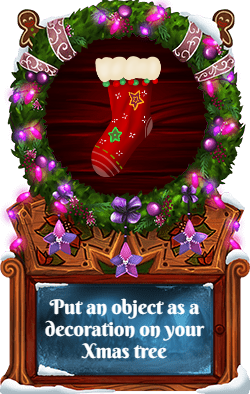 Put an object as a decoration on your Christmas tree
And still, in line with the previous idea, you can add this card without limitation as a way for viewers to still make their presence felt in your Christmas tree in another way. We suggest that in the card's setup you allow viewers to input what object they'll choose to be added to the Christmas tree. Maybe you'll be surprised by their choices!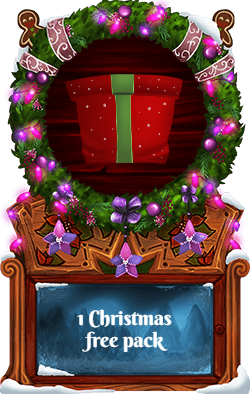 Win 1 Christmas Free Pack
In the true holiday spirit, when someone draws and redeems this card they can win a free pack from the streamer, based on a collection previously chosen. You can even go the extra mile with this, and create a collection in which the cards are only obtainable by getting gifted through this.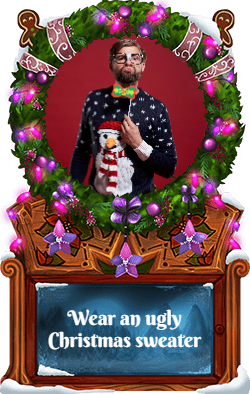 Wear an ugly Christmas sweater
Would it truly be Christmas if you didn't show up with an ugly sweater? Save a few for when this card is played, however, and hype up your audience to keep redeeming this card so they can see which one is coming next.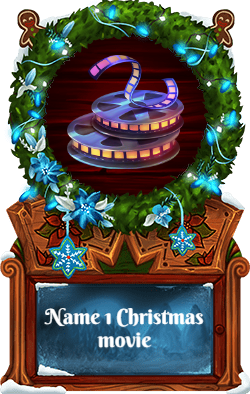 Name one Christmas Movie
The key part in this card is not when it's played standalone: after all, if it's Home Alone or Love Actually, there's always a movie or two that will pop into your mind when thinking about Christmas movies. The main challenge comes when you see viewers redeeming this card repeatedly and you'll have to go into the deep cuts. And maybe you'll be able to answer the definite question: is Die Hard a Christmas movie? (of course it is.)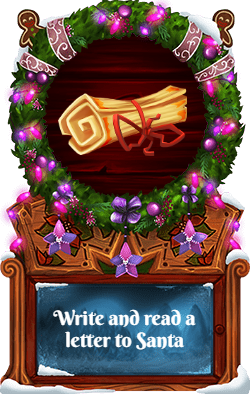 Write and read a letter to Santa
This is one of the cards that can showcase the most creativity, so make sure you make good use of it! Whenever a viewer redeems it, make sure you let everyone know that they can contribute in your letter to Santa Claus himself. Go te extra mile: open Word on your stream and get ready to list all the reasons why you were super nice this year (or not really).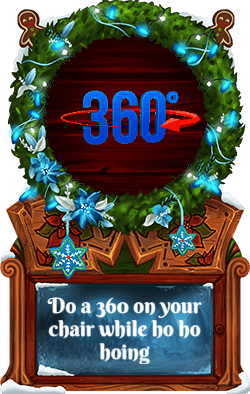 Do a 360 on your chair while ho ho hoing.
Do we even need a description for this one? Is there a bigger gamer flex moment than to seamlessly 360 spin in your chair while impersonating Santa Claus? We don't think so.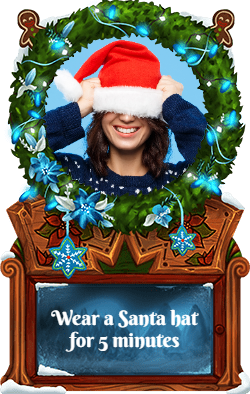 Wear a Santa Hat for 5 Minutes.
Was there any other way we could end this list? Dust off your santa hats – we want to see them all over Streamloots!