¡Hello! It's Nachín over here once again, Partnership Manager at Streamloots, I hope you are doing fine my beloved Partner aspirants, I'm feeling great since I'm about to reveal to all of you my most precious secret in this post.
As you might already know, you can find 2 goals in your Dashboard, which in case of being successfully achieved, will make you eligible as Partner on Streamloots. I guess that is super clear for everyone but… I still get this question asked 3 or 4 times a day: Nachín, which aspects in my page should I improve in order to increase the chance of being accepted?
That's a really good question I have to say, and it's the reason why I'm going to list and detail all the factors we take into account when reviewing a Partnership application so that you can focus on those aspects while preparing your request 🔥
Lastly I would like to emphasize that we don't intend applicants to take this as an exam that they can either pass or fail in any way. We would like them to see this more like a training process that will make you real experts on the entire platform in order to extract as much value for you and your communities as possible before becoming Partner. My job is to make sure you perfectly know how to benefit from Streamloots at its highest.

Enough talking, here I go!

1. Try EVERYTHING
No matter if you are affiliate or regular streamer, in your hands there is a ton of cool features that will help you to explore, understand and benefit from the platform, and of course, achieve the Partnership level. Dig into everything, explore in depth, check out all the features and use them or not, but at least, try them out.
When reviewing an application we really value those streamers who took the trouble to investigate the platform in depth. Tools such as crafting mode, limited/fragmented cards, TTS, discount coupons, and goals are essential for a proper use of Streamloots.
2. Variety is the spice of life
We provide you with the opportunity of using your creativity freely, by making multiple different collections (up to 4 if being an affiliate). Make good use of it! We can confirm that streamers who have at least 2 active collections increase their chance to get accepted as a Partner.
If anytime you're suffering from a lack of ideas you can take a look at our predefined card sets or just get inspired by other streamers' collections. Visit streamloots.com/streamers

Tip: We LOVE when streamers use their own cards along with the predefined ones, so we recommend that you try to find balance in both. You can also customize predefined cards and give them your personal touch.
3. Just customize it
Take a step forward to create your own cards, it's free! There is no need to pay a designer to do this, you can just use our card generator to make as many cards as your imagination lets you.

Remember alerts are SUPER important. Both purchase alerts and card redemption alerts. When a viewer sends an alert to the stream that is a really valuable moment for them. We've got to make sure that we can make them feel the most special people and that is why we provide you with several tools you can use to give your personal touch to every alert. We would recommend that you set a custom sound for each rarity (redemption alerts) and for each different packs (purchase alerts).
This can be easy and quickly done by using the multiple editing


Change the default message to one which goes with your personal style. Let them write messages when they play some cards and activate TTS, set GIFs, videos, etc… You have multiple options to make them feel special when sending an alert to your stream!

Tip: A super important thing to take into account is that rebuilding your collection (to some extent) will keep it fresh. There are a bunch of predefined cards you can add to your collection very easily! We can assure you that your community will appreciate this effort.Last but not least, getting ideas from your community and creating cards you know they will love is always a great move. Viewers are the ones who will play the cards, so it is important that cards are appealing to them. If you go to your Streamloots page you will find a "suggest a card" button for users to give you some ideas, these suggestions will be shown in your page almost 100% ready to use, so that you can add them real quick.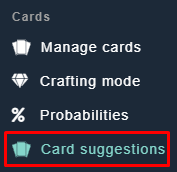 4. Be constant
We of course take many things into account, such as page activity, number of card redemptions and loot purchases… The more value you extract, the higher the probability to become Partner. But not only that, there are other two aspects that are usually forgotten:
Having a distributed pool of purchasers is also important for us. We like to see that not only a couple of viewers love your collection but many do!
Regularity on your sales. Month-to-month consistency.
5. Tell em'!
If you're keen on having great activity in your page you've got to promote yourself and your collection as well. We provide you with a few tools to help you with this, such as goals and coupons. As I mentioned before, make good use of them!
You can also set our classical panel for Twitch or Mixer channels (you will find a downloadable version in your Dashboard), create a chat command or just mention it in your broadcasts regularly.
Also, let everybody know that you've got a wonderful Streamloots collection in all your socials, creating awareness will help you a lot on this.

6. Analyze
Now here you have a useful analytic tool which will let you know if your collection is working well. In your Dashboard you will find general numbers such as "card redemptions", "cards yet to be redeemed" or "cards destroyed" for each of your collections. Normally, the number of redemptions should be higher than the number of cards which haven't been used yet. If this is not the case in your collection, there might be something happening, maybe your community got tired of it or they just do not like these particular cards.
But there is no need to worry about it. If this is happening, there is another tool that will be super helpful to figure out what may be wrong in your collection. You can check each card statistics just by clicking on this button here… did you know?
This way you can be fully aware of the acceptance that this card is having among your community and work based on this. Knowledge is power!
Tip: You can always ask your community for some card ideas, use your suggestion box. This way you will make sure that you are creating cards that your community will love!
7. Share
Our mission is to help every streamer on earth to make a living from what they love, which is live content creation. That's why we need you to help us by spreading the word. Good news about this, in case you didn't know, is that we are rewarding those streamers who refer their friends with 10$ for both referrer and referee.

That said, we would like to point one last thing. We only take into account the numbers and activity we see in our platform to make the final decision, so do not worry about other platforms' activity affecting your request to be Partner!

Also, you do not need to accomplish every single step at its highest but the better you do, the higher the chances to get accepted.

Time to say goodbye now. I really hope you find this useful. You can reach me on my Twitter DMs if you still have any questions.
Take care!

If you need more extra tips click here to see how yo can become a partner


Nachín.