Hi there, today I need your attention because I can finally tell you something HUGE…
✨🌟 PARTNERS FIESTA: THE FIRST STREAMLOOTS PARTNER-EXCLUSIVE EVENT. BECAUSE YOU DESERVE IT 🌟✨
First, let me tell you how will our general Black Friday campaign work:
This week we posted a tweet in our official account in which we offered discount codes up to 30% for every streamer (they'll be working until Saturday at 9:00 CET). I let you here the list of codes.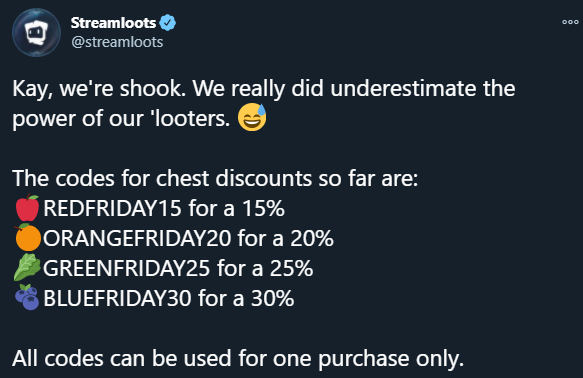 And now comes the best part for you, my beloved partner. The PARTNER FIESTA.
What is Partner Fiesta? ✨

We're going to send you a 50% discount code exclusive for partners that you could use on Black Friday so keep an eye on your email inbox during this week
How long does the code last? ⌛

This code will have a duration of 1 hour and will work in two different schedules
17.00-18.00 CET
17.00-18.00 PST
Does it fit your streaming schedule? Awesome! Then you don't need to do anything else, you'll receive your code in the coming days.
What if I doesn't fit my streaming schedule?

ONLY if it does not, no worries, we got you covered. You can fill a form that you will find in your email inbox so that we can send you a personalized code that fits your streaming schedule. You'll receive your custom discount code 10 minutes earlier the time you've specified
Hope you like it and remember… THIS IS JUST THE BEGINNING